After the general election 14, the new political landscape with ongoing policy transition as well as the clarity of policy direction such as the cancellation and deferment of some major infrastructure projects are expected to impact the output growth and corporate earnings. As of end October 2018, the local equity market as represented by FBMKLCI index, posted a post-election loss of -8.7%.
On 2nd of November 2018, with less than six months in office, the new Malaysia's Finance Minister has tabled the budget 2019. Prior to the budget announcement, we believe that the market participants have braced themselves for bad news as both the Malaysia's Prime Minister and Finance Minister have previously warned on the need to "sacrifice". In this article, we will be discussing some of the important highlights in budget 2019 and its implications on the local economy and equity market.
Key Economic Data For Budget 2018:
1. Malaysia GDP Forecast: 2018: 4.8% (down from 5.0 – 5.5%), 2019: 4.9%
2. Total Expenditure: RM 314.6 billion (2019) vs RM282.3 billion (2018)
• Operating expenditure: RM259.85 billion
• Development expenditure: RM54.7 billion
3. Fiscal Deficit: 2018: -3.7%, 2019: -3.4%
4. Government real debt and liabilities: RM1.065 trillion (as of end-June 2018)
Overall, in budget 2019, we can clearly notice the government's effort in keeping its fiscal consolidation plan to restore fiscal discipline. Although the budget deficit for 2018 and 2019 has widened as compared to the one that proposed by the ex-prime minister during budget 2018, we believe the current one would be more reasonable and achievable.
However, although the Big Three credit agencies, Standard & Poor's (S&P), Moody's, and Fitch Group have recently maintained the Malaysia's sovereign rating outlook, the wider fiscal deficit and the higher reliance on oil related revenue (see figure 1 & 2) might put downward pressure on Malaysia rating outlook.
Figure 1: Malaysia's Budget Deficit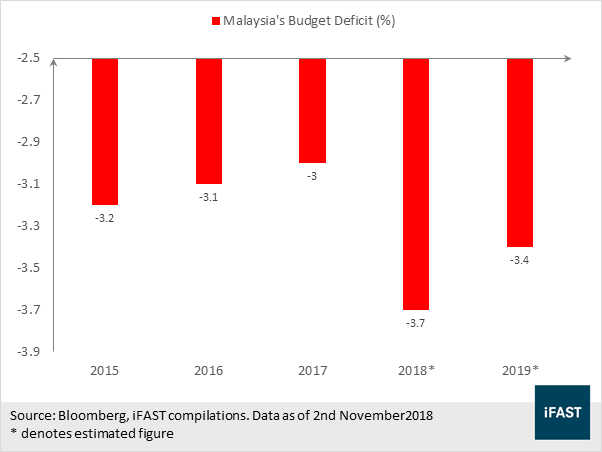 Figure 2: Government Revenue Source Comparison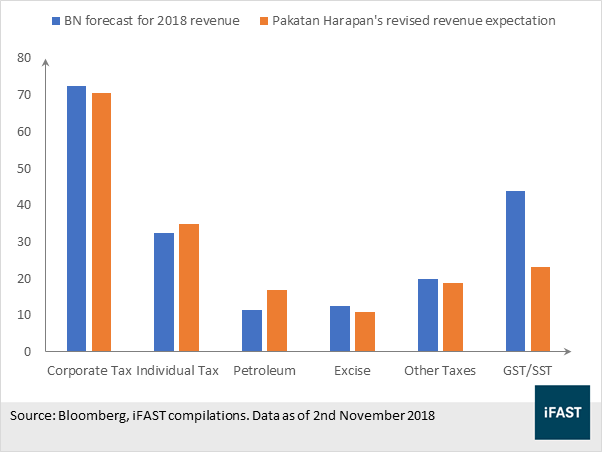 Key Highlights in Budget 2019
The Biggest Loser – Casino Operators
Annual gaming licence fee for casinos to be raised from RM120m to RM150m; gaming tax on casinos to be raised to 35% of GGR

Gaming machine dealer's licence to be raised from RM10,000 to RM50,000 per year; tax on gaming machines also up from 20% to 30% of gross collection
The most significant negative surprise from budget 2019 was the gaming tax hike. The hike in casino duty rate that announced by the Finance Minister in budget 2019 was the largest in record from 25% of GGR to 35% of GGR. The last time where we saw casino duty rate hike was in 1998 where the rate was standardized to 25% of GGR from a scale of 22-25% of GGR.
In fact, Genting Malaysia Bhd shares hit limit down today following the government decision to increase the casino tax as several research houses such as Maybank Investment Berhad and PublicInvest Research has revised downwards the earnings forecast by about -30%.
However, there are several ways where the casino operators might prevent steep margin compression such as cut junket commission rates or direct VIP rebate rates.
Say Hi To Soda Tax
1st category: Drinks with additional sugar/sweetener with over 5g of sugar per 100ml; and
2nd category: Fruits and vegetable drinks with over 12g sugar per 100ml
The introduction of sugar tax is likely to affect the earnings and revenue of certain related consumer stocks, however, given that most of these products are deemed to be inelastic, hence we believe the increase in price due to the soda tax would have minimum impact on the demand for it.
Private Consumption Is Likely To Remain Robust In 2019
Single vehicle/motorbike owners with engine capacity 1500cc and below to get targeted fuel subsidy

RM 20 per month in electricity subsidies to the poor and hard-core poor registered with e-Kasih

An estimated 4.1 million households to continue receiving financial assistance from govt via a RM5b allocation

Households with monthly income of RM2,000 and below to receive RM1,000 financial assistance

Introduce a RM100 unlimited public transport pass, to start with the rail and RapidKL bus networks from Jan 1, 2019

No toll hike in 2019

Govt proposes to raise minimum wage to RM1,100 in Malaysia from Jan 1, 2019
One of the positive surprises from budget 2019 was the continuation of Bantuan Sara Hidup (BSH), which was previously known as BR1M, albeit on a smaller scale. In addition to that, other incentives such as petrol and electricity subsidies to certain target group, as well as, the monthly public transport pass and the minimum wage hike are likely ease cost of living pressure and to further spur the consumer spending moving forward.
Although the local inflation is expected to pick up next year after the removal of blanket subsidies on petrol, we believe that the local private consumption is likely to remain robust given the improving sentiment and confidence among consumers, hence, the private consumption is likely to remain as the main driver for Malaysia economic activity moving forward.
Higher Demand For Affordable Homes
The stamp duty on the transfer of property valued at more than RM1mil will increase from 3% to 4% effective 1st Jan 2019.

Increase Real Property Gains (RPGT) after the fifth year from 0% to 5% for citizens and those with PR; Increase RPGT after the fifth year from 5% to 10% for companies, non-citizens and non-PR holders.

Exemption of stamp duty on property transfer letter for first house purchase for houses priced between RM300,001 and RM1mil for the period of six months starting from Jan 1, 2019.

Property price discount of up to 10% will be offered to buyers for completed projects and new projects.

Introduction of peer-to-peer financing framework as an alternative source of financing for first time home buyers.

For first-time home-buyers purchasing residential properties priced up to RM500,000, the Government will exempt stamp duty up to RM300,000 on sale and purchase agreements as well as loan agreements for a period of two years until December 2020.
Apart from the increase in RPGT by 5% after the fifth year and the increase of stamp duty for properties priced above RM1 million, we believe the overall measures introduced in Budget 2019 are likely to lend further support to the affordable housing sector.
After recording single digit gains in 2017, Malaysia property sector as represented by Bursa Malaysia Property Index has posted a YTD loss of close to -30% as of end October 2018. At this juncture, on top of the several incentives introduced to encourage first-time home buyers, we believe the relatively young population in Malaysia will be a plus to the property developers with affordable housing projects.
Conclusion
Another point that worth to highlight was the emphasis on governance such as the proposed Fiscal Responsibility Act, to prevent uncontrolled spending that causes super huge debts and the Government Procurement Act which aims to ensure transparency and open competition, accompanied by open tender practices and punitive action for any abuse of power in relation to contract issuance. The introduction of these rules has an important role to play in driving investors' confidence on the local economy.
Hence, although we are not seeing plenty of candies are being distributed in budget 2019, given the government effort in tackling the high national debt while prioritizing the important areas that might eventually contribute to the economy and wellbeing of the people – Education & Healthcare, we believe the gradual improvement in economic fundamental will eventually translate into a stronger equity market's performance.