Market Performance in 1Q2018
2017 was rewarding for investors. Against a backdrop where central banks are gradually shifting gears towards a tightening stance, equities have nevertheless trended higher on the back of robust corporate earnings and better macroeconomic backdrop. Investors may have also gotten accustomed to the low-volatility environment last year.
Although equities had a decent start in January, better-than-expected wage growth data on the US front sparked concerns on the potential uptick in inflation, which have sent US Treasury yields soaring to historical highs. Subsequently, global equities tanked amid market players discounting equity premium from a higher risk-free rate.
The other risk that is probably sitting at the top of everyone's watch list will be the on-going negotiation between US and China on external trade policies. The exchange of words between White House administration and Beijing officials spelled greater uncertainties and induced more volatilities for global equities.
With the above, it is unsurprising that global equities finished the quarter in red and clocked a loss of 6.2%. Similarly, developed market equities suffered as US, Europe and Japan fell -5.9%, -6.9% and -4.5% respectively. The Asian counterparts, represented by MSCI Asia ex-Japan Index slipped -4.7%; while MSCI Emerging Market Index slid -4.1%. All remaining equity markets under our coverage have posted losses, with exception to Brazil, Malaysia, Russia and Thailand. The greenback depreciated 5.4% against Ringgit over the quarter.
Figure 1: Performance of global equities over 1Q2018.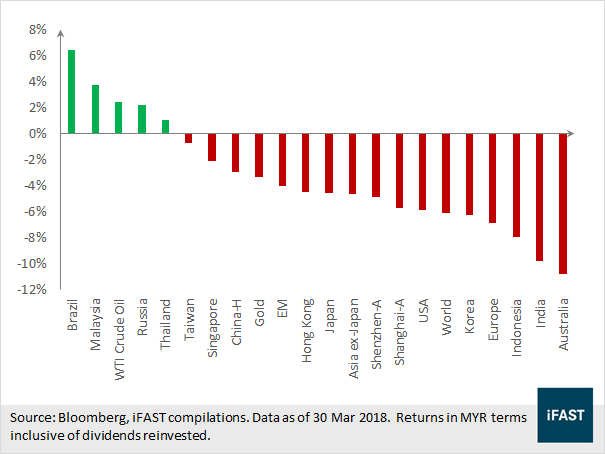 Overall Fund Returns in 1Q2018
As of 31 March 2018, there are 192 equity funds on our platform, with 190 equity funds having full quarter return in 1Q2018. 164 (86.3%) of the equity funds on our platform posted losses while 26 (13.7%) of the funds finished in black. On average, these equity funds have posted -4.7% loss across the period.
[All stated returns are total returns including dividends and in MYR terms unless otherwise stated, excluding wholesale funds and PRS funds]
Figure 2: 1q2018 returns distribution for equity funds.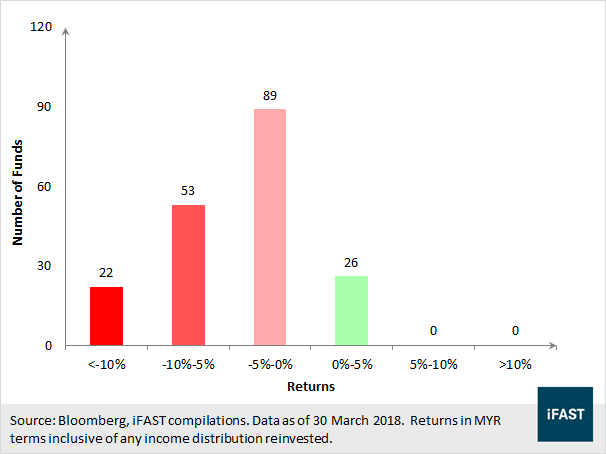 Top Performing Equity Funds
Table 1: Top 10 Performing Equity Funds

1
AMB Index-Linked Trust Fund

Malaysia-Index Tracker

4.8

2
CIMB-Principal KLCI-Linked Fund

Malaysia-Index Tracker

4.3

3
RHB KLCI Tracker Fund

Malaysia-Index Tracker

3.8

4

United Global Quality Equity Fund - MYR Hedged

Global-General

3.2

5
CIMB-Principal Equity Fund

Malaysia-General

2.6

6
AMB Unit Trust Fund

Malaysia-General

2.3

7

CIMB-Principal Malaysia Equity Fund - MYR

Malaysia-General

2.1

8
Eastspring Investments Equity Income Fund

Malaysia-General

2.0

9
Pacific Dividend Fund

Malaysia-General

1.5

10
RHB Entrepreneur Fund

Malaysia-General

1.4

Source: Bloomberg, iFAST Compilations. Data as of 30 Mar 2018. Returns in MYR terms with any income or distribution reinvested.
From the table above, investors would note that most of the top performing equity funds were invested in Malaysia's equity space. This is in-line with the FBMKLCI's performance, which is the top 2 performing equity markets under our coverage. These domestic equity funds have much of their equity exposures into the large-cap segment, which have benefited from the large-cap segment's resilient performance.
We have talked about the positive stories on local big-caps while highlighting the potential headwinds ahead for the small-cap counterparts earlier in February. The improving fundamentals of both global and local economy have fed well into the revenue streams and earnings growth of the Malaysian companies. Subsequently, we believe these supportive elements have driven foreign equity inflows into Malaysia (see Figure 3).
A better economic front has prompted BNM to hike the overnight policy rate (OPR) by 25 basis points earlier this year. This bodes well with the bottom-line of the banking sector, given that a higher interest rate eventually translates to higher net interest margin. Since then, share prices of some of the largest domestic banks have trended higher (see Figure 4).
Figure 3: YTD Asian equities foreign net flows.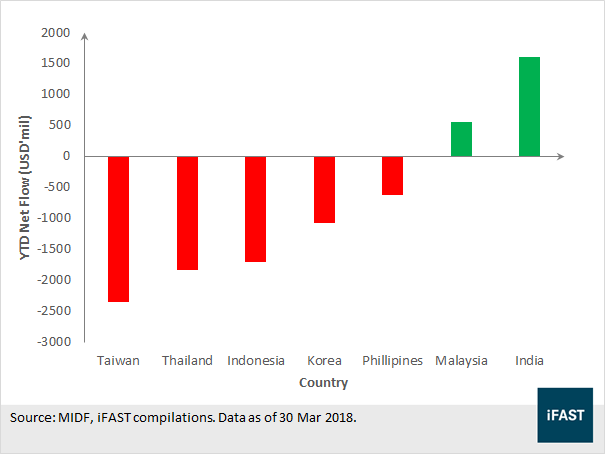 Figure 4: YTD performance of largest banks by market cap in Malaysia.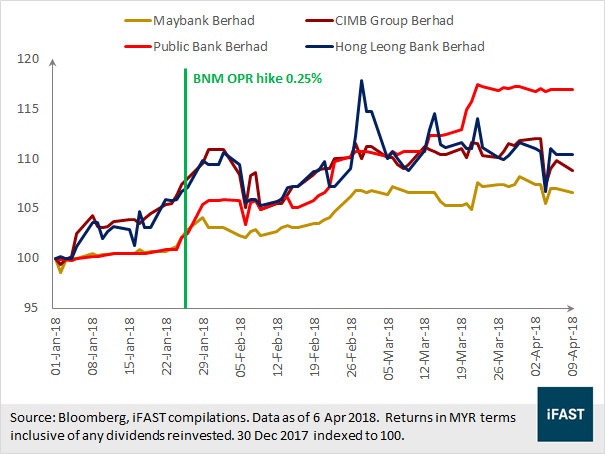 Aside from Malaysia equity funds with exposure into large-cap segment, there are two outliers on the list, namely United Global Quality Equity Fund and RHB Entrepreneur Fund. The former is a relatively new global fund in the Malaysia unit trust space (less than two years since inception date), which feeds into United Global Quality Growth Fund domiciled in Singapore. The fund is sub-managed by Wellington Management Singapore and has the objective to generate positive returns by investing in companies with superior quality business models and high organic revenue growth. While the fund's investment strategy has helped steer the fund through the vigorous tides recently, the MYR-hedged class has also helped mitigate a significant amount of foreign exchange losses from the strength of the Ringgit. The USD class of the fund posted -1.4% loss over the quarter.
Scoping onto RHB Entrepreneur Fund, this fund is primarily (>80%) invested into the Japanese equity market. Japanese equities were caught up with the general turbulence and lower-then-expected corporate earnings growth, but the investors have reaped benefits from a stronger Yen (+1.0% against MYR year-to-date). At this point of time, we still think that Japanese equities are appealing amongst developed markets for growth seeking investors: 1) spring wage negotiations were concluded, which may support domestic consumption; 2) Kuroda keeps lose and a shift in monetary policy gear is unlikely till 2019; 3) Government advocating loose policies and further structural reforms, as well as increasing public infrastructure spending.
Bottom Performing Equity Funds
Table 3: Bottom 10 Performing Equity Funds

181
PMB Shariah Dividend Fund

Malaysia-General

-15.8

182

RHB Emerging Opportunity Unit Trust

Malaysia-Small to Medium Companies

-15.8

183
RHB Small Cap Opportunity Unit Trust

Malaysia-Small to Medium Companies

-16.1

184
MIDF Amanah Strategic Fund

Malaysia-Small to Medium Companies

-16.5

185
BIMB i Growth

Malaysia-General

-16.6

186
PMB Dana Mutiara

Malaysia-General

-16.9

187
PMB Shariah Aggressive Fund

Malaysia-General

-17.0

188
RHB Equity Trust

Malaysia Focus-General

-18.4

189
InterPac Dana Safi

Malaysia-General

-21.7

190

InterPac Dynamic Equity Fund

Malaysia-General

-24.3

Source: Bloomberg, iFAST Compilations. Data as of 30 Mar 2018. Returns in MYR terms with any income or distribution reinvested.
The results from the above may look similar to the top performing equity funds – they are mostly (or not all) invested in Malaysia. The main difference between the two lists is probably their investment holdings' market cap, where the bottom performing funds predominantly invest in the small to mid-cap segments in Malaysia. As a result, investors witnessed a divergence in performance for Malaysian equity funds over the quarter.
The small to mid-cap stocks had a decent run last year, riding on robust exports together with healthy global aggregate demand. However, the persistence in the strength of the Ringgit has started eating into the profits of many manufacturing and export-oriented small to mid-cap companies, causing some of these companies to miss earnings expectation.
To make matters worse, investors' sentiments are dented by the on-going trade talks between US and China. Given that there are still much uncertainties lying ahead, investors who have made decent profits last year may have resorted to take profits and stay by the sideline for the time being. These factors have probably attributed to much of the volatilities and poor performance seen within the small-cap space.
We understand that some investors who have invested into Interpac funds last year are experiencing losses. We have written to the fund manager Mr. Lim Tze Cheng to enquire about his views on the macroeconomy and the outlook for both funds. With reference to his reply, both funds' underperformance is due to the significant position in the semiconductor related sector, but the fund manager is of the view that the current correction will be short-term in nature and is confident that the sector will have better earnings prospect compared with other sectors due to the demand coming from the automotive industry. Hence, he is holding onto these positions.
With regards to the local election, he has avoided stocks that rely on political connection for business. He thinks that the local bourse may resume an uptrend once the election uncertainty is over. From a global economy perspective, Mr. Lim has little concern over the on-going economic recovery. Although trade war is a concern at the moment, he strongly believes that rationality and market valuations will be reflective of fundamentals at the end of the day.
Takeaway
Global equities had a tough quarter into 2018. Investors who have got used to the low volatility backdrop last year would find it difficult to surf the waves of volatility. We would like to caution investors that these "waves" are here to stay for quite a while, at least until the White House finalizes their external trade policies. The upcoming responds casting from Beijing and other major economies would also exert a great influence onto the market movements.
In difficult and even painful times, opportunities present themselves. Despite the fact that market participants are digesting the escalation of protectionist risk, the overall macroeconomic picture is supportive of both economic and corporate earnings growth. With that, we remain an overweight stance on equities vis-à-vis bonds. We think Asian and emerging market equities are still the bright spots that investors should look at, considering their attractive valuation and robust earnings growth.