Global equities started the first week of February with a sell-off, sparking fears amongst investors with some headlines even saying that this is the "beginning of the bear market". Asian and emerging market equities slid into the red territory, led by their US counterparts.
Table 1: Equity Indices Performance

World
-2.7%

7-Jan-2016

Chinese equities sell-off

US
-3.8%

18-Aug-2011

US sovereign debt rating downgrades

Europe
-1.6%

27-Jun-2016

Brexit

Japan*
-3.6%

9-Nov-2016

Trump tantrum

Asia
-1.3%

30-Nov-2017

China bond rout

Emerging Markets
-1.5%

30-Nov-2017

China bond rout

China*
-5.6%

7-Jan-2016

Chinese equities sell-off

Malaysia*
-2.2%

24-Aug-2015

Commodities downturn and politics

*As of 6th Feb 2018 | Source: Bloomberg, iFAST compilations. 1-Day Loss as of 5th Feb 2018 unless specified otherwise. Returns are price returns in MYR terms.
What has contributed to the recent sell-off? Here are some plausible reasons:
1. Stronger than expected US Non-Farm Payroll data and Average Hourly Earnings
Friday last week there were two important pieces of data released on the US front, and both figures came out better than expected. These have led market participants to reassess rate hike probabilities and recalibrate their interest rates expectations. US 10-year treasury yields were sent to levels not seen since January 2014.
FIGURE 1: US 10-yr Treasury Yields since 2015.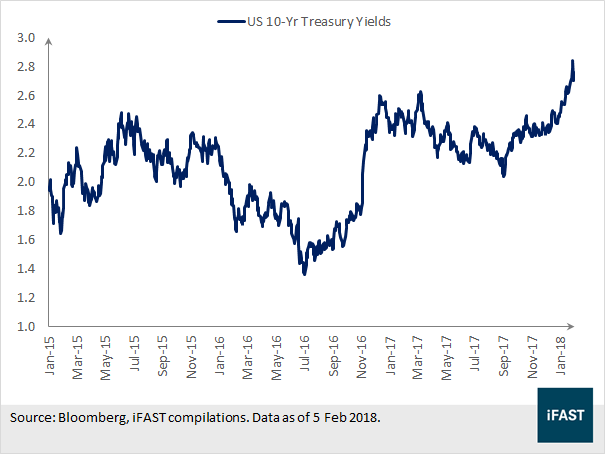 So, what does this has to do with global equities sell-off? We have recently written a piece to caution investors against some key macroeconomic risks in 2018, and pointed out that interest rate expectation is one area to look out for. The US economy posting stronger and better job data plus commodity prices like oil and energy prices increasing are supportive of the Fed's rate hike stance.
A higher risk-free rate essentially means a higher equity premium for market participants and investors. A spike in risk-free rate leaves equity markets who are rich in valuations (like the US) susceptible to a short-term correction. As the saying goes, "when the US sneezes, the world catches a cold", Asian and emerging market equities have suffered from the negative performance of their US peers.
2. Earnings falling short of expectations
An additional reason that contributed to the dip was the earnings releases from the US corporates have somewhat missed the market expectations. With various news headline painting a strong picture for the tech sector and global economic growth into 2018, market participants were taken aback by corporate earnings missing consensus estimates. In other words, expectations were too high and now equities are reflecting those disappointments.
We have highlighted the risk of high earnings expectation previously, where missing estimates will indefinitely translate to some disappointments and market volatilities, and is probably happening now. Are we still positive on the equities? Yes, simply because we do not see any material impact on fundamentals or the current recovery derailing from its course. That leaves us dealing with the earnings expectation, as earnings always play a crucial role in equities performance.
Takeaway
The research team is monitoring the earnings revision trend of global equities closely, and as of now the macroeconomic picture remains intact and ought to be supportive of corporate earnings. Should the earnings revision and estimates start to fall apart, and valuation levels no longer justify the markets we previously favour, we must then readjust our positions and calls.
The past two months have been great for investors, particularly last month where investors witnessed another stellar start to the year having experienced one in 2017. This may have led to investors chasing some of those returns. If investors are feeling jittery over the fall in equity markets over the past 3 days, it may be a good time to reassess if they have taken too much risk relative to their actual risk profiles.
While we opine that fundamentals of the economy remains sound, investors are encouraged to perform their own analysis to see if fundamentals have changed for the equity markets that they have invested in. If fundamentals remain sound, stay invested. To sell off everything in fear and panic without considering fundamentals and reenter the market again when things start to recover would be a bad decision.
This market sell-off has allowed us to take the opportunity to advocate investors to have a proper mix of equities and fixed income in their portfolios in accordance to their risk profiles. A diversified, systematic portfolio approach is what we believe in, and staying invested allows investors to ride out volatile market periods with the potential to recoup losses and continue to make gains. For investors who have been underweighting Asian and emerging market equities and are considering to add-in position, we think that this is a good opportunity.