The past 2015/16 El Nino event has ranked among top 3 strongest in the history. Thanks to the spill-over effect from El Nino, CPO price has surged to the highest over the past 4 years, about RM 3300 per MT before falling to the current level of RM2977 per MT as of 24th February 2017 due to the deteriorating CPO inventory and production throughout the year of 2016. As a result, the Bursa Plantation Index has soared by about 3.7% in 2016, outperforming the KLCI broad index. However, moving into 2017, investors should be cautious as there is a likelihood of downward trend for CPO price due to several factors.
FIGURE 1: CPO price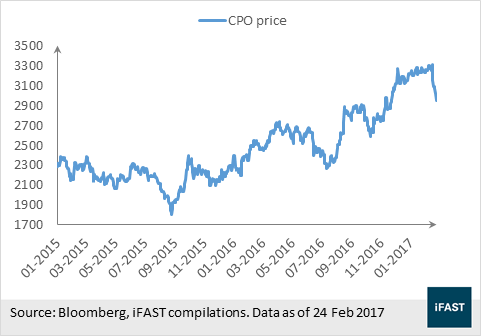 Recovery in Palm Oil Production
Malaysia's January CPO inventory came in lower at 1.54m MT, recorded -8% month-on-month decline. (see figure 2) However, we believe that the inventory level will slowly recover amid stronger CPO's production going forward as the El Nino effect has faded. (see figure 3) The recent data showed that Malaysia has recorded the highest January CPO production in 2017, since the beginning of 2015. On top of that, the Oil World also estimated that Malaysia CPO's production will increase by 16% year-on-year.
Besides, we also see an increase in CPO production in one of the major producers and exporters of palm oil, Indonesia (see figure 4). The surge in palm oil production will likely elevate CPO stockpile. Consequently, higher CPO production and inventory should translate into lower CPO price.
FIGURE 2: Malaysia's CPO inventory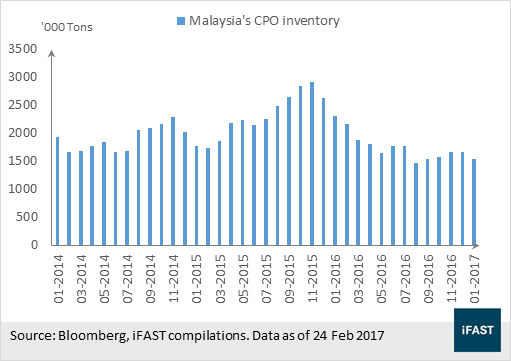 FIGURE 3: Malaysia's CPO production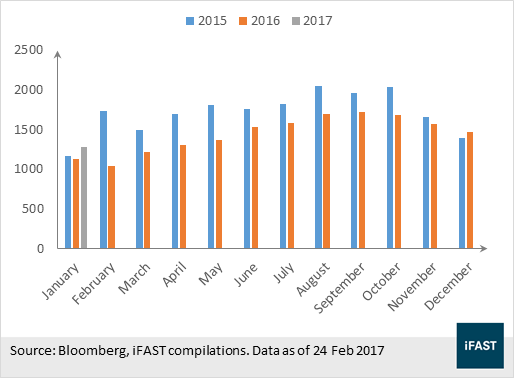 FIGURE 4: Indonesia CPO production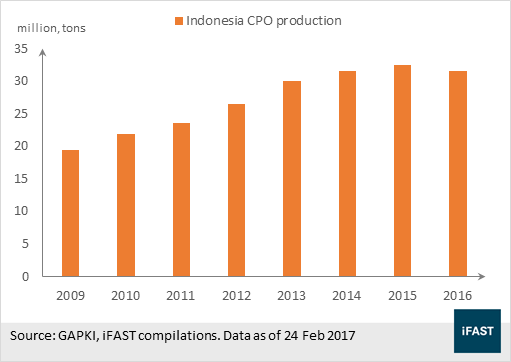 Demand for palm oil
From the demand side, we might see decreasing demand from one of the major palm oil importers, China, going forward. In the past few years, we have seen a shift in the overall share of China's vegetable oil usage. The use of soybean oil has increased significantly, especially for the livestock sector. The increasing use of soybean oil was probably caused by the better quality of soybean oil and the compression of palm oil price discount to soybean oil. From figure 5, we can see an increasing trend for China's soybean oil import and a decreasing trend for China's palm oil import since 2008.
FIGURE 5: China's demand for palm oil and soybean oil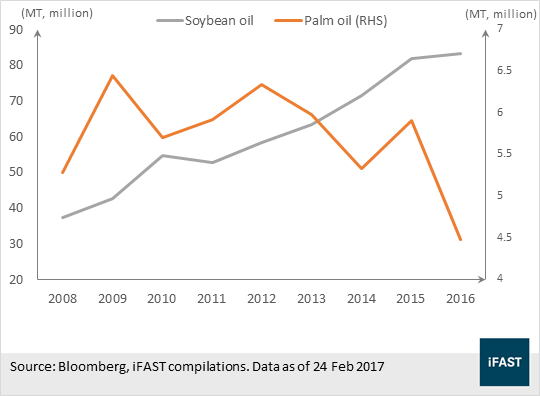 Increasing supply of soybean oil drives its price lower.
Soybean oil is the close substitute to palm oil therefore, its price premium to palm oil price is one of the crucial factors affecting the price direction of palm oil. As of end of January 2017, we can observe a compression of soybean price premium over the palm oil price due to the increasing supply of soybean (see figure 6 & 7). On a 5-year historical average, the soybean premium over palm oil was standing at 19.5%. However, the premium has narrowed to only 2.3% (see figure 8). In fact, this would trigger a shift of demand from palm oil to soybean oil due to the higher quality of oilseed.
FIGURE 6: Palm oil price vs soybean oil price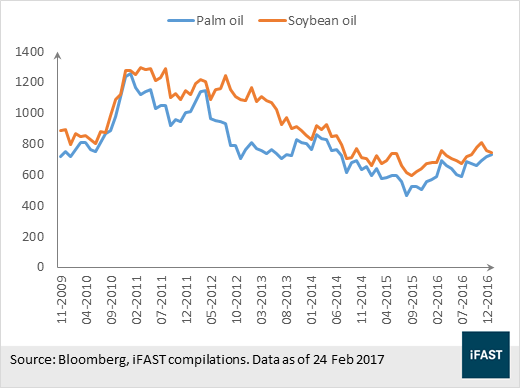 FIGURE 7:Soybean oil price premium over palm oil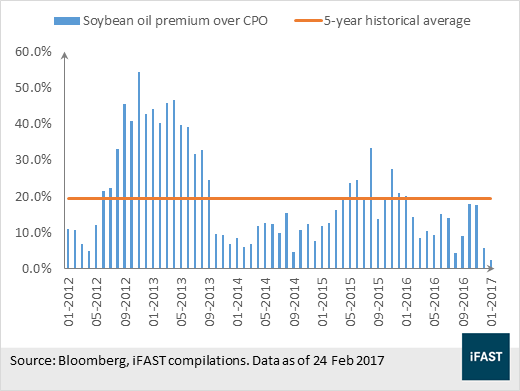 FIGURE 8:USDA global soybean production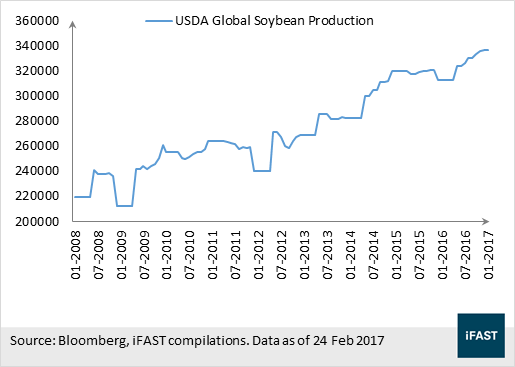 To make the matter worse, there are some factors pointing to an increasing trend of soybean supply moving forward. Firstly, soybean-to-corn future price ratio is standing at 2.7x as of 22nd Feb 2017, which indicates a better profit potential for soybean planters. Soybean-to-corn future price ratio is a simple measure of relative return for soybeans and corns. It serves as a key indicator that help farmers to determine which agricultural products are more preferable to be planted during the spring season. If producers expect the soybean-to-corn price ratio to exceed the breakeven price ratio (BEPR), there would be a tendency to switch from corn to soybean planting, vice versa. The BEPR is the expected net return of producing soybean over corn after taking into account corn and soybean yield trend and the variable production expenses. A level of 2.4 or 2.5 are considered as BEPR or the neutral level for farmers, whereas farmers will prefer to plant more soybean if the ratio is above 2.5 level. Hence, with the current price ration of 2.7x, we are expecting the soybean production to increase moving forward, which is in line with the prediction of United States Department of Agriculture (USDA).
Besides that, Argentina, the world top soybean exporter, will start cutting its soybean export tax by 0.5% every month for two years starting in January 2018. Hence, this will result in a 12% reduction on soybean export tax from current 30% to 18% by the end of 2019. This move is expected to spur the planting of soybean in the next one to two years, which will subsequently lead to higher supply of soybean in the global market.
CONCLUSION
For investors who favour the plantation sector, they must be cautious since the abovementioned factors are pointing to a relatively weaker palm oil price due to escalating supply especially when moving into second and third quarter of 2017 where production enters into its seasonal peak. From the demand perspective, supply of soybean might elevate and subsequently lead to a lower price for soybean and lower price premium between soybean and palm oil. Eventually, demand for palm oil will be negatively impacted by the increasing supply of soybean oil.
As a result, we remained our neutral view on this sector due to its lacklustre outlook for investors who want to have exposure to the local equity market while having minimal positioning in the plantation sector, they can look into Kenanga Growth Fund (1.1% exposure in Plantation) and Interpac Dynamic Equity Fund (No exposure).