In its first monetary policy meeting under new chairman Jerome Powell, the US Federal Reserve delivered the widely anticipated 0.25% hike in its benchmark interest rate. In the accompanying statement, the FOMC stated that the US economic outlook has strengthened in recent months, but also so that inflation will be monitored closely. Against this background, further gradual rate hikes are likely to be warranted moving forward.
While market pundits thought the Federal Reserve might pencil four rate hikes this year because of higher inflation and an ultra-tight labour market, the FOMC participants still believe three rate hikes will be more appropriate this year. The central bank signaled greater confidence in the economy and steepens the rate path by adding a rate hike in both 2019 and 2020.
FIGURE 1: Welcome Jerome Powell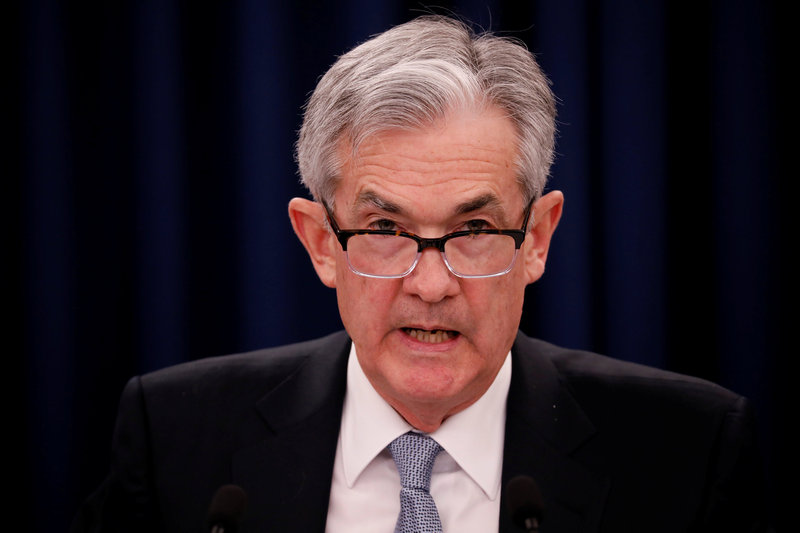 Federal Reserve Chairman Jerome Powell speaks at a news conference following the Federal Open Market Committee meetings in Washington March 21, 2018. Source: Reuters.
Gaining Confidence in The US Economy
FOMC participants increased the GDP forecast for 2018 to 2.7% from 2.5% in December and to 2.4% in 2019 from 2.1% (see Figure 1). With these projections, we believe there will be room for another moderate upward forecast adjustment to the growth forecast in June.
FIGURE 2: The Upgraded Growth Projections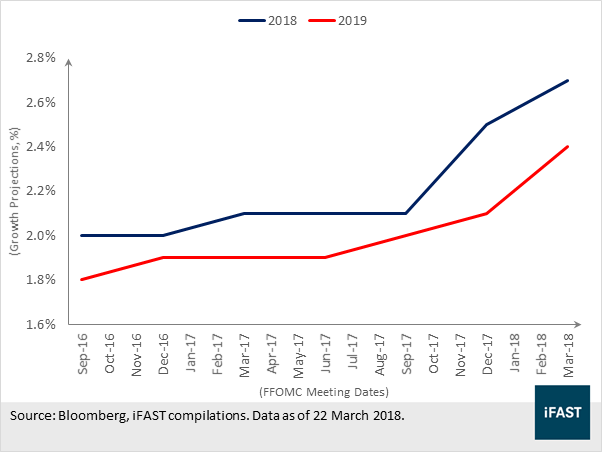 Unemployment forecast was shaved, and the signal is that full unemployment is imminent. This year, the FOMC members expect to see unemployment rate to be recorded at 3.8% from the December projection of 3.9%. Further improvement is anticipated in 2019, with the jobless rate edging down to 3.6%, where it is expected to stay put in 2020.
While the growth and unemployment projections seem hawkish, the central bank's inflation outlook are less so. Consider that the median core inflation (PCE) forecast was unchanged at 1.9% and was lifted to 2.1% in 2019 and 2021 (from 2.0%). Jerome Powell tried to play down the market's concerns on accelerating inflation by noting that there was no sense that the US economy is on the cusp of a surge in price pressures.
Fed's View on Tax Bill
In addition, Trump administration's recent fiscal stimulus, namely the recent Tax Cut and Job Act (TCJA), which Powell acknowledged, is not expected to fundamentally change the long-term economy projections, even though the tax incentives encourage investments and may help boost productivity. This is in line with our view of the effects of Tax Reform on US economy as well as dollar's strength earlier in this year.
See: A Tough Year For US Dollar
Our Take
Given with the economic optimism expressed in the statement and forecast, the US central bank has kept its risk assessment balanced as it has been. Federal Reserve has underscores the general impression that although the US economic growth will strengthen in the coming years, the monetary policy stance of the Federal Reserve is not anticipated to change much.
As such, we opine that the Powell-led Federal Reserve is still accommodative to US economic growth by continuing Yellen's legacy in taking prudent approach, communicating to markets their expectations and allowing time for adjustments to take place. Additionally, we would like to remind investors that the Fed's guidance is still data-dependent, providing them room to react depending how economic conditions change.
While we are in the midst of rising interest rate environment, we continue to advocate investors not to neglect bond funds as their portfolio stabilizer. Investors might consider short duration bond funds – AmIncome Plus if they are seeking for shelter from the volatility and uncertainty seen in financial markets in recent times.
With regards to the equity market, we opine that valuations for US equities remain stretched at this juncture, with forecasted total returns likely to be low relative to other developed and emerging markets under our coverage (Read our Key Investment Themes And 2018 Outlook).
Read:
Key Investment Themes And 2018 Outlook
A Tough Year For US Dollar
Flattening US Treasury Yield Curve: Should Investors Worry About It?