2018 was a turbulent year for the Indonesia equity market. Tormented by negative sentiment and panic sells since mid-April, the market was remarkably volatile. Solid economic fundamentals of Indonesia were eclipsed by the flux of trade war between US and China and concerns on Indonesian benchmark interest rate, thus driving sentiment to lower levels.
The selloff was exacerbated when foreign investors pulled out their investments within the emerging market space in the wake of dollar strength due to a yield spike in US treasury yield as well as rising inflation expectations in the US that could prompt the Fed to step up its pace of monetary tightening for more addition rate hikes this year. Apart from that, a weakening Rupiah have shaken investor's confidence in the ASEAN's largest economy. With that, this resulted in a -9.8% plunge (as of 21 May 2018) on a year-to-date basis to a level unseen since June 2017.
(We have explained that the depreciating Rupiah is unfavourable for Indonesian equities in our previous writeup, check here!)
FIGURE 1: Fall from Grace of JCI Index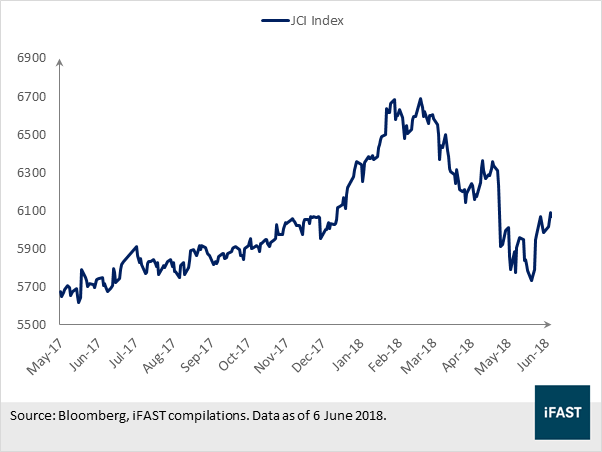 Rather than guessing if the market has bottomed, one may want to ponder if the market has overreacted and the massacre was overdone, given its solid macroeconomic backdrop.
Economic growth is projected to rise modestly
The GDP of Indonesia expanded 5.06% year-on-year in the first quarter of 2018 versus the estimate of 5.19% that economists had forecast (see Figure 2). In the meantime, private consumption growth was recorded at 4.95%, slightly higher than the 4.93% growth rate on a year-on-year basis, which remains below the much desired 5% level.
Although 2017 has been tough for the consumption segment, we still see positive catalysts for 2018. First, we believe that electric price hike effect in 2017 will continue to fade in this year. Lower inflation target shall drive the middle-income segment consumption to a higher level (as shown in Figure 3). Secondly, the aftereffects of government's budget allocation of the "Transfer to the Regions" and "Village Funds" (amounting to Rp 251.9 trillion) are likely to give a steam to middle-lower segment consumption in 2018. Last but not least, we see that Asian Games 2018 will give a positive impact, though to lesser extent than the previous two catalysts.
Besides that, investment growth will remain high, supported by the need to finish infrastructure projects ahead of the regional elections in 2018 and presidential election in 2019. With that, we still expect a modest pickup to 5.2-5.3% growth on the back of better investment and gradual recovery of consumption in the foreseeable future.
FIGURE 2: Quarterly GDP Growth (Y-o-Y)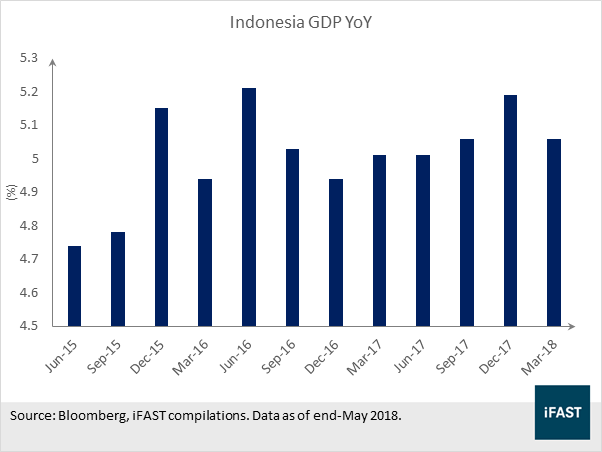 FIGURE 3: Benign Inflation within Indonesia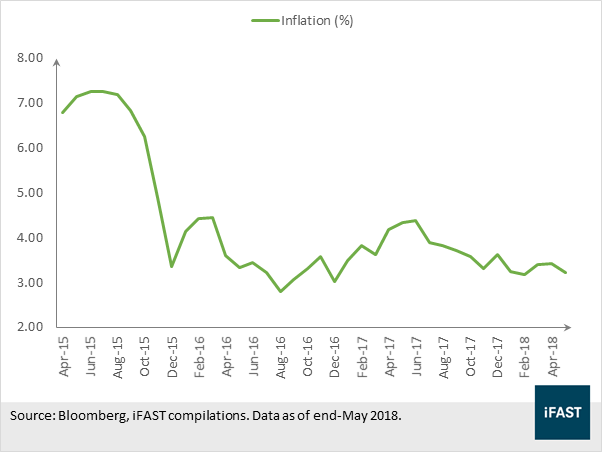 A More Proactive Bank Indonesia
On monetary front, after easing during 2016 and 2017, Bank Indonesia raised its benchmark interest rates twice in May from 4.25% to 4.75% to support the Indonesian Rupiah. However, foreign reserves are high relative to history but are below their February 2018 peak due to interventions to limit currency depreciation (refer to Figure 5). In summary, the foreign exchange reserves are meaningfully stronger today than in the past.
The Indonesian central bank also signaled more possible rate hikes as the bank's main focus now is to protect Rupiah in order to maintain financial stability. In addition, the newly minted Bank Indonesia governor Perry Warjiyo described the signal was a pre-emptive move ahead of higher US interest rates. Besides that, the central bank is confident that the rate hike should not immediately impact economic growth as the bank is seeking to compensate with looser macroprudential measures in order to spur lending to offset higher interest rates.
At this point of time, we think Bank Indonesia is trying to conduct more proactive and forward-looking policy, particularly with regard to a possible higher current account deficit, as well as inflationary pressure stemming from the current higher crude oil environment. Despite the hawkish tone in its statement, we doubt that a repeat of aggressive tightening is on the cards given that the economic fundamentals are better when it was dubbed as one of the fragile five back in 2013.
FIGURE 4: Foreign reserves is still at healthy level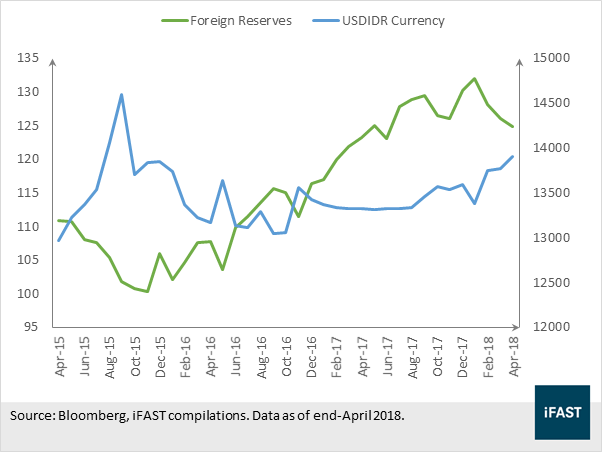 Earnings and Valuations
Table 1: Sector Weightage of Indonesian Companies by market capitalisation on JCI Index

Sectorial Earnings Upgrade
Financials
0.2
0.3
Consumer Staples
-0.8
-0.9
Consumer Discretionary
-0.2
-0.2
Materials
0.4
-0.5
Telecommunication Services
-0.7
-0.8
Energy
0.8
0.6
Industrials
-0.2
-0.2
Real Estate
-0.1
-0.1
Health Care
-0.1
-0.1
Utilities
0.3
0.3
Information Technology
0.1
0.1

Source: Bloomberg, iFAST compilations. Data as of end-May 2018.
The Energy sector was the biggest contributor (+0.8%) to the overall earnings upgrade for Indonesian equity market. Energy giants like PT Adaro Energy Tbk and PT United Tractors TBK's earnings outlook are promising given the higher coal prices where it has surged about 20% recently. Note that China is currently entering summer season when demand for coals tends to elevate while supply tightens. Hence, we expect coal price to remain strong in the upcoming months.
Turning the limelight to Financials sector, which accounts about 30% of the weightage in JCI Index, saw positive earnings revision (+0.2). Market participants are sanguine about the sector's outlook, underpinned by economic recovery and soaring commodity prices that will boost loan growth and consumer purchasing power. Furthermore, Indonesian banks may be able to sustain net-interest margins as the central bank's easing of daily-basis reserve requirements and better liquidity conditions in the country may help contain funding costs moving forward.
FIGURE 5: Earnings growth bodes well for future uprising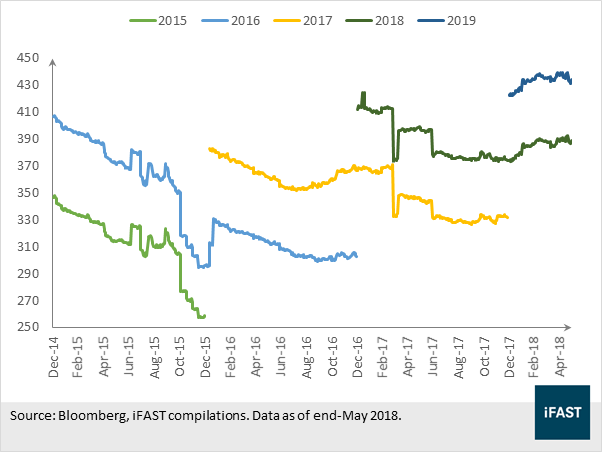 From a valuation standpoint, the JCI index is trading at PE ratios of 15.4X and 13.8X based on estimated earnings for 2018 and 2019 respectively, below to its estimated fair PE ratio of 16.0X (as of 31 May 2018) (refer to Table 2).
We maintain our conviction in the positive view for Indonesian economic growth moving forward. Investors should stay focus on its improving fundamentals when assessing the equity market's future prospects. Given that global economic growth is widely expected to remain robust, the recent correction has brought valuations to a more attractive level and provides long-term investors an attractive entry point.
Table 2: Valuation and Earnings Growth for JCI Inde

2018
2019
Fair
PE Ratio (X)
15.4
13.8
16.0
Earnings Growth (%)
17.3
11.6
-

Source: Bloomberg, iFAST compilations. Data as of end-May 2018.
FIGURE 6: Trading below its fair PE Ratio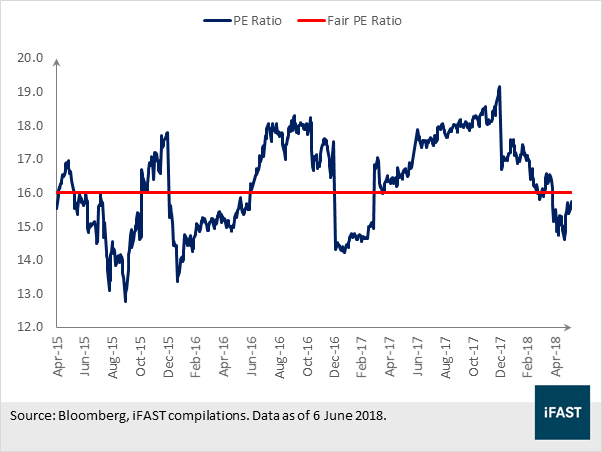 Conclusion
In our view, the Indonesian equity market will most likely remain volatile in the months to come as uncertainties over the trade terms negotiation between US and China as well as the US dollar's strength amid rising inflation expectation loom over investor's sentiments. Investors should bear in mind that, volatility is normal when it comes to investing in emerging markets and understanding the long-term fundamentals always help investors not to overreact and make rational decisions.
When you are on a plane that's shaking violently, scrambling to put on a life jacket when the plane is just hitting a patch of turbulence is overreacting. Adversity leads to prosperity. One should note that Indonesia is still blessed with fundamentals that will help to weather external factors. As long as these fundamentals are in place to support the Indonesian economy, prices will correct over time and hence a recovery in the market.
In consideration of the solid economic fundamentals, upgraded earnings estimates and attractive valuation in the country, we believe Indonesia warrants a half star upgrade to 3.5 Stars "Attractive".