FPX E-Mandate - paperless and convenient!
Good news to all of our FSM clients! You can now apply for Regular Savings Plan (RSP) with FPX E-Mandate payment method and have your application approved within 7 business days (rather than wait 1 to 2 months)!
We have enhanced our FPX service and with this enhanced online payment gateway, you can apply for RSP in just 4 steps and do not need to submit any forms. After your RSP application is approved, RSP amount will be deducted from your bank account on the 15th of each month, or the next business day if 15th is a non-business day. It is a faster and convenient payment method to subscribe to RSP compared to the previous FPX service.
RSP to utilise the dollar cost averaging
For many investors, buying low and selling high is almost an impossible task especially when fear and greed typically lead investors to do the opposite - buying high and selling low. RSP utilises the Dollar Cost Averaging (DCA) concept of investing which is the practice of investing a fixed amount of money regularly regardless of market conditions. DCA takes the guesswork and emotions out of investing. By investing a fixed amount on a monthly basis, RSP ensures that you accumulate more units when prices are low but lesser when prices of units are high. A lot of stress is avoided as the investor does not have to decide whether the fund is expensive or not and whether the market condition is suitable to invest.
how much do i need to start rsp?
For many investors who are starting out, initial capital is often a problem. We have an RSP Special List of funds which allows investors to start investing without any initial investment amount at all! This means that for as little as RM100 per month, you can start your investment plan straight away and make your money work harder for you. This list encompasses more than 200 funds!
only 4 steps to subscribe to RSP with FPX e-mandate
Step 1: Login to your FSM Account & Go to RSP > Apply
If you already have an account with us, that's great!
Just log in, proceed to the Regular Savings Plan tab and click on Apply!
If you would like to open a FSM account, click here.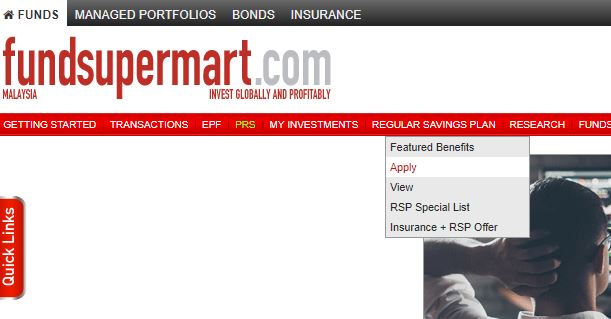 Step 2: Choose Funds to Invest Monthly
Select the fund you would like to subscribe RSP on a monthly basis.

Step 3: Select FPX and Decide RSP Amount
Select FPX under Payment Method and key in the RSP monthly amount you would like to invest for the fund you have selected in step 2.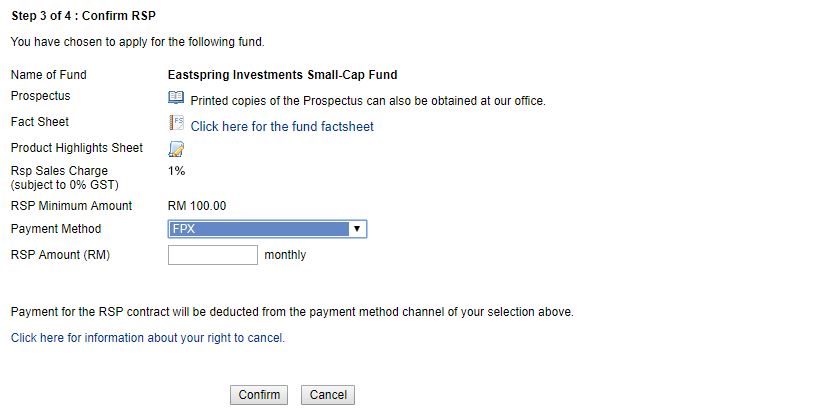 Step 4: Fill in all fields in the FPX E-Mandate Application
Fill in all the fields in "New FPX Application" and click "Proceed".
You will then be directed to the bank portal to complete the RSP application.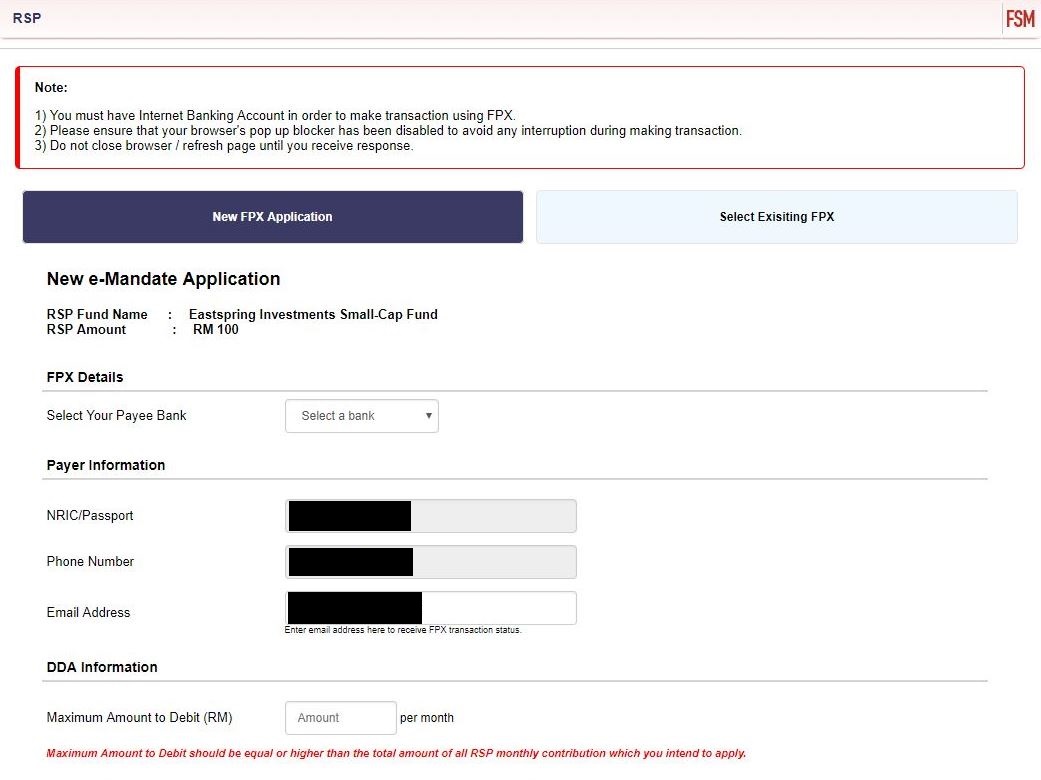 We will process the application and we will notify you by email when the application is approved. The RSP will commence only when the application is approved.
Voila! All it takes is just 4 simple steps to complete your subscription to RSP with FPX E-Mandate!
To benefit investors further, for the first time, Fundsupermart is offering a promotional sales charge of 1.0% every month when investors subscribe to Regular Savings Plan from 26 November till 28 December 2018!
terms and conditions
This promotion is applicable to investors who subscribe to Regular Savings Plan (RSP) from 26 November 2018 - 28 December 2018 (promotion period).
Investors who subscribe to Regular Savings Plan (RSP) within the promotion period will get the 1.0% sales charge every month until the RSP is terminated upon investor's request.
This promotion applies to FPX and Cash Management Fund payment method only.
This promotion is only valid for new RSP subscription.
Account holders under the FSM Rewards Program will be given the promotional sales charge or the FSM Rewards Program discount, whichever is lower. 
Don't have an account with Fundsupermart.com?
Open an account for free and there is no maintenance fee. You are also not required to have or maintain a minimum holding to keep the account.