Over the past few months, Emerging-market contagion fears have been dominating the front pages of newspapers. The emerging market currencies as represented by the MSCI Emerging Market Currency Index has tumbled by more than -7% in USD term over the last six months, with the Argentine Peso and Turkish Lira dominating the bottom performing list, plummeting more than -59% and -44% respectively. The negative sentiment has weighed on other Asian currencies such as the Indian Rupee, Indonesian Rupiah and Philippine Peso. Meanwhile, the Malaysia Ringgit has also depreciated by more than -7% since April 2018.
Hence, in this article, we would like to share with our investors on the factors that sparked tumult in the Emerging Market space and why we think the Ringgit should be comparatively safe.
Figure 1: YTD Performance for MSCI EM Currency Index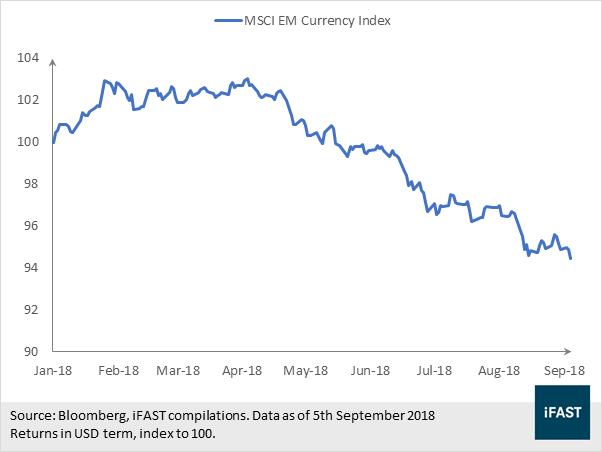 Figure 2: USDMYR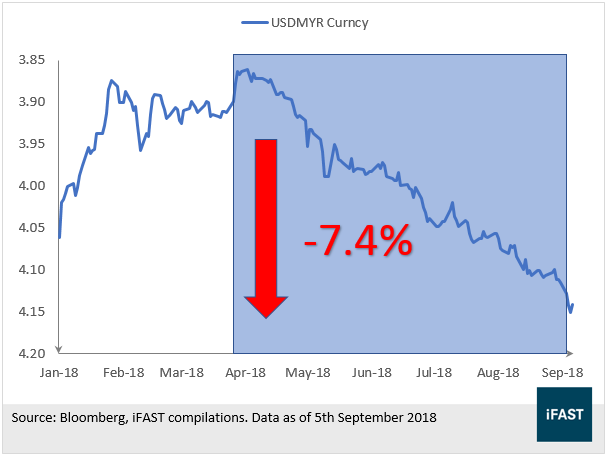 What Caused The Recent EM Currency Weakness?
Emerging market stress is not a new issue, with the last episode being seen in the 2013 (Taper Tantrum). One of the obvious similarities between 2013's Taper Tantrum and today is that these fragile emerging markets face a "twin deficit" problem, both fiscal and current account deficit. Countries that suffered significant plunges in their currency, from Argentina, Turkey to Indonesia and Philippine all face the twin deficit problem.
Figure 3: Twin Deficits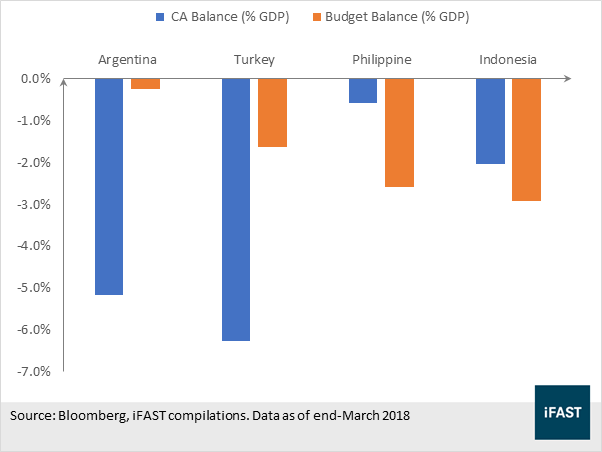 Particularly in Argentina and Turkey, the respective central banks also bear a significant share of accountability due to their ineffective monetary policy in containing the sky-high inflation (31.2% in Argentina, 17.9% in Turkey).
For almost a decade, investors would have been enjoying on the extra cash pumped into the global financial system which is known as Quantitative Easing. Now we are exactly in the opposite environment with several central banks starting to taper the bond purchase or unwind their balance sheet. In US, the Federal Reserve has not only started to unwind its balance sheet but also lifted its benchmark interest rate by a total of 1.75% over the past 3 years and is expected to hike another 0.5% this year. Besides US, the Bank of Japan and European Central Bank are also gradually reducing their purchases with a view to normalizing policy.
Also, as the strength of Dollar and EM stress are inseparable, the recent surge in Dollar has sent shockwaves through emerging market especially those with substantial amount of debt in foreign currency.
Hence, with the shrinking global liquidity and strengthening Dollar, we saw more substantial foreign fund outflows in those emerging markets with weak fundamentals as compared to other emerging markets.
Malaysia's Fundamental Remains Intact
Locally, despite the fiscal deficit that the Malaysian government is facing right now, we believe that the healthy current account as well as the strong foreign reserves are likely to provide Malaysia with a comfortable cushion against external uncertainties.
figure 4: Malaysia's CA & Budget Balance % GDP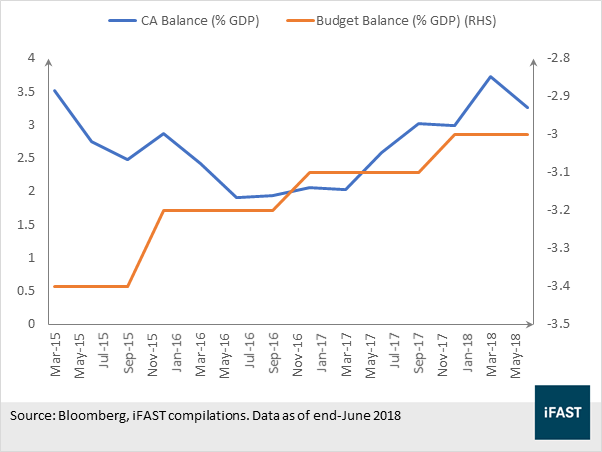 figure 5: Malaysia's Foreign Reserve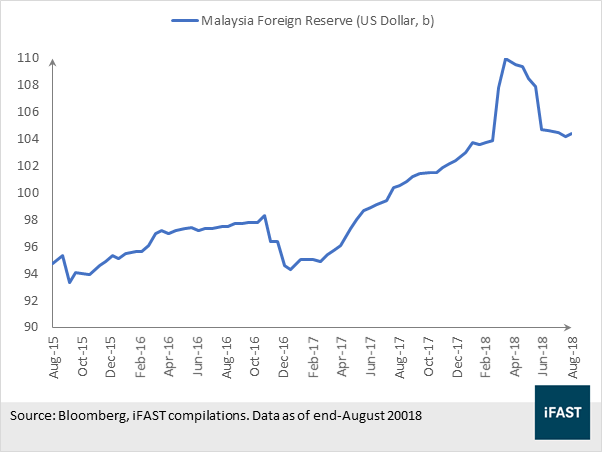 Although emerging market capital flows in term of portfolio or other investment flows might face a squeeze due to the escalating volatility and tightening global liquidity, we believe those countries with strong support from foreign direct investment (FDI) such as Malaysia and Thailand are likely to endure increased volatility in the global financial market as those businesses that have started their businesses over the last few years are unlikely to pull their investments due to short-term uncertainties. As such, the valuation of Ringgit has become even attractive as a result of the recent EM currency turmoil.
Minimal Rate Hike Impact
Apart from the rout in emerging markets, the US Fed rate hike decision would be another factor that might drag the Ringgit lower. Although we are not expecting BNM to increase the country interest rate as aggressively as US Fed, which might pose downside risk to Ringgit, one should note that Malaysia is way ahead of others in normalizing the interest rate right after the 2007/08 Financial Crisis (see figure 6).
figure 6: Malaysia's Interest Rate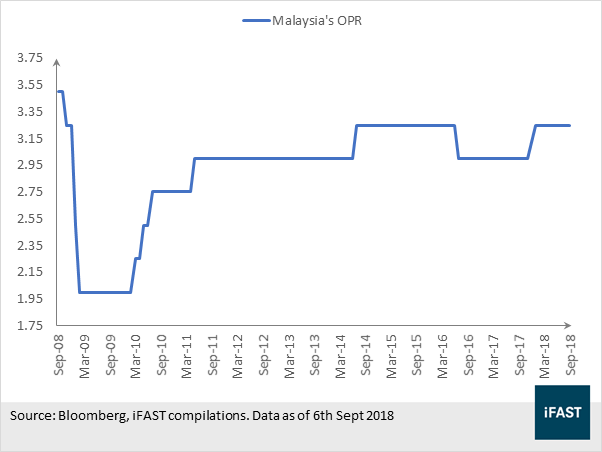 Also, we believe that the US rate hike effect that would lead to foreign fund outflow is likely to be minimal to Malaysia. Reason being, on the fixed income side, as the current real yield offered is increasingly attractive, we believe that the foreign investors will might spot opportunities in the local bond space as what we have seen in the month of July given that the current foreign holdings in Malaysia debt securities is still standing below the 2-year average (see figure 7).
For the Malaysia equity market, given that most of the global equity funds have an underweight position in Malaysia equity and the significant foreign fund outflow since the unexpected election results, we do not expect any massive foreign outflows from the local equity market.
figure 7: Foreign Holdings in Malaysia Debt Securities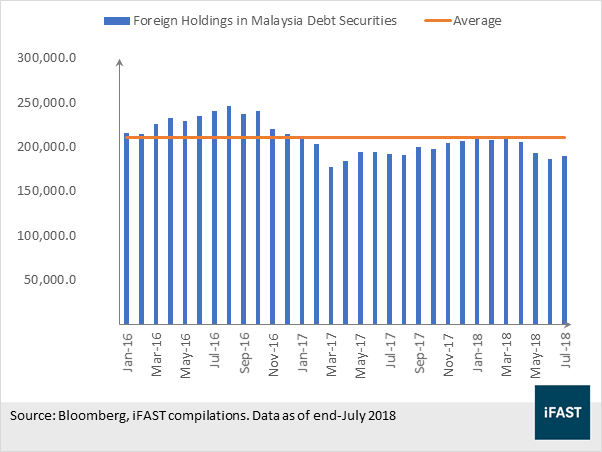 Conclusion
All in all, we are of the opinion that the weakening of Ringgit has more to do with US dollar strength than it has to do with the Ringgit's weakness. One should be aware that the strong dollar could be counterproductive to the US economy as well as the corporate earnings growth. With healthy fundamentals coupled with an attractive real bond yield, we believe the downside risk for Ringgit is limited.
With that, investors might want to consider limiting their unhedged foreign currency exposure.