As mentioned in Part 1 of this Singapore market review, we have explained that one of the reasons for our continued positivity in the Singapore market despite its strong rebound year-to-date stems from the fact that the market is likely pricing in relatively conservative GDP growth estimates for 2017. We believe this to be a potential catalyst for the Singapore equity market over the next few quarters as the city's potential for growth gets recognised by the market.
In addition to the aforementioned catalyst, the market currently trades at still attractive valuations, is seeing upward revisions in its earnings estimates, and continues to offer attractive dividend yields, adding to the market's attractiveness despite its recent rally. These numbers will be looked at in the following section.
Attractive Valuations, Earnings Estimates & Dividend Yields
Table 1: Valuation metrics and earnings estimates of the STI Index.

PE Ratio

16.0X

14.7x

13.7x

12.9x

Earnings Growth

-

5.8%

7.6%

6.2%

Dividend Yields

-

3.4%

3.6%

3.7%

Bloomberg, iFAST compilations. Data as of 26 May 2017.
As of 26 May 2017, the Singapore equity market, as represented by the Straits Times Index (STI), trades at PE ratios of 14.7X, 13.7X and 12.9X for 2017, 2018 and 2019 respectively, representing a discount to its fair PE ratio of 16.0X. Additionally, earnings estimates, which have been revised downwards in the past recent years have been revised upwards thus far in 2017, reflecting a restoration of optimism in the earnings outlook of Singapore companies. As at 15 May 2017, the earnings of Singapore companies are expected to grow 5.8%, 7.6% and 6.2% in 2017, 2018 and 2019 respectively.
With such a strong performance, do we still think the Singapore market presents an investment opportunity today? In explaining our continued positivity towards the Singapore equity market, we will cover, in two parts, a review of the Singapore economy which we believe will surprise to the upside and thus be a potential catalyst for the market over the next few quarters; as well as take a look at the market's valuations, earnings and dividend yield estimates, which look attractive at this juncture.
Chart 1: Earnings Estimates Have Stabilised Thus Far In 2017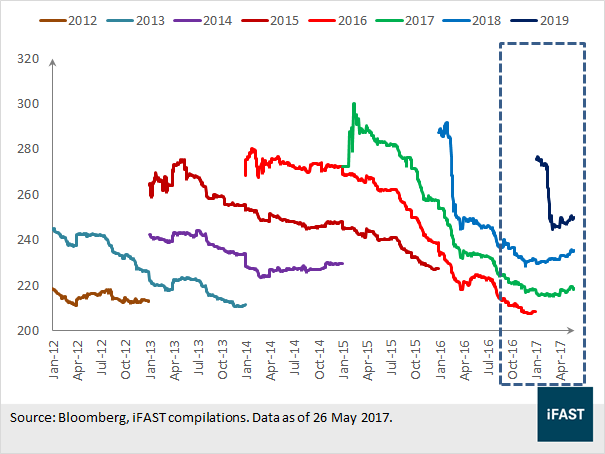 Economic Growth Well-Positioned To Positively Surprise
While the market's estimated dividend yields have continued to decline since early 2016, we do not view this to be significant cause of concern given that the decline was primarily due to the notable rise in the index year-to-date which outpaced the increase in the index's estimated dividend payout. Moreover, at this juncture, the market's estimated dividend yields continue to look attractive compared to the dividend yields offered by other markets.
Table 2: Dividend Yields Still Attractive Compared To That Offered By Other Markets.

Singapore

3.4

3.6

3.7

MSCI World

2.5

2.7

2.8

MSCI Emerging Markets

2.6

2.8

3.1

MSCI Asia ex-Japan

2.5

2.6

2.8

Bloomberg, iFAST compilations. Data as of 26 May 2017.
In conclusion, we continue to remain positive on the Singapore equity market despite its recent rally in view of a GDP growth which may be better than consensus expects, which should in turn support valuations, as well as still attractive valuations and dividend yields and earnings stabilising after the past recent years of downgrades. We believe the market's star rating of 4.0 Stars "Very Attractive" continues to be warranted at this juncture.
Which Fund To Invest?
For investors who wish to tap into the investment opportunities residing within the Singapore equity space, they may consider the Nikko AM Singapore Dividend Equity. It possesses a long history of consistently strong performance, reflecting the good stock selection capabilities of their fund managers. The benchmark for the fund is the Straits Times Index (STI) and the fund is suitable for investors seeking medium to long term capital appreciation. The fund is an income-focus fund and looks to invest primarily in equities that offer attractive and sustainable dividend payments. It has a few currency classes for investors to choose from as well.