Back in December last year, we predicted that Thailand's economy is poised to benefit from the new political structure, and upgraded both the Star Rating and the Fair PE value for Thailand to reflect our view. Since then, Thailand equities, as represented by the SET Index, has delivered 15.2% return in MYR terms (or 12.9% in local currency terms, as of 15 September 2017). Although Thailand equities have delivered decent returns thus far, its upward trajectory has been a rocky one. Having delivered a whopping 29.5% return in 2016, the political stability premium, in addition to lackluster corporate earnings growth may have explained SET Index's volatile performance over 1H2017. In this article, given the satisfactory performance from Thailand equities since our previous upgrade, we would like to furnish investors with some of the on-going developments in the economy, and the prospects of Thai equities moving ahead.
FIGURE 1: SET Index performance since previous star rating upgrade.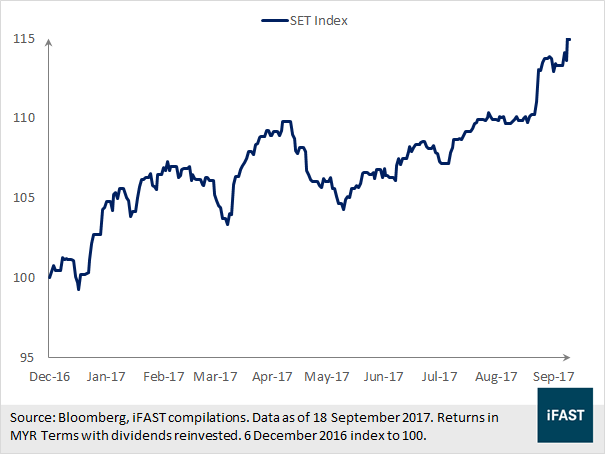 Economic Growth to Remain Robust Moving Forward
Thailand's GDP growth has turned out better than expected in 2017 thus far, after a soft landing on the economic front in 4Q2016 amid pass of the late Thai King. In expenditure terms, private consumption has recovered gradually amid higher farmer income (see Figure 2), plus a better consumer and business confidence. Better weather conditions post-El Nino have helped improved agriculture yields, which helped to lift income for farmers and that supported the people's spending. On the trade front, global economic recovery has increased external demand for Thai goods, which gave a leg-up to external trades. Like many of its ASEAN peers, Thailand's exports have been growing strongly into 2017 despite its currency's strength and have contributed positively into Thailand's economic growth.
FIGURE 2: Better agriculture yields underpinned domestic consumption.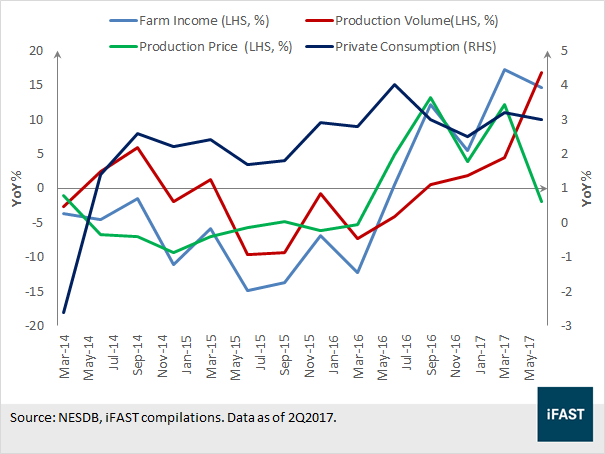 Looking into sectors, unsurprisingly, the agriculture sector has recovered favourably from the previous El-Nino impact. The Thai's military officials have also taken further measures to better manage water supply issues, which often occur during the summer season (May – August). Tourism-related industries, such as hotel and transportation, are also portraying encouraging signs of recovery (see Figure 3), as tourist receipts have recovered from a dip towards 4Q2016 amid pass of the late Thai King and the clampdown on "zero package" Chinese tours.
FIGURE 3: Tourist arrivals recovered from a dip at the towards the end of 2016.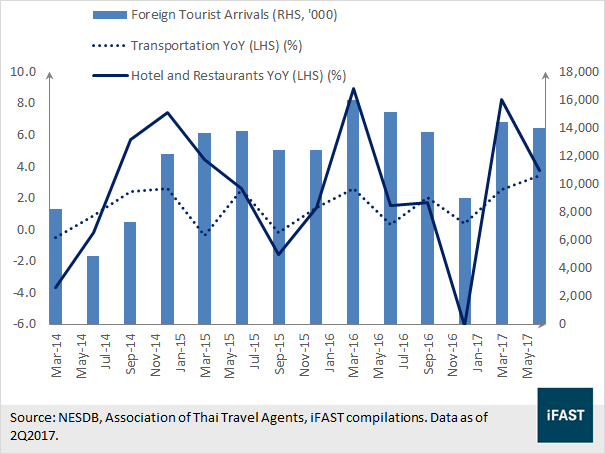 Moving forward, we expect Thailand's economy to continue to trek its recovery path. Agriculture yields are expected to remain relatively stable in the coming quarters, and should remain supportive to the people's income. Coupled with low inflation, these factors may stimulate private consumption. Meanwhile, exports growth is expected to remain robust on the back of global economic recovery, and the disbursement of government budget for infrastructure projects may provide a boost to Thailand's economic growth in 2H2017.
Royal Endorsement Sets Timeline for 2018 Election
Prior to the constitution approval, Thailand's economic condition has been on the mend on the back of the ruling military government, with private consumption and government spending increasing in the absence of political noise. In 2016, Thai equities even emerged as one of the top performing markets, enduring shocks from the pass of the late Thai king and foreign fund outflow following Trump's election victory towards the end of the year.
This year, the new Thai King has endorsed the constitution back in 6 April, and the countdown to the next election has officially started. According to the timeline (see Figure 4), the election is likely to be held no later than November 2018. With that, Thailand now has a clearer official timeline for their general election, and political clarity should continue to underscore business confidence on the ground.
FIGURE 4: Thailand's general election timeline.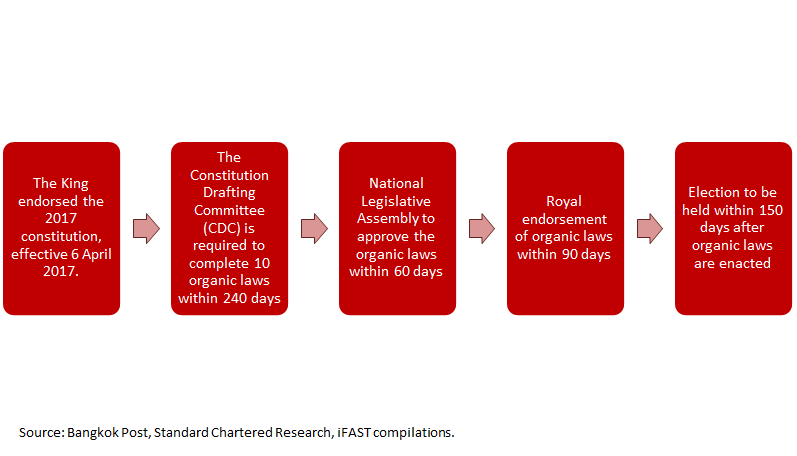 On a side note, former prime minister Yingluck Shinawatra failed to show up for a negligence ruling on 25th August 2017, with news headlines sighting that she had fled the country. We opine that Yingluck's departure points to lesser confrontations and demonstrations on Thailand's political front, which may have contributed to the recent equity market rally over the past 3 weeks.
Baht's Strength a Reflection of Improving Macroeconomy
The Thai Baht has been in the limelight given its status as the best-performing currency in Asia so far, this year, clocking more than 8% gains against the USD dollar year-to-date. We believe the Baht's strength is reflecting a lower political risk within the Thai's Kingdom, together with an ameliorating macroeconomic condition. The Baht's strength was buoyed by foreign inflows into the nation's debt this year.
FIGURE 5: Asian currencies' YTD performance against greenback.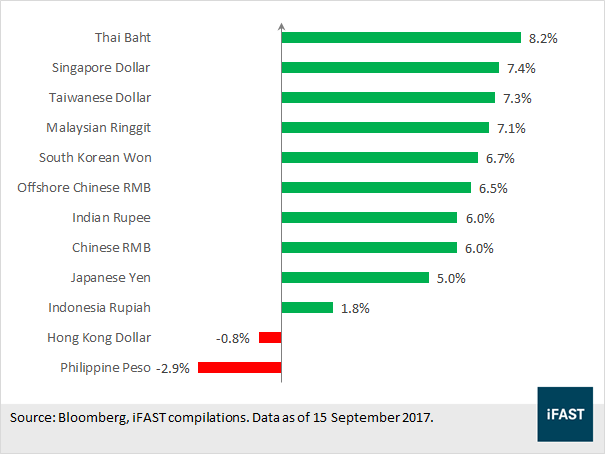 FIGURE 6: Baht's strength was buoyed by foreign inflows into the nation's debt.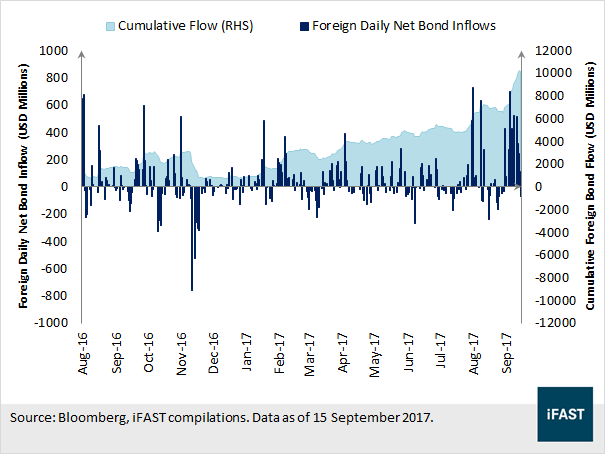 While Thailand's economic growth figures were encouraging, inflation figures are still soft, which suggest that interest rates are likely to remain at current levels. On top of that, given that Thailand's interest rate is at the lower range among its Asian peers, we opine that Bank of Thailand may also be in favour to save some monetary ammos to accommodate any unforeseen circumstances arising from external downside risks.
Valuations Now at Political Premium
Moving into 2017, consensus hasn't been optimistic on Thailand equities' earnings prospect (see Figure 7). We believe there are a few possible reasons to this. Firstly, analysts have revised the earnings estimates of energy-related companies downwards, pricing in potential headwinds amid oversupply issues coming from the shale production within US. Secondly, slower-than-expected recovery in domestic consumption has placed a cap in consumer-related corporate earnings, where Thai companies have mostly posted weaker than expected revenue and sales growth over 1Q2017 and 2Q2017. Lastly, within the banking sector, loan growth was rather muted given soft recovery in private investments and high level of household debts, thereby leaving less room for net interest margin. With investors pricing in political stability previously and earnings revision moving sideways, valuations have crept towards a premium level.
FIGURE 7: Earnings revision trended sideways.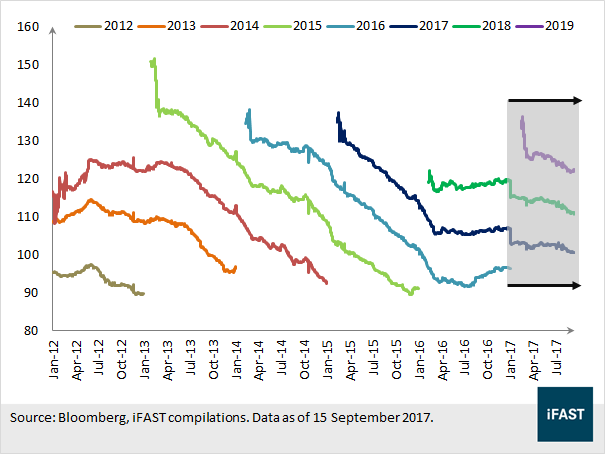 FIGURE 8: Loan growth for banks has been slow over the recent periods.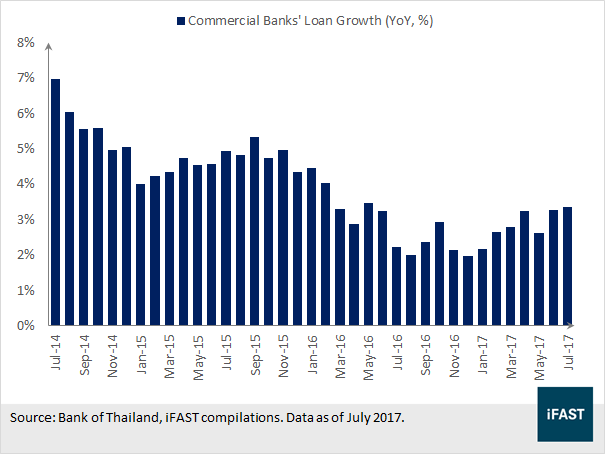 Table 1: Earnings growth, valuation and dividend yields for SET Index.

2017
2018
2019
PE Ratio (X)
14.0
16.5
14.9
13.6
Earnings Growth (%)
-
4.4
10.4
10.1
Dividend Yields (%)
-
2.8
3.0
3.3

Source: Bloomberg, iFAST compilations. Data as of 15 September 2017.
Looking at the valuation metrics in Table 1, growth-seeking investors may intend to steer away from Thai equities given its premium valuation. However, we believe that Thailand's current macroeconomic picture will be acting as a positive input to corporate earnings growth in the near future. We think it may be possible for the earnings growth momentum to transition from cyclical sectors such as commodities to domestic sectors, given that both agriculture sector and tourism sector's expansion are feeding positively into consumers' income, which may be beneficial for consumer-related companies. The disbursement of budget for Thailand's seven-year infrastructure investment plan in 2H17 may also act as a tailwind for corporates within the industrial and construction-related sectors, which may act as a support to Thai equities going forward.
Takeaway
All in all, Thailand's economic development and stable political scene are still pointing towards a positive backdrop for Thai equities. While valuations are sitting at a premium level, Thai equities could remain supported by its decent macroeconomic environment. For investors who are seeking higher equity market returns can consider Asian equities, which are still offering compelling value and higher expected upside at this current moment.