In our recent piece on Thailand, we mentioned that the kingdom still has some headroom for stronger growth from a macroeconomic perspective. In this article, we are scoping on Thailand's equity market to see if it presents any attractive opportunities for our investors.
Revisiting Thailand's bourse – The SET Index
Unlike our local bourse FBMKLCI Index that captures merely top 30 companies in terms of market capitalisation, the SET Index captures all companies listed on the Thailand stock market. As of 28 March 2018, there are a total of 581 listed companies in Thailand. The top 50 listed companies account for 73.2% of the total market capitalization. (see Table 1)
Table 1: Sector weightages of top 50 companies by market capitalisation on SET Index.

Sector
Weightage
Consumer Discretionary
3.6%
Consumer Staples
7.8%
Energy
15.7%
Financials
14.2%
Health Care
2.9%
Industrials
8.1%
Information Technology
0.5%
Materials
8.2%
Real Estate
2.7%
Telecommunication Services
6.6%
Utilities
2.9%
Total
73.2%

Source: Bloomberg, iFAST compilations. Data as of 28 Mar 2018.
Notably, Financials and Energy are two heavy weight sectors that could exert significant influence over Thailand's equity landscape. Consumer Staples, Industrials and Materials are among the rest who constitute high weightage in the SET Index.
Investors Have Cheered on Better Economic Prospects
FIGURE 1: Thailand equities have trended higher on better political clarity and macroeconomic outlook.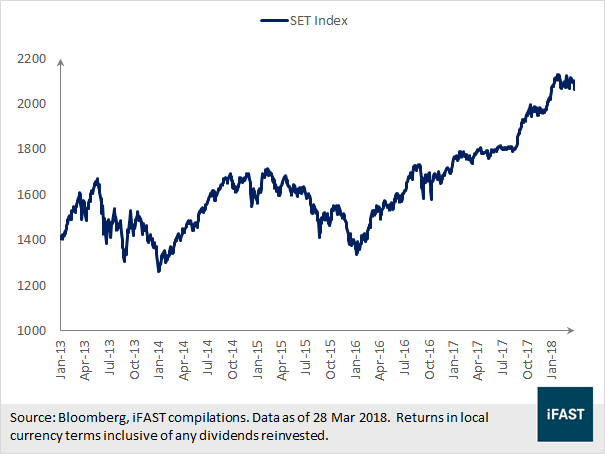 For a context, Thailand and its stock market prospects weren't bright in periods between 2013-2015. On the domestic front, the kingdom was having a difficult time solving political instability, caused by conflicts between opposition party and ruling government. Externally, the downturn in commodity prices and China's economic rebalancing were clouding the outlook for Asian and emerging markets.
Since the newly drafted constitution in August 2016 which gave the military the veto power, the people and market participants have interpreted this as a positive sign of stability, evidenced by the bottoming of earnings estimates (see Figure 2). While earnings trend has been showing signs of bottoming, equities have nevertheless trended higher (see Figure 1).
FIGURE 2: Earnings trend for SET Index over the past 5 years.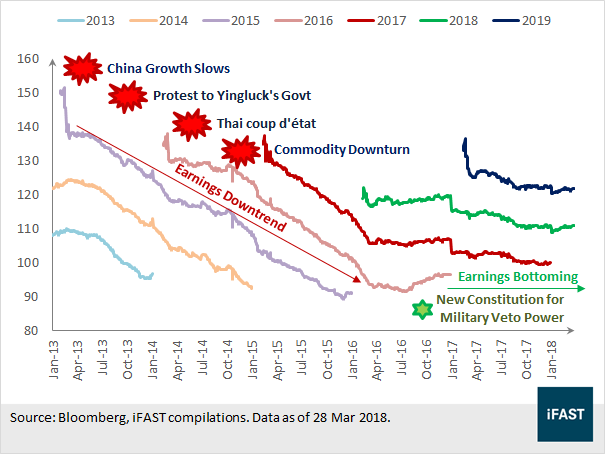 Telco, Materials and Energy Led Positive Earnings Revision
Table 1: Sector weightage of top 50 companies by market capitalisation on SET Index.

Market-Cap-Weighted Earnings Revision
FY17
FY18 (YTD)
Energy
3.24%
1.54%
Financials
-0.70%
-0.23%
Materials
1.39%
0.41%
Industrials
0.51%
0.10%
Consumer Staples
-0.77%
-0.09%
Telecommunication Services
2.52%
9.42%
Consumer Discretionary
0.01%
0.02%
Utilities
0.06%
0.06%
Health Care
-0.32%
0.02%
Real Estate
0.15%
0.03%
Information Technology
-0.06%
-0.01%

Source: Bloomberg, iFAST compilations. Data as of 28 Mar 2018. Positive values indicate upward revisions, vice versa.
Within Telecommunications, True Corp did most of the heavy lifting as analysts expect the company's product convergence propositions to take place successfully, which would contribute positively to its service revenue. Depreciation and amortization charges which have eaten into its profits in the previous fiscal year are expected to see limited increase. The company's steady market share gains and robust revenue momentum have also alleviated its earnings prospect.
Investors may have already known the strong earnings recovery story for Energy: higher oil prices, stronger demand for petrochemical products plus a stronger balance sheet amid previous restructuring efforts during commodity downturn. Oil and gas giants like PTT and PTT EP have witnessed record high net profits and earnings. On average, Energy companies have their earnings revised upwards by 16.8% and 7.5% in FY17 and FY18 (YTD) respectively.
Turning towards Materials, understandably, the better-looking side of the picture is within the petrochemical space, with companies such as PTTGC and IVL. Against a backdrop of higher oil price along with healthier global demand for petrochemical goods, these companies have benefitted from the increased chemical prices and spreads. In contrast, outlook for cement companies wasn't as bright as the profit margin remains compressed because of stiff competition and higher coal costs. Although there is a lot of on-going infrastructure projects in Thailand, the disbursement of government funds has been slow, partly caused by land acquisition difficulties. Until all these government spending kicks in, infrastructure is unlikely to give a big push to Thai cement demand in 2018.
Given its significant weightage, we would also like to take the opportunity to look into Financials. The earnings revision trend for these companies were generally mixed. Given that loan growth picks up seasonally in second half of the year, the earnings revision trend may start to look better in 2H2018, where businesses normally take loans. Generally, analysts are in favour of institutions with solid balance sheet and consistent loan growth like Kasikornbank and Bangkok Bank; earnings estimates were less encouraging for banks such as Bank of Ayudhya, which are struggling with heavy loan loss provisions.
In its latest monetary policy meeting, one of the members of Bank of Thailand was dissenting in favour of a rate hike (decision to keep rates on hold was unanimous for the past 6 meetings). However, we do not foresee Bank of Thailand to hike rates for the rest of the year despite rate hike moves by US and its peers such as Malaysia and Indonesia. Keeping the policy rate on hold will help preserve the private spending recovery momentum and to achieve its inflation target.
Premium Valuation Amid Encouraging Outlook
FIGURE 3: Thai equities not looking cheap.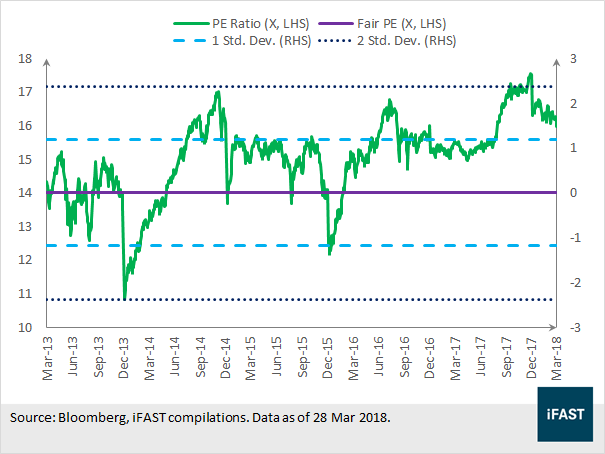 We have mentioned earlier that investors have cheered on better economic prospects, bringing Thailand's equity valuation nearing 17.5X at the beginning of 2018. Since then, Thai equities have experienced correction amid US inflation talks and concerns revolving trade wards between China and US. As of 28 March 2018, PE ratio for FY18 and FY19 stood at 16.10X and 14.7X respectively together with earnings growth of 11.7% and 9.9%.
The premium value of the SET Index makes it susceptible to valuation contraction. However, our view is that the robust earnings growth of Thai companies will continue to lend support to equity performances. On top of that, should the government expenditure kicks in as scheduled and general election is to be held as planned, we see further potential for upward revision in earnings.
Takeaway
All in all, we are holding our positive view on Thailand (3.0 Stars, Attractive). For investors who are seeking to tap into the long-term growth opportunities residing within this nation, they could invest into CIMB-Principal ASEAN Total Return Fund. As of 28 February 2018, the fund has about 15.4% exposure into Thai equities, with the remaining invested into other ASEAN nations.