The last time we wrote on Thailand was more than a quarter ago. After a constitution reform in 2016, the Thailand economy reignited its growth engine with a spark from global trades. Agriculture sector bottomed-out as impact from El Nino fades away, and factories have started chugging along with higher aggregate demand on domestic and global front. Together with robust tourism activities, the nation has put together a broad-based growth picture.
Taking a 30,000-foot-view, however, it's not all good on the global front. After having a better month in July, investors are back to surfing the tides of volatilities, no thanks to Trump. Also, after close to a decade long of ultra-easy monetary policies, various central banks are finally shifting towards a tighter monetary policy stance, which puts more uncertainties on the table for investors to consider.
Should investors consider investing in Thailand? In this article, we look to share with investors our views on the Thai kingdom.
Limited Impact from Delayed Election
Last year, consensus was expecting elections to be held no later than November this year after King Vajiralongkorn endorsed the new 2017 Constitution of Thailand back in April 2017. But, progress has been slow, which means that the military power will reign over the political scene for an extended period of time.
FIGURE 1: Thailand election timeline.

Based on the timeline above, the delay is attributable to the drafting and approval of the 10 organic laws. Should the royal endorsement progress as scheduled, the current-ruling Junta is expected to ease ban on political activity in the next 4 months to allow political parties to undertake administrative tasks in preparation for the election.
We foresee more delays ahead despite the election timeline making notable progress. This is due to the fact that the coronation of King Maha Vajiralongkorn has yet been set, and general election will not take place till then. The ceremony is supposed to be held after the end of mourning period last year, but the local authorities have yet to receive any instructions from the Royal house.
A delayed general election could imply more variables for the political parties, but the economy may derive little impact, in our view. The current military government has been addressing critical issues that often trouble Thailand's economic front: preventing flood by building more reservoir and dams, combating drought through water rationing projects, improved disbursement of budgets on infrastructure developments, implementing tourist-friendly measures and more importantly, acting as a sign of political stability for the Thai economy.
Increasing Pressure on Monetary Tightening
The last move from Bank of Thailand (BoT) was in April 2015, putting the benchmark interest rate down to 1.50%. At that point of time, the central bank was combating against a slowdown in economic growth amid political uncertainty against an unfavorable backdrop of downturn in commodity prices. The environment has steered core inflation towards a stubbornly low level, which has hovered below 1.0% since then (see Figure 2).
FIGURE 2: Low core inflation has been among those reasons for BoT to keep rates flat.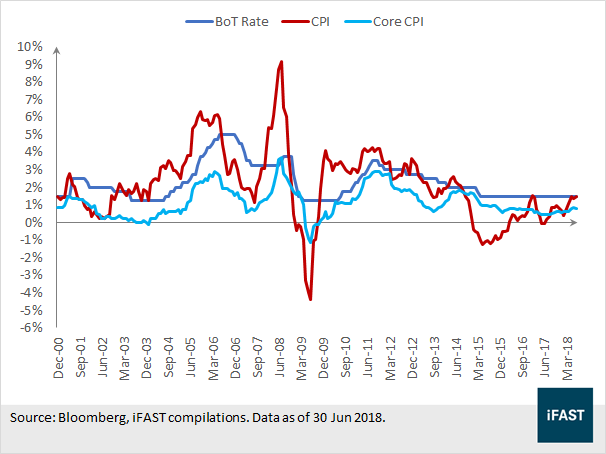 The recent Fed hikes have finally brought the spread between Fed rates and BoT rates to a positive territory, a level not seen since 2007 and we believe this may be one of the main reasons behind the recent depreciation of Baht. There are increasing expectations of BoT raising interest rates, but we think the central bank is likely to keep rates on hold for the rest of the year (as it did last week), as domestic core inflation remains benign. A weaker Baht is also a plus for its exports, as it could help cushion some residual impacts from on-going trade tensions between US and China.
Thailand's CPI figures have been creeping upwards steadily after bottoming in March 2015. If history is any guide, core inflation figures are likely to trend higher over the next 2-3 quarters when energy cost trickle-down towards the economy. This, along with the increasing spread between Fed rates and BoT rates, should give sufficient reasons for BoT to raise rates against a robust domestic economy backdrop.
FIGURE 3: Positive spreads for the first time since 2007 may have led to the recent sell-down in Baht.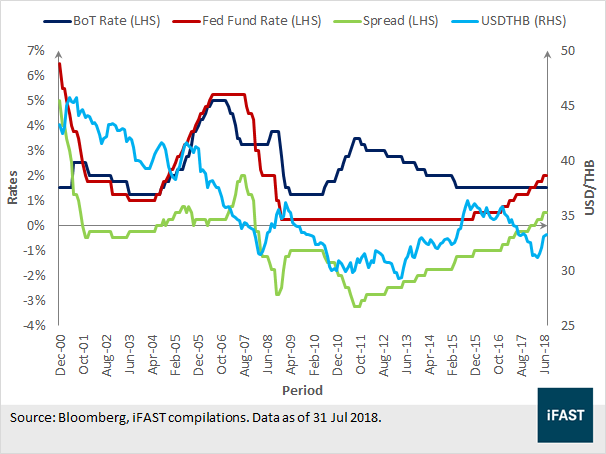 Valuations are Cheaper, but Earnings Revision Are Not Encouraging Just Yet
The on-going trade spat have jolted volatilities across global equities, with the emerging market region experiencing most of the impact. That has brought valuations to a relatively cheaper level (see Figure 4), which has prompted us to take a relook into Thai equities.
FIGURE 4: Valuations are not looking cheap for the SET Index.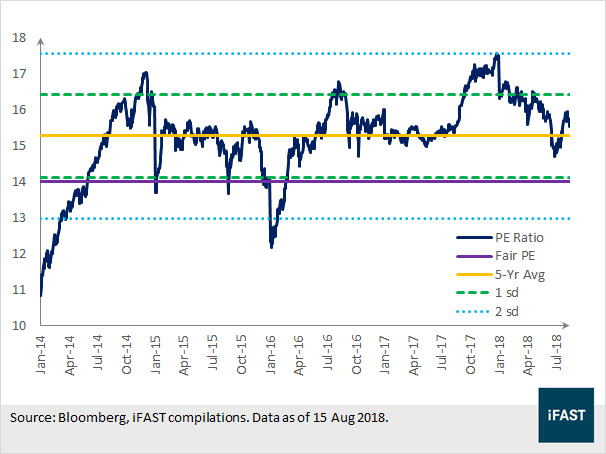 Across the period of May and June is where we see the most significant sell-off within emerging market equities, sparked by the reasons that we have mentioned in the earlier paragraphs. The valuation of the SET Index's contracted down to 14.7X at one point, before rebounding back towards level above 15X.
Have we 'missed' the boat? The upside that we are looking at would be around ~4.0% assuming SET Index is expected to revert back to a 5-year historical average level of 15.3X, which it did. However, given that we are not seeing an encouraging earnings revision trend from Thai listed companies (see Figure 5), we lacked strong reasons to justify a buy call back in June.
FIGURE 5: Downward revision in earnings may have eased, but lacking upward revision momentum.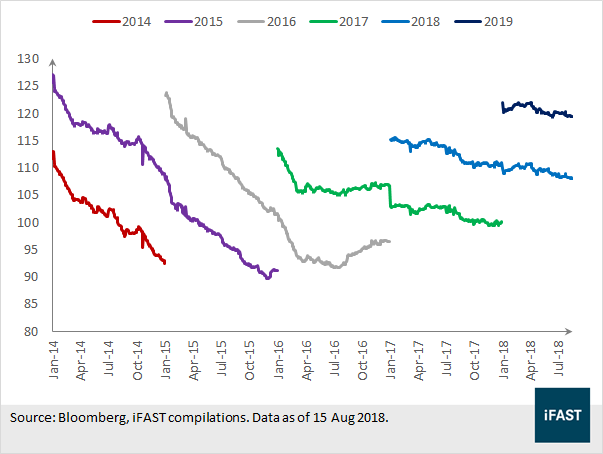 FIGURE 6: Modest recovery in earnings growth.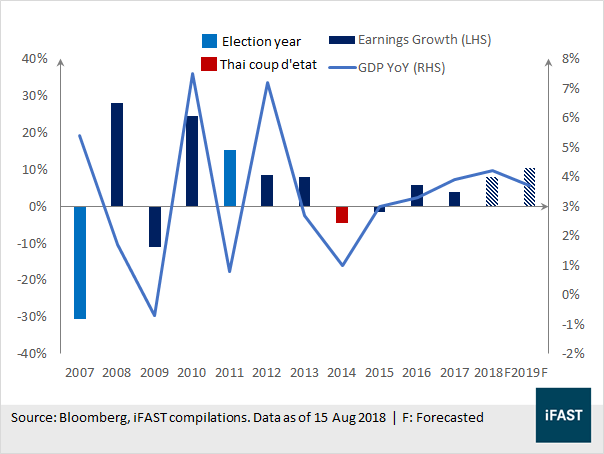 FIGURE 7: Upside potential for SET Index by end-2019.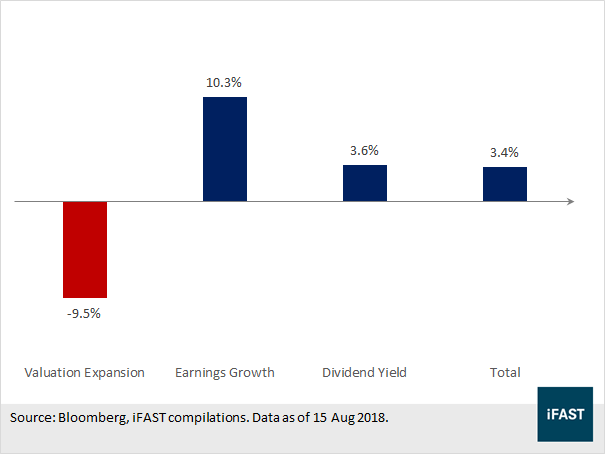 At this juncture, Thai equities are expected to deliver 3.4% total return by end-2019 (see at Figure 7). While earnings growth is expected to drive most of the returns, its premium valuation made it susceptible to valuation contraction risk.
Conclusion
To sum it up, valuations for Thai equities aren't appealing compared to those of its North-Asia counterparts, namely China. While earnings figures lacked encouraging momentum, we believe market participants have priced-in a political stability premium for the market, which left Thai equities at a relatively unattractive level.
However, from a macroeconomic perspective, we are holding onto our positive views on Thailand. Aside from lending support from sturdy external demand and tourism activities, the main drivers for domestic growth for the rest of the year will be relying on people's spending and government's expenditure on infrastructure projects. With that, we maintain Thailand equity market's star rating at 3.0 Stars (Attractive).