Market Performance in 1Q 2017
Following a strong finish back in 4Q2016, equities around the world continued its upward march in 1Q2017, attributed to series of decent economic data together with acceleration in global growth. Over the quarter, one of the key events was the second rate hike by Federal Reserve in less than 3 months, which is well-received by market participants as the Fed portrayed a rather dovish tone to stay accommodative to preserve economic growth momentum. Surfing across the Atlantic Ocean, European equities were buoyed by robust economic data, with Mark Rutte's victory in Dutch election tapering off some of investors' worries on the surge of populism. Within the Asia ex-Japan region and emerging market space, an upbeat economic data and sturdy exports performance, along with the backdrop of stabilizing commodity prices, were among the key drivers to equities' performance.
Chart 1: Performance of global equities over 1Q2017.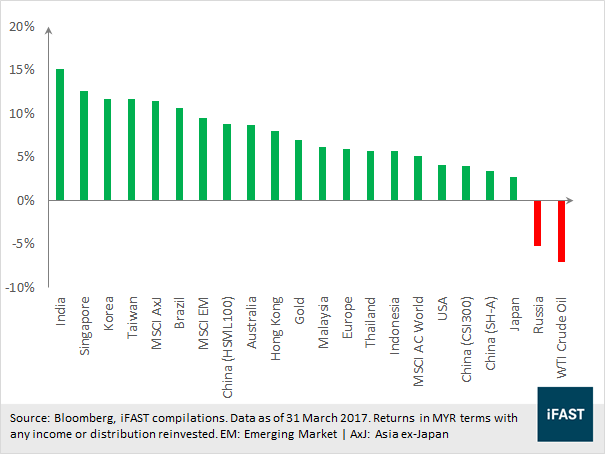 Overall Fund Returns in 1Q 2017
As of 31st March 2017, there are 225 equity funds on our platform, with 222 funds having posted returns over 1Q2017. As global equity markets pulled-off a great start to the year, it is unsurprising to find out that 215 (96.8%) of the equity funds on our platform posted positive returns; with only 7 (3.2%) of the funds finished the quarter in red. On average, these equity funds have delivered a 7.5% gain over the quarter.
[All stated returns are total returns including dividends and in MYR terms unless otherwise stated]
Chart 2: 1Q2017 returns distribution for equity funds.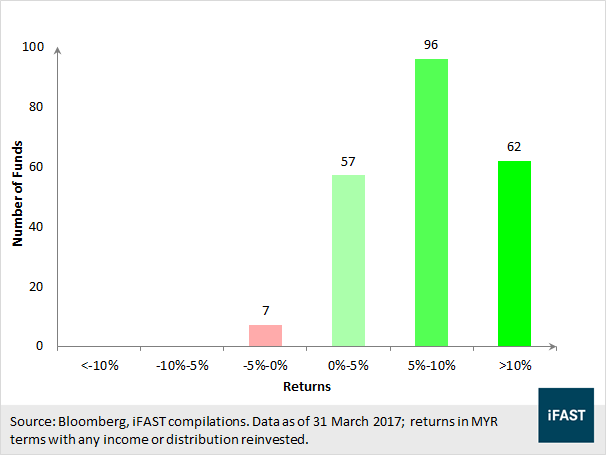 Top Performing Equity Funds
Table 1: Top 10 Performing Equity Funds

1

Affin Hwang Select Asia (Ex Japan) Quantum Fund

Asia excluding Japan-Small to Medium Companies

18.0

2

InterPac Dynamic Equity Fund

Malaysia-General

16.3

3

InterPac Dana Safi

Malaysia-General

16.2

4

KAF Tactical Fund

Malaysia-General

16.1

5

RHB Small Cap Opportunity Unit Trust

Malaysia-Small to Medium Companies

15.5

6

Manulife India Equity Fund

India-General

15.2

7

Affin Hwang Select Opportunity Fund

Malaysia Focus-General

15.0

8

Templeton Asian Smaller Companies Fund

- Class A (MYR)

<![if !supportNestedAnchors]><![endif]>

Asia excluding Japan-Small to Medium Companies

14.9

9

PMB Shariah Growth Fund

Malaysia-General

14.7

10

MIDF Amanah Strategic Fund

Malaysia-Small to Medium Companies

14.4

Source: Bloomberg, iFAST Compilations. Data as of 31 March 2017. Returns in MYR terms with any income or distribution reinvested.
A Turnaround for the Malaysian Small-Cap Segment
Previously, we have highlighted that growth-seeking investors who favour the domestic market could turn their heads toward the small-cap segment, as valuations were sitting at an attractive level compared to that of the big cap segment. With positive spill over effects from a higher oil price, we noticed a moderation in downward earnings revision for local equities. In addition to that, local companies have shown improvement in earnings in their recent earnings report, which increased the buying interest of market participants. We believe all these elements have formulated a decent performance for the Malaysian small-cap segment, which have driven the local small-cap equity funds' performance on our platform over the quarter.
Interpac Dynamic Equity Fund and Interpac Dana Safi have emerged as the first and second-runner up on the top performing list. These two funds are adopting a high conviction approach, holding approximately 25-30 stock counters respectively. In managing a concentrated portfolio, the fund manager adopts a bottom-up investment approach, which emphasize on the quality of management of the listed companies.
As for KAF Tactical Fund, in our latest engagement with its fund management team, the fund manager is optimistic on the prospects of the Malaysian small-cap equities. In accordance to that, the fund manager has an overweight position towards the small-cap segment, which has lifted the fund's performance over the first quarter. The appointment of a new designated fund manager back in January 2016 played a significant role in the improvement of the fund's performance over the recent period.
The current forward PE of Malaysia's small cap equities, as represented by FBMSC Index, is trading at 12.6X compared to FBMKLCI Index's 16.4X. Considering longer-term earnings growth of 15.6% and 11.1% for 2018 and 2019, forward PEs for 2018 and 2019 are currently trading at 10.8X and 9.8X respectively, which are relatively fair compared to its 5-year historical average of 10.4X. Also, the small- to mid-cap research scheme launched by the government under Budget 2017 will be contributing favourably towards the small- to mid-cap segment going forward, as more and more quality names with solid business structure and sustainable earning capabilities come to light. We thereby maintain our positive view on the local small-cap segment.
See: A Good Year for Small Cap
See also: Malaysia's Corporate Earnings Review
Asian Equities in Command
Back in October 2016, we made our bullish call on Asian equities, in view of the return in earnings growth following the rebound in commodity prices. Ever since then, Asian equities have performed decently as macroeconomic condition continues to ameliorate, with better-than-expected economic data coming from both China and India, along with other countries within the region. Besides that, we have also witnessed encouraging exports growth figures, which is in-line with the pickup in manufacturing activities due to the acceleration of global economic growth (see Chart 4). These factors may have led to the upward revision in corporate earnings for Asian equities (see Chart 5), on top of an improving global economy landscape. With all the right factors in place, plus a backdrop of stabilizing commodity prices, Asian equities have painted a strong performance picture amongst global equities.
Read Now: Top Markets 1Q2017
Chart 3: Stabilizing commodity prices underpinned equities performance.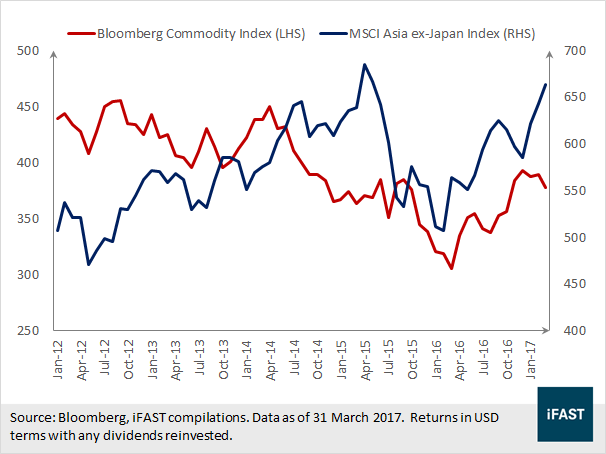 Chart 4: Brighter outlook for exports.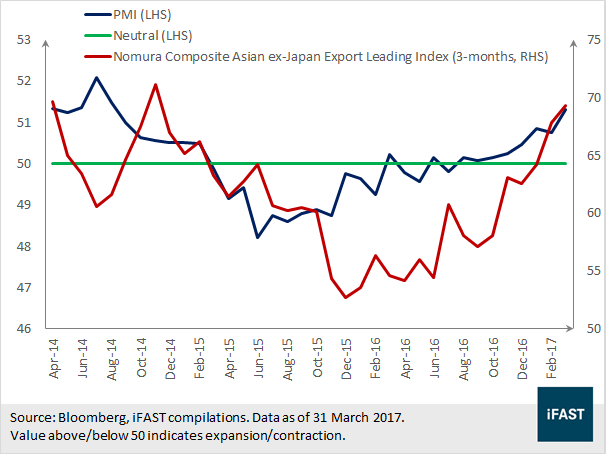 Chart 5: Upward revision in earnings for MSCI Asia ex-Japan Small Cap Index since 1Q2017.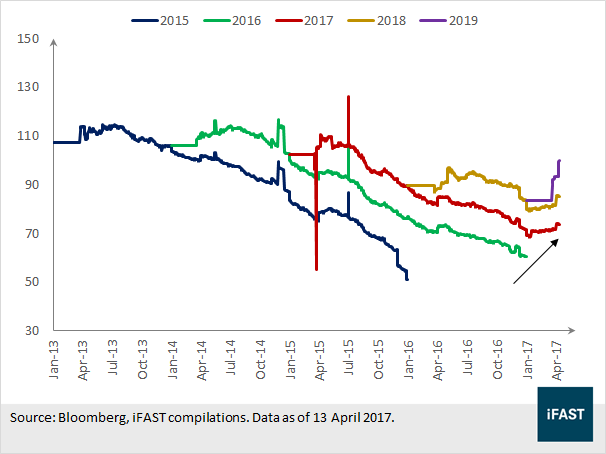 Bottom Performing Equity Funds
Table 2: Bottom 10 Performing Equity Funds

213
RHB Indonesia Equity Growth Fund

Indonesia-General

0.9

214
Manulife Dragon Growth Fund - USD Class

Greater China-General

0.6

215
AmAsean Equity

ASEAN-General

0.4

216
Eastspring Investments Japan Dynamic MY Fund - MYR Hedged

Japan-General

-0.3

217
RHB Entrepreneur Fund

Asia including Japan-General

-0.5

218
RHB Retirement Series - Islamic Equity Fund

Malaysia-General

-0.5

219
BIMB-Arabesque i Global Dividend Fund 1 - MYR

Global-General

-1.1

220
Eastspring Investments Japan Dynamic MY Fund - USD Hedged

Japan-General

-1.8

221
Manulife Global Resources Fund

Global-Resources

-2.1

222
Commodities Equity

Global-Resources

-2.5

Source: Source: Bloomberg, iFAST Compilations. Data as of 31 March 2017. Returns in MYR terms with any income or distribution reinvested.
Yen's Strength Took a Tow on Japan Equity Funds
In our Top Markets article, we mentioned that the Japanese equities inched by a mere 2.2% over 1Q2017, making it one of the bottom performing equity markets under our coverage. The main reason to the Japanese equities' laggard performance would probably be the Yen's strength (see Chart 6). At the beginning of the year, market participants were pricing in a faster pace of rate hike, thereby inducing an upward movement of US Treasury yields (UST). The upward movement of UST yields have increased the yield differential between UST and Japanese Government Bonds (JGBs). This condition may have prompted market participants to borrow a currency from a source at a cheaper rate (borrowing Yen, which has a low interest rate), and invest into US dollar denominated instrument, which has a higher interest rate. This action is often known as carry trade, where traders execute this strategy in attempt to capture the difference between the rate.
However, as the calendar flips across the first quarter of 2017, market participants may have started to question the execution capacity of Trump's administration, along with the optimisms associated to it plus a more accommodative tone from the US Fed on their monetary policy. These resulted a pause in widening yield differentials between US Treasuries (UST) and Japanese Government Bonds (JGBs), thereby reducing the incentive for market participants to perform the abovementioned carry trade. As a result, the reversal of the previous trades happened and enhanced the strength of Yen instead (buying Yen, selling USD).
As a consequence, some of the Japanese equity funds on our platform have bottomed the performance ranking list, such as the Eastspring Investments Japan Dynamic MY Fund. In particular, the USD Hedged Class experienced greater loss in MYR terms, since the Ringgit has strengthened by 1.4% against US dollar over the quarter (see Chart 7). RHB Entrepreneur Fund, which has more than 75% allocation towards Japanese equities was not spared as well, declining -0.5% over the quarter.
Chart 6: Yen's strength against Nikkei 225 Index.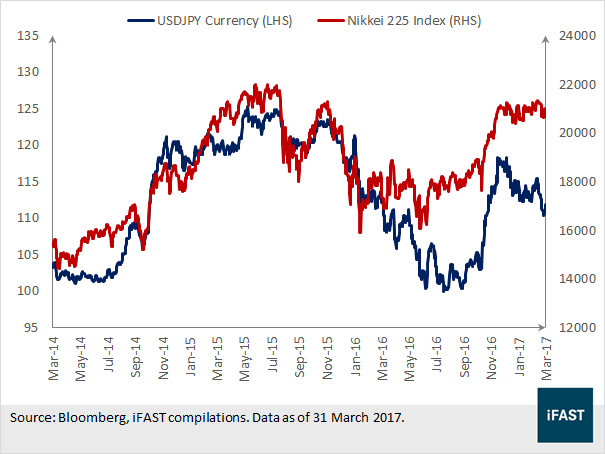 Chart 7: Currency movements in USD, JPY and MYR.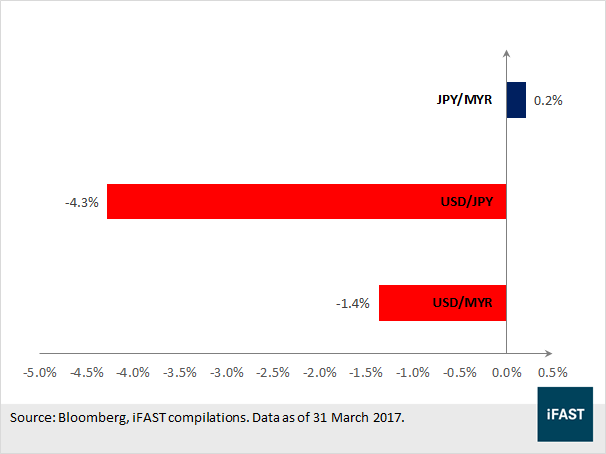 Chart 8: Pause in widening yield differentials.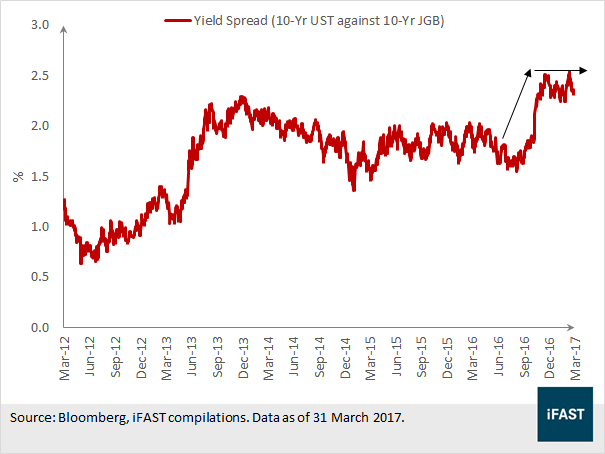 Oil Price Weighed on Resources Equities
Crude oil price, as represented by WTI Crude fell from US$ 53.7 to US$ 50.6 per barrel, declining -5.8% in USD terms. The fall in oil prices have weighed on the oil and gas sector's equity performance (S&P 500 Energy Index), as their earnings have been revised downwards by -3.9% over the quarter (as of 31 March 2017). One of the main reasons to the fall in crude oil price would be the rising US oil inventory levels, as shale producers increased production amid higher oil prices following supply-cut deal from OPEC members back in November 2016. Subsequently, resources equity funds that have exposure towards the energy sector were negatively affected.
Chart 9: Increasing US inventories oppressed oil price.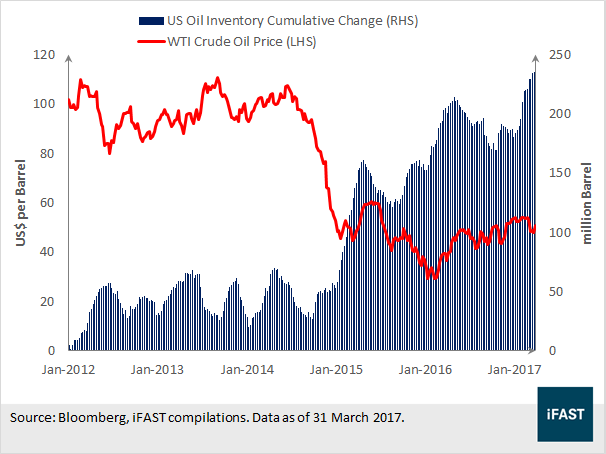 As of end-February 2017, Manulife Resources Equity Fund had an allocation of 40.65% towards energy sector, while Commodities Equity had 42.92% allocation to oil and gas producers and additional 10.91% to oil equipment and services sector. Table 3 below shows the performance of top holdings for Commodities Equity over the quarter.
Table 3: Quarterly return and top holdings allocation for Commodities Equity.

Chevron Corp

-7.9

Exxon Mobil Corp

-8.3

Schlumberger Ltd

-6.4

Occidental Petroleum Corp

-10.0

EOG Resources Inc

-3.4

Source: Bloomberg, fund fact sheets, iFAST compilations. Return in USD terms.
Conclusion:
All in all, global equities have performed well over the first quarter of 2017, riding on the back of positive economic data and the return of earnings growth. At this juncture, we are still overweight on equities vis-à-vis bonds, and remain bullish on Asian equity markets while shying away from their developed market counterparts (US, Europe). Although Asian equities have moved a fair bit year-to-date, valuation multiples are still trading at 13.1X compare to our fair value of 16.0X, and we predict that corporate earnings will continue to recover gradually. This translates to a 17.3% annualised return by end-2018, with earnings growth contributing most of the return.
While we are bullish on Asia ex-Japan equities at this point of time, we continue advocate investors to stay diversified geographically for their portfolios, and opine that one should not entirely leave out developed market equities exposure (such as US, Europe) for the aforementioned purpose. On a side note, fixed income segment should stay relevant to an investor's portfolio, and should be seen as a portfolio stabilizer. We prefer the safer segments of fixed income such as short duration bonds over high yield and emerging market debt due to the risk of rising risk-free rates which have sent yields rising for credit spread related instruments.