Market Performance in 3Q 2017
In the third quarter of 2017, global equities have continued to trend higher on the back of decent corporate earnings and positive economic data. The MSCI AC World Index have delivered a return of 2.8% in 3Q2017, bringing its year-to-date return to 7.1%. European equities maintain its lead over the developed markets pack as investors continue to price-in positive economic data that bodes positively with earnings prospects of European companies. Looking across the Atlantic Ocean, Brazil took helm of emerging markets, posted 21.2% return as noises of alleged corruption scandal subsides on the political front, while local reforms continue to progress. Similarly, Russian equities have also reversed their losses from previous quarter and performed decently (+10.4%) on the back of a higher oil price. Within North Asia, China (H-share) and Hong Kong equities made gains of 8.0% and 4.6% respectively, while Taiwan and South Korea equities have suffered as weak iPhone 8 sales cause Apple suppliers' stock price to plummet towards the end of September.
Chart 1: Performance of global equities over 3Q2017.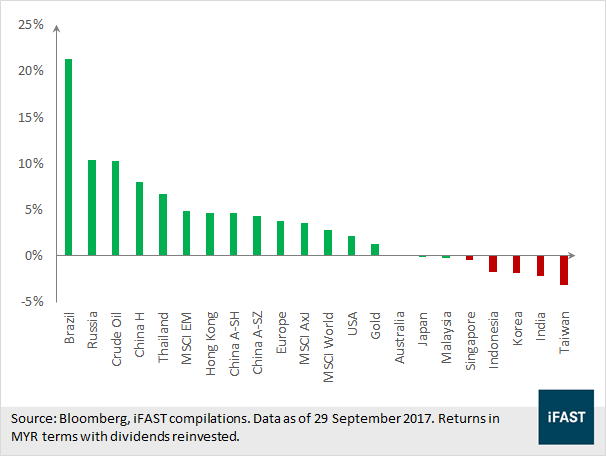 Overall Fund Returns in 3Q 2017
As of 29th September 2017, there are 230 equity funds on our platform, with 230 funds having posted returns over 3Q2017. 156 (67.8%) of the equity funds on our platform posted positive returns; with 74 (32.2%) of the funds finishing the quarter with negative returns. On average, these equity funds have delivered a 1.7% gain over 3Q2017.
[All stated returns are total returns including dividends and in MYR terms unless otherwise stated]
Chart 2: 3q2017 returns distribution for equity funds.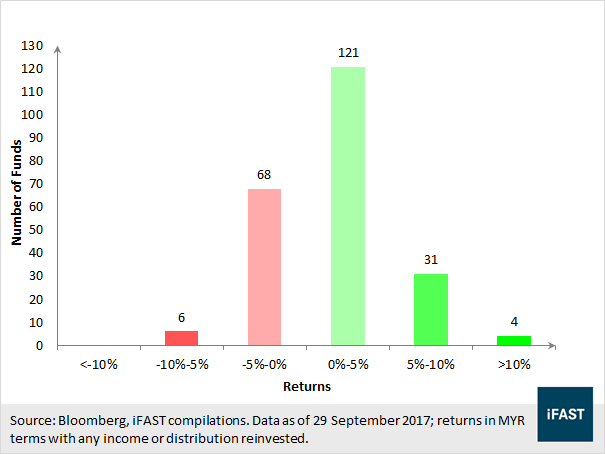 Top Performing Equity Funds
Table 1: Top 10 Performing Equity Funds

1
Manulife Dragon Growth Fund-MYR Hedged Class

Greater China-General

39.2

2
Manulife Dragon Growth Fund-USD Class

Greater China-General

12.7

24.1

3
United Japan Discovery Fund-MYR Hedged

Japan-Small to Medium Companies

11.5

33.3

4
Eastspring Investments Dinasti Equity Fund

Greater China-General

10.6

31.3

5
AmCumulative Growth

Asia excluding Japan-General

8.9

21.7

6
RHB Dynamic Fund

Malaysia-General

8.8

21.3

7
CIMB Islamic Asia Pacific Equity Fund-MYR

Asia excluding Japan-General

8.3

22.3

8
Affin Hwang AIIMAN Asia ex-Japan Growth Fund-MYR

Asia excluding Japan-General

8.1

20.6

9
CIMB-Principal Asia Pacific Dynamic Growth-SGD

Asia excluding Japan-General

8.0

24.9

10
CIMB-Principal Asia Pacific Dynamic Growth-USD

Asia excluding Japan-General

7.9

24.9

Source: Bloomberg, iFAST Compilations. Data as of 29 September 2017. Returns in MYR terms with any income or distribution reinvested.
Asian Equities Still in Command
Although third quarter has been a wobbly one, Asian equities have nevertheless posted sturdy returns, helped by stabilizing commodity prices and the on-going global economic recovery. Asian equity funds, such as the Affin Hwang AIIMAN Asia ex-Japan Growth Fund and CIMB-Principal Asia Pacific Dynamic Growth Fund, have rode on the back of Asian equities' and performed decently. At this juncture, we are still maintaining a positive view on Asian equities. For investors who are keen to know what's lying ahead for Asian equities, you may read it here.
Chinese Equities Outshine
Chinese equities have continued to perform strongly in 3Q2017. Apart from Property and Technology sectors, the Financial sector has also contributed positively towards the return for Chinese equities. Market participants were positive on the lower non-performing loan (NPL) reported by the major banks in China, which reflected the Chinese government's deleveraging effort and implied improved stability within the banking sector. Together with decent quarterly earnings, these positive elements have driven the stock prices higher within the Financial sector.
Chart 3: Major return contributors to Chinese equities.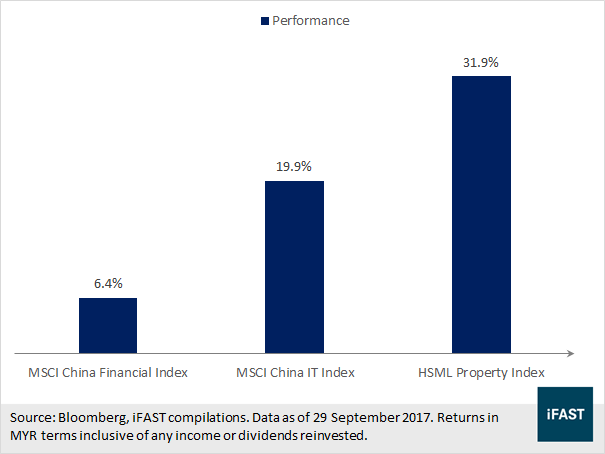 Taking a step back from stocks' performance, China's overall economic health remains sound. As mentioned above, policymakers are still placing efforts to ensure that the economy has a sustainable growth path. The newly introduced bond-connect scheme also portrays the openness of the onshore Chinese equity market, which in turn prompted MSCI to approve the inclusion of A-shares in the MSCI Emerging Market Index. As such, we believe China is still an attractive investment destination for growth-seeking investors.
See: Taking A Glance Back at The Chinese Economy
Japan Equities Helped by Weaker Yen and Improved Economic Data
Given that Japanese companies have large proportion of their revenue generated overseas, it is unsurprising to see Japan corporations' earnings are highly correlated to global growth. Being a cyclical market in nature, we believe Japanese companies have banked on the current global economic recovery. These have lifted some of the Japanese funds' performance on our platform.
Chart 4: Japan's PMI.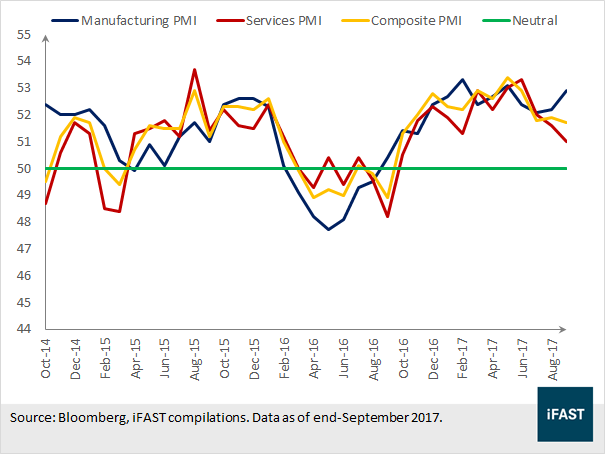 Chart 5: Japan's Industrial Production and Economy Expectation.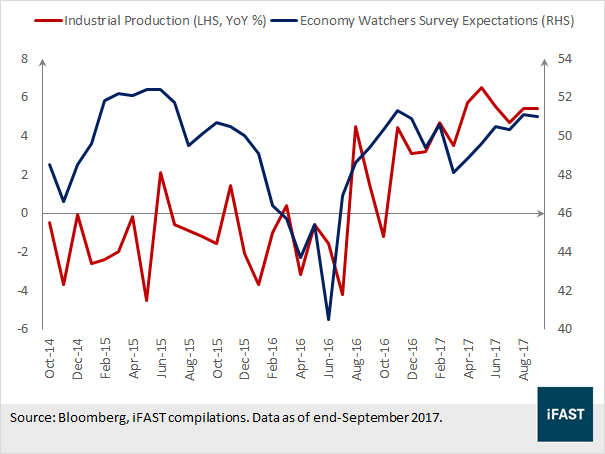 Apart from the positive backdrop, on the domestic front, Japan's economic data has continued to improve as well. Industrial production, manufacturing PMI and economic outlook index are all pointing towards an encouraging economic condition in Japan (see Figure 4 Figure 5). Likewise, private consumption and exports growth are also trending higher. These constructive economic ingredients have provided a decent environment for domestic-oriented Japanese stocks to trend higher, which in turn benefited funds like United Japan Discovery Fund in particular, who invests primarily in the small to mid-cap segment of Japanese equities.
Chart 6: Q32017 Japanese funds' indexed performance.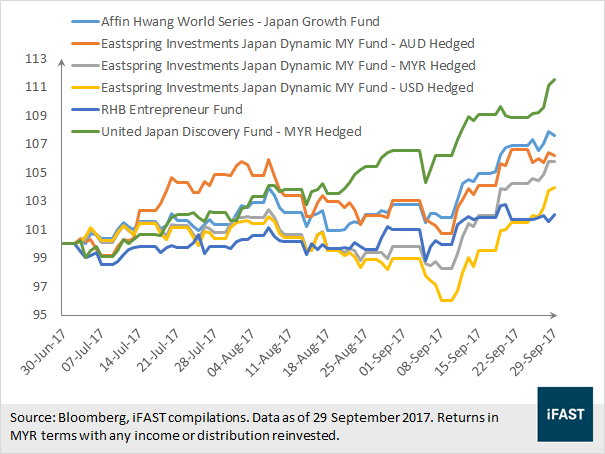 Chart 7: 3Q2017 currency movements.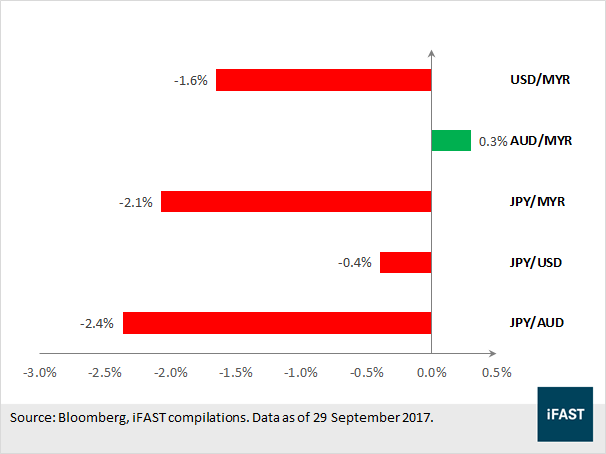 From the above, it is noticeable that funds that employ hedging strategies have generally performed better, due to the fact that Yen has depreciated towards the end of the quarter against most major currencies.
Currently, Japanese equities' valuation is still sitting at a relatively attractive level compared to their developed market peers such as US and Europe. As global economy recovery remains on track, plus a pick-up in economic growth on the domestic front, we believe there's head room to Japanese equities to tread higher. For investors who share the same view as us on Japan's economy, they may opt for Japanese equity funds that employ hedging strategy to shelter against the volatile Yen.
Bottom Performing Equity Funds
Table 2: Bottom 10 Performing Equity Funds

221
Pacific Dana Dividend

Malaysia Focus-General

-3.2

0.3

222
RHB Smart Treasure Fund

Malaysia-General

-3.4

9.0

223
P

acific Focus18 Fund

Malaysia Focus-General

-0.3

224
RHB Indonesia Equity Growth Fund

Indonesia-General

-1.0

225
Affin Hwang Select Asia ex-Japan Quantum Fund

Asia excluding Japan-Small to Medium Companies

-5.2

13.7

226
PMB Shariah Mid-Cap Fund

Malaysia-Small to Medium Companies

-6.9

-2.3

227
Libra Consumer and Leisure Asia Fund

Asia including Japan-Consumer

-7.4

-0.1

228
PMB Dana Mutiara

Malaysia-General

-8.2

-2.1

229
P

MB Dana Bestari

Malaysia-General

-9.0

0.0

230
P

MB Dana Al-Aiman

Malaysia-General

-9.0

-2.5

Source: Bloomberg, iFAST Compilations. Data as of 29 September 2017. Returns in MYR terms with any income or distribution reinvested.
Disappointing Earnings Weighed on Malaysian Equities
While Malaysia's economic fundamentals remain intact, the stock markets' performance were somewhat subdued over the quarter (see Figure 8). We attribute the lacklustre performance of Malaysian equities to the disappointment in 2Q2017 quarterly earnings report, on top of the escalation in external geopolitical uncertainties.
Towards the end of 2016, investors and market participants have been turning positive on the earnings prospects for Malaysian equities, against a backdrop of stabilizing commodity prices and an acceleration in global trade activities, which gave a leg-up to its exports activities. The pick-up in foreign direct investment and on-going infrastructure projects have also provided tailwinds to the equity market. However, we believe the market has priced-in too much optimism on the earnings expectation, which led to a moderation in the performance of the equity markets when earnings missed the expectations of market participants (see Figure 9).
Chart 8: Indexed performance for Malaysian equities' over 3Q2017.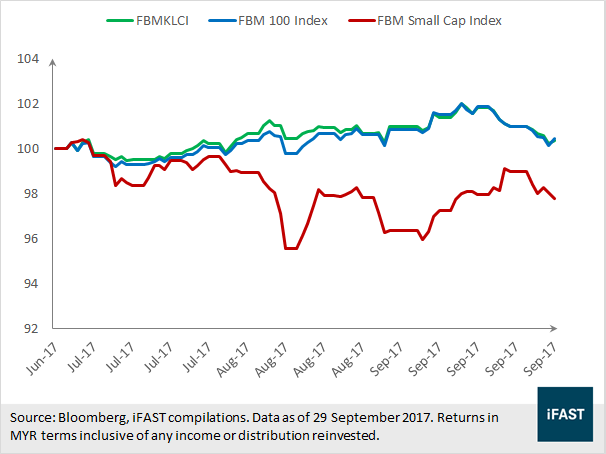 Chart 9: Earnings SURPRISE FOR 2Q17 in Malaysian equities.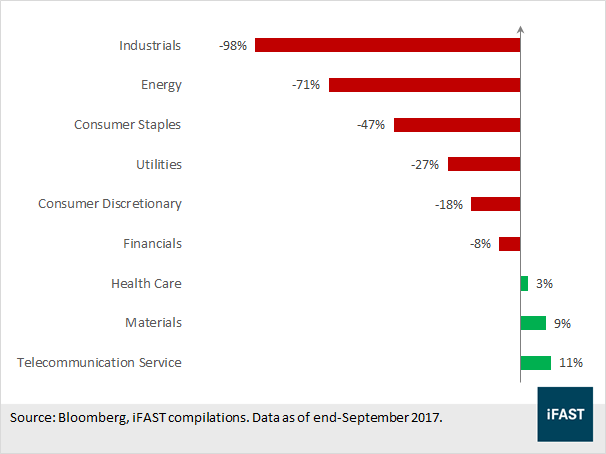 Conclusion:
While the global economy continues to trek its path of recovery, we believe the current economic environment is still conducive for corporate earnings. Asia ex-Japan equities remain as our favoured region as valuations remains to be supported by robust earnings growth. In terms of asset allocation, we maintain our overweight stance in equities relative to bonds.
See: Adjustments to Our Asset Allocation
While equity markets' upbeat performance may continue to buoy investors sentiment, we continue advocate investors to stay diversified geographically for their portfolios, and opine that one should not entirely leave out developed market equities exposure (such as US, Europe) for the aforementioned purpose. On a side note, fixed income segment should stay relevant to an investor's portfolio, and should be seen as a portfolio stabilizer. We prefer the safer segments of fixed income such as short duration bonds over high yield and emerging market debt due to the risk of rising risk-free rates which have sent yields rising for credit spread related instruments.
Think the current market is too "high"? Here's something that might change your mind.