Market Performance in 1H2018
Trade uncertainties have tarnished the investment landscape thus far. Barring a rising interest rate environment, market participants and investors are concerning themselves with the risks of policy wrongfooting and the possible consequences that may follow suit. While US officials are busy negotiating and confronting their major trading partners across the globe with import tariffs, investors across the board have suffered from escalating volatilities translated from the exchange of words between trade officials.
While market participants may have experienced difficulties navigating through market territories with all the noises from global trade front, they drew comfort from positive corporate earnings result and encouraging macroeconomic data in the US. Cruising across the Atlantic Ocean, we saw similar set of positive tones from Europe's economic data, and the ECB has announced its plan to end its quantitative easing program in December 2018.
Within Asia and emerging markets, capital flows were ebbing away from these regions as foreign investors reposition their portfolios to take account of an additional Fed rate hike by the end of 2018. Needless to say, capital outflows from the regions were also attributable to the increase in risk aversion amid global trade concerns.
As a result, global equities finished first half of the year with a loss of -2.2%. US equities did most of the heavy lifting in 2Q2018, bringing its 1H2018 returns to a positive 1.0%. Europe underperformed its developed market peers significantly, falling by -5.6% across the same period while Japanese equities lost -1.2%. Back in Asia, the MSCI Asia ex-Japan Index slipped -6.3%. Its emerging market counterpart slid -8.2%. Aside from WTI Crude and US equities, remaining equity markets under our coverage ended the first half of 2018 in red. The greenback appreciated 4.6% against Ringgit over 2Q2018 but still down -0.6% over 1H2018.
Figure 1: Performance of global equities over 1H2018.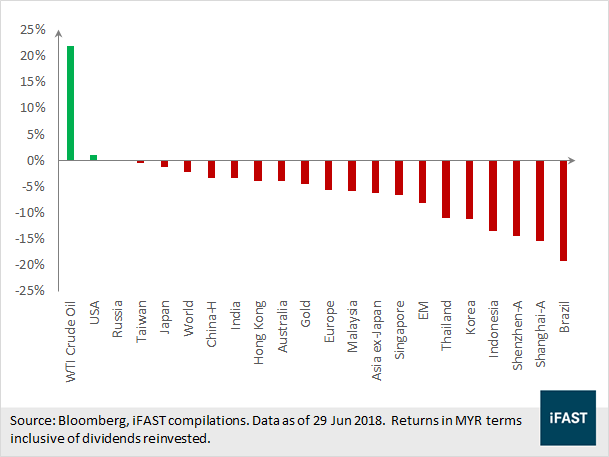 Overall Fund Returns in 1H2018
As of 30 June 2018, there are 210 equity funds on our platform, with 205 equity funds having full period return in 1H2018. 197 (96.1%) of the equity funds on our platform posted losses while 8 (3.9%) of the funds clocked positive returns. On average, these equity funds have posted -7.5% loss across the period.
[All stated returns are total returns including dividends and in MYR terms unless otherwise stated, excluding wholesale funds and PRS funds]
Figure 2: 1H2018 returns distribution for equity funds.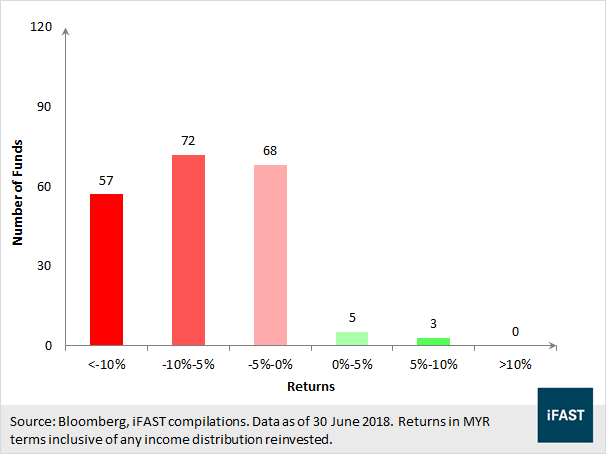 Top Performing Equity Funds
Table 1: Top 10 Performing Equity Funds

1
United Global Quality Equity Fund - MYR Hedged

Global-General

6.0

2.7

2
United Global Quality Equity Fund - USD

Global-General

5.3

6.8

3
TA Global Technology Fund

Global-Technology

5.1

8.6

4

RHB-GS US Equity Fund

US-General

3.5

5.8

5
Affin Hwang Select Asia Pacific (Ex Japan) Dividend Fund - MYR

Asia excluding Japan-General

2.5

2.3

6
CIMB-Principal Global Titans Fund

Developed Markets-General

1.0

6.3

7

CIMB-Principal Greater China Equity Fund

Greater China-General

0.5

2.4

8
Manulife Global Resources Fund

Global-Resources

0.1

12.0

9
Maybank AsiaPac ex-Japan Equity-I Fund

Asia excluding Japan-General

-0.1

1.3

10
Manulife Investment U.S. Equity Fund

US-General

-0.1

6.0

Source: Bloomberg, iFAST Compilations. Data as of 30 June 2018. Returns in MYR terms with any income or distribution reinvested.
Strong Earnings Amid Tax Break Elevated Trade Worries on US Equities
After underperforming international stocks during most of 2017, US equities have taken the lead as of 1H2018. Energy, Technology and Consumer Discretionary were the best performing sectors amongst US stocks (see Figure 3). A sharp rise in oil prices in 2Q2018 spurred Energy-related stocks to big gains, while encouraging domestic consumer backdrop underscored the performance of Consumer Discretionary companies. Although the pace of upward revision in earnings seems to have moderated, earnings growth for US equities was supported by corporate tax cuts initiatives.
Figure 3: Surge in oil prices buoyed energy counters.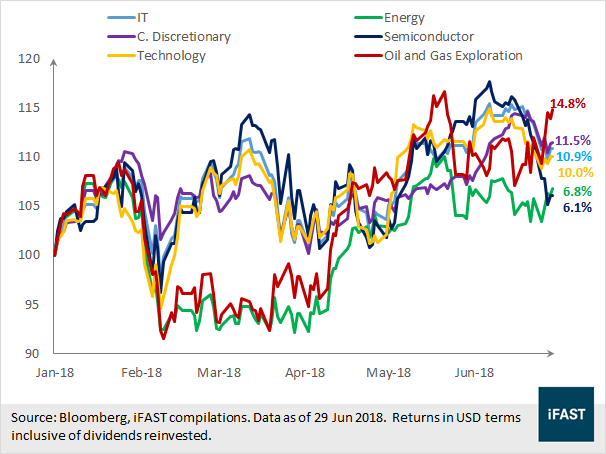 Funds that have significant exposure (>40%) on these sectors have benefited from the outperformance. For instance, United Global Quality Equity Fund has a combined exposure of more than 50% into Technology and Consumer Discretionary. Similarly, RHB-GS US Equity Fund has more than 45% exposure into Technology, Consumer Discretionary and Energy. Manulife Global Resources Fund has benefited from its exposure towards Energy sector as well.
While Asian and emerging market equities have suffered a broad-based decline, there are a few Asian funds that have been showing signs of resiliency. We attribute the outperformance of these funds to the respective fund management team's good stock-picking skills.
Bottom Performing Equity Funds
Table 3: Bottom 10 Performing Equity Funds

196
MIDF Amanah Strategic Fund

Malaysia-Small to Medium Companies

-19.6

-3.7

197

RHB Smart Treasure Fund

Malaysia-General

-19.8

-8.6

198
KAF Vision Fund

Malaysia-Small to Medium Companies

-19.8

-7.2

199
PMB Shariah Aggressive Fund

Malaysia-General

-21.8

-5.8

200
RHB Malaysia Dividend Fund

Malaysia-General

-22.4

-10.2

201

RHB Emerging Opportunity Unit Trust

Malaysia-Small to Medium Companies

-23.7

-9.4

202
RHB Small Cap Opportunity Unit Trust

Malaysia-Small to Medium Companies

-24.4

-9.9

203
InterPac Dana Safi

Malaysia-General

-24.7

-3.9

204
RHB Equity Trust

Malaysia Focus-General

-26.3

-9.7

205

InterPac Dynamic Equity Fund

Malaysia-General

-28.1

-5.0

Source: Bloomberg, iFAST Compilations. Data as of 30 June 2018. Returns in MYR terms with any income or distribution reinvested.
Calamities Never Came Singly for Malaysian Equities
Malaysian large-cap companies have posted resilient returns over 1Q2018 despite worries over a hawkish Fed and trade tensions. However, Pakatan Harapan's surprise victory has changed the local economy landscape. While retailers and local investors are generally upbeat about the election outcome, the change in government undoubtedly induced many new uncertainties on both fiscal and economic front.
Figure 4: Foreign equity fled away from Malaysian equities.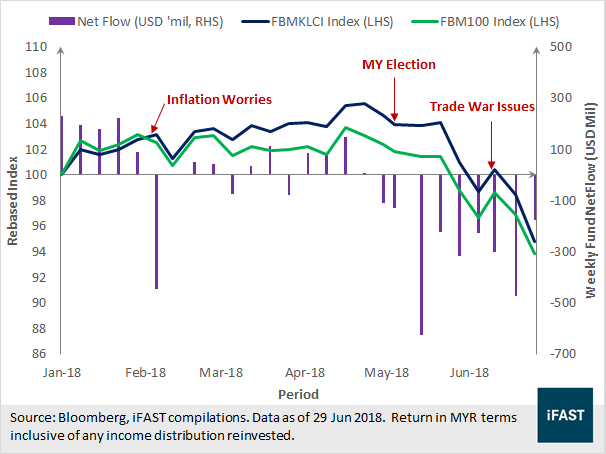 At the same time, foreign investors are already having a hard time digesting the on-going trade spat, therefore it is understandable that they could hardly welcome a change in government for the first time in the past 60 years. To make matters worse, the tit-for-tat stance between trade officials in June later sent ripples across global equities, leading to further foreign sell-off in Malaysian equities along with its Asian counterparts. These negative factors have erased much of the gains made in first quarter of the year, subsequently local big-cap equities finished 1H2018 in red (see Figure 4).
Notably, many of the bottom performing funds listed Table 3 were invested in the small-to-mid cap category. Given that the small-to-mid cap segments are mostly trade-oriented companies, the escalating trade war tensions between our major trading partners (US, China, Europe) have casted a shadow on the prospects of these companies, which led to further sell-off in the small-to-mid cap space.
Takeaway
The global economic landscape is ever-changing and there are inescapable noises that come and go. Volatility levels are climbing and are expected to remain elevated at least until the White House finalizes their external trade policies. The upcoming responds casting from Beijing and other major economies would also exert a great influence onto the market movements.
While the global trade front possesses uncertainties, fundamentals of the global economy are still intact. We are maintaining an overweight stance in equities vis-à-vis bonds, and the recent correction has brought valuation levels of Asian and emerging market equities back to an attractive spot. For investors who are looking to tap into these growth opportunities, they could consider adding positions via top consistent performing funds on our platform.