With about two weeks remaining before the US mid-term election take place, economist and market pundits are discussing on the possible outcomes for the election results while the financial markets will be closely watching the upcoming mid-term election as a shift in the balance of power in Washington could have meaningful implication for global financial markets.
It is therefore important for investors to formulate a view on the potential makeup of the legislative branch in order to evaluate the possible government policies and the implications for the economy and financial markets.
2018 US Midterms: What is at stake for the financial markets? Source: Global News.
We often get asked what different election results might mean for policy and investment outlook. To answer that, we'll examine what the possible outcomes are and the potential market impacts of a Democratic or Republican win in this write-up.
Who Is on The Ballot?
In the upcoming US mid-term election, all 435 members of the House of Representatives, 35 seats in the 100-member Senate along with many state governors and local offices will be set for the races. As of now, Republicans are controlling both chambers of US Congress and the White House (Trump). Some polling suggests Democrats will regain control of the House where the party will need to win 23 seats.
Meanwhile, the math is more difficult for Democrats in the Senate where they must defend 26 seats versus 9 for Republicans.
Table 1: US Mid-Term Election 2018 by the Numbers

435

House of Representative seats to be elected

35

Congress seats to be elected

67%

Odds of Democratic Party controls the US House

75%

Odds of Republican Party controls the US Senate

Source: PredictWise, iFAST Compilations. Data as of 10 October 2018.
Gridlock Congress – Blue House (Senate: Republican; House: Democrat)
From a historical perspective, the US equity market tends to do well during periods of a split congress, averaging a 12% annual return. A divided US congress might be the best scenario for the stock market as investors are happier and stocks surge. The reason is that, when the government can't make changes, it can do less harm to the economy and to business. Investors know this and tend to flock into stocks when they see a gridlock congress ahead.
FIGURE 1: Average Annual S&P 500 Index Total Returns Based on Control of White House and Congress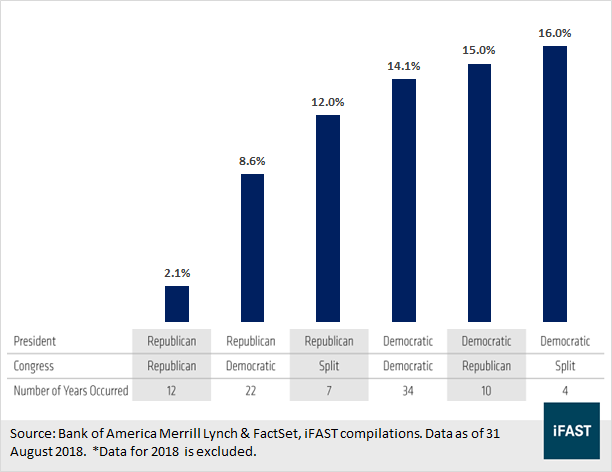 A Democratic House will be a boon for US healthcare sector as there will be minimal changes to he Affordable Care Act. A divided government would put the brakes on higher fiscal spending such as additional tax cuts and extensive infrastructure spending, which may put downward pressure on US treasury yields.
US dollar has been regaining its strength in recent months thanks to higher US interest rates as well as global trade tensions. Nevertheless, if Democrats regain the control of the House, the mighty US dollar will likely be impacted which is attributable to an increase in perceived political risk thus making the US dollar less of a safer bet for international investors. At the same time, a weaker dollar would likely be a positive for emerging markets assets.
Red Again (Senate: Republican; House: Republican)
As Republicans are perceived as the underdog for the House, a "red again" outcome with Republicans flipping the coin and holding both chamber of House and Senate would be mildly positive for US equity markets as a whole but less so for bond market. With that, it keeps the deregulation on track with minimal congressional interference for them to pursue for additional tax cuts as well as repealing the Affordable Care Act.
A Republican-controlled congress would simply mean US corporates gets to receive more tax cuts thus driving the US economy stronger moving forward. This would prompt the US Fed to hike interest rate faster therefore leading to a stronger dollar and pare emerging markets assets' attractiveness in the end.
As a result, it is not surprising to increase the odds for further fiscal stimulus which leads to a bigger deficit. It would be somewhat bearish for US treasury yields and US corporate as the US government would likely be issuing more debt to finance its deficits.
Blue Wave (Senate: Democrat; House: Democrat)
Even though the Democrats are gaining traction in most of the polls, it remains as a less likely outcome for the opposition party to win the Senate chamber. A broad-based Democrat victory could be more disruptive where they have plan on rising the corporate tax to 25% and reversing tax-cuts for high-income Americans to help pay for the government's USD 1 trillion infrastructure investment plan. We would expect this outcome to bring volatility into the US stock market that has done well since Trump's presidency. The S&P 500 Index was up about 10.5% in USD term (as of end September 2018) and tax reform has likely been a big driver of that strong performance.
In short, higher corporate taxes would almost certainly be an overall negative for US equities while that is possibly good for bond yields if US congress raises taxes to pay for it.
What About Trade?
Thinking what the results will mean for trade? Probably not much. Donald Trump, as the president of United States, will retain control of the trade policy no matter who runs the congress. The legislature branch would have to vote on a formal trade deal. But without one, like the trade policy between US and China, the policy is up to the president's discretion.
Fundamentals, Not Politics
US equities are now trading at estimated PE ratios of 17.0X and 15.4X for 2018 and 2019 respectively, as compared to its fair PE ratio of 15.0X. We acknowledge the near-term benefits of the recent fiscal package (supporting investment and spending), but are cognisant of still-stretched valuations that limit the potential upside to any long-term investor. Therefore, we maintain our rating of 2.0 Stars "Unattractive" for the US equity market.
The US mid-term election may not seem very important to a Malaysian investor. But it's not unimportant. If the election outcome is likely to be a gridlock in US congress, that outcome could open up a decent chunk of the global market for investors to consider (such as Asia ex Japan and Emerging markets).
As the election is imminent, market volatility may wax and wane with changes in the polls. We Fundsupermart have no edge and can't predict the electorate but we do analyse the potential range of outcomes. As market valuations and fundamentals continue to be our anchor in turbulent waters, you should not let politics to cloud investment views and/or decision.
My best advice is: focus on fundamentals, not politics.
Read our latest piece on recent market meltdown and where shall investors hunt for some bargain.