Market Performance in 3Q2018
Trade uncertainties have continued to dominate the investment landscape across 3Q2018. On top of that, investors were dealt with yet another hard hand within emerging markets (EM). The recent episodes of currency crises across Turkey and Argentina may have ignited bad memories of the 1997 Asian Financial Crisis, which jolted volatilities among EM equities and sent several currencies of our Asian and EM peers with twin-deficits southwards against the greenback (see Figure 1).
Figure 1: 3Q2018 currency performance against USD.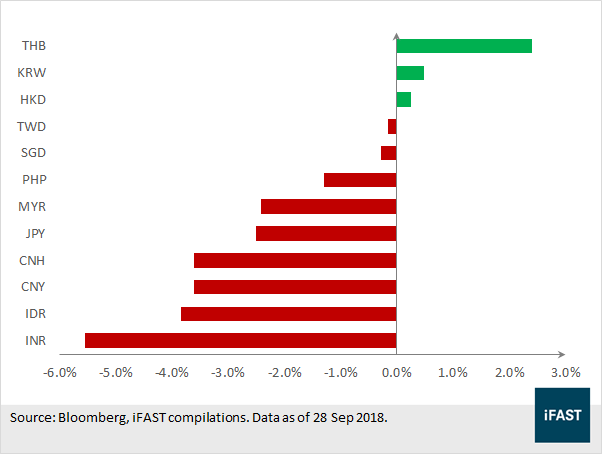 Rotating our view towards developed markets, economic data and numbers are still painting a robust economic picture in the US, which helped materialise the expected rate hike from the Fed last month. Across the Atlantic Ocean, growth data and consumer spending have moderated on European's front. Back in Asia, Japanese corporates have witnessed positive momentum in their earnings together with economic growth.
Looking into returns, global equities reversed their losses from 1H18 and clocked 6.5% return over 3Q18. US equities drove develop market equities, with S&P 500 posting a commendable 10.0% return over the quarter. Japan was second in line to finish the quarter with 8.4% gains. Lastly, European underperformed its peers and posted a 3.0% return.
Moving towards Asia, MSCI Asia ex-Japan finished the quarter at 0.1%, and its emerging market counterpart returned 0.6% over the same period. The outperformers were notably Thailand, Brazil along with Russia, while their North Asia counterparts such as China and Hong Kong lagged behind.
Figure 2: Performance of global equities over 3Q2018.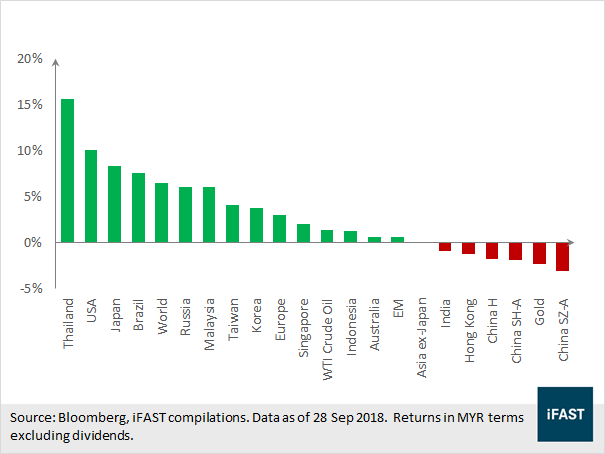 Overall Fund Returns in 3Q2018
As of 30 September 2018, there are 208 equity funds on our platform with full period return in 3Q2018. 160 (76.9%) of the equity funds clocked positive returns while 48 (23.1%) of the funds posted losses. On average, these equity funds have posted 2.8% gain across the period.
[All stated returns are total returns including dividends and in MYR terms unless otherwise stated, excluding wholesale funds and PRS funds]
Figure 3: 3Q2018 returns distribution for equity funds.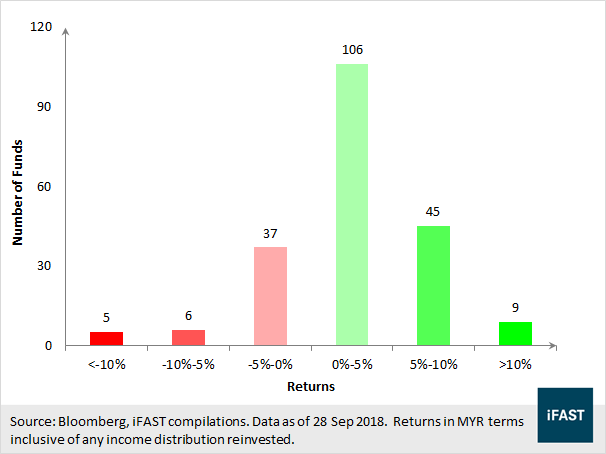 Top Performing Equity Funds
Table 1: Top 10 Performing Equity Funds

1
InterPac Dana Safi

Malaysia-General

-12.6

16.1

2
CIMB-Principal Small Cap Fund

Malaysia-Small to Medium Companies

-5.5

15.5

3
InterPac Dynamic Equity Fund

Malaysia-General

-17.0

15.5

4
KAF Islamic Dividend Income Fund

Malaysia-General

2.4

15.4

5
BIMB i Growth

Malaysia-General

-2.2

14.0

6
CIMB Islamic Small Cap Fund

Malaysia-Small to Medium Companies

-8.3

13.5

7
PMB Dana Mutiara

Malaysia-General

-5.3

12.6

8
MIDF Amanah Strategic Fund

Malaysia-Small to Medium Companies

-9.8

12.2

9
Manulife Investment U.S. Equity Fund

US-General

10.0

10.1

10
PMB Shariah Aggressive Fund

Malaysia-General

-14.1

9.9

Source: Bloomberg, iFAST Compilations. Data as of 30 Sep 2018. Returns in MYR terms with any income or distribution reinvested.
Limelight Back on Small-to-Medium Cap Companies on Ringgit Weakness
If one could recall, we saw local big cap stocks outperforming small-to-mid cap stocks at the beginning of the year. This was due to the persistence in the strength of the Ringgit that has affected the earnings margin and profitability of many manufacturing and export-oriented companies, which makes up significant portion of the small-to-mid cap segment within local bourse.
Figure 4: Ringgit has depreciated against the greenback post GE14.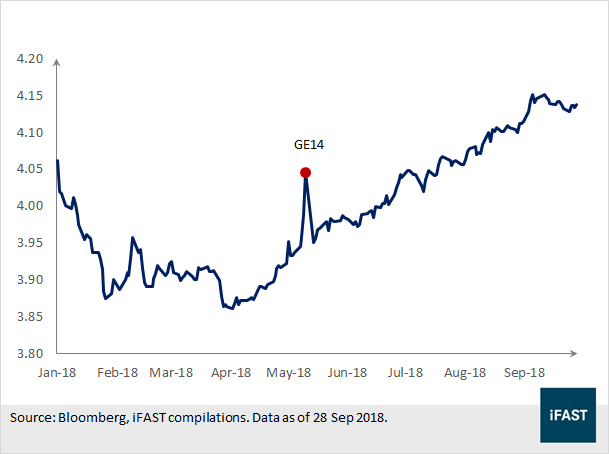 However, the sell-off in Ringgit post GE14 (see above) has placed these small-to-mid cap counters back in the limelight again. The on-going trade disputes between US and China have not impede exports growth across the Southeast Asia region just yet. Additionally, Prime Minister Mahathir Mohamad and other economists have mentioned that Malaysia and a few other economies within the region could stand to benefit from trade war as global producers and manufacturers establish new manufacturing base and supply chain out of US and China, and investors may have drawn some relief from these opinions.
Bottom Performing Equity Funds
Table 3: Bottom 10 Performing Equity Funds

199
Affin Hwang Select Asia (Ex Japan) Opportunity Fund - MYR

Asia ex Japan-General

-6.0

-5.2

200

Libra Consumer and Leisure Asia Fund

Asia including Japan-Consumer

-5.8

-5.6

201
RHB China-India Dynamic Growth Fund

China India-General

-10.3

-6.0

202
RHB Asian Growth Opportunities Fund

Asia ex Japan-Small to Medium Companies

-12.9

-7.6

203
RHB Asia Consumer Fund

Asia ex Japan-Consumer

-14.5

-8.8

204

CIMB-Principal China Direct Opportunities Fund - SGD

China-Small to Medium Companies

-

-10.3

205
CIMB-Principal China Direct Opportunities Fund - MYR

China-Small to Medium Companies

-

-10.3

206
CIMB-Principal China Direct Opportunities Fund - USD

China-Small to Medium Companies

-

-10.4

207
RHB Gold And General Fund

Global-Gold & Minerals

-14.4

-12.3

208

Precious Metals Securities

Global-Gold & Minerals

-16.1

-12.4

Source: Bloomberg, iFAST Compilations. Data as of 28 Sep 2018. Returns in MYR terms with any income or distribution reinvested.
Asian Funds Suffer From US-Sino Trade War
Asian funds lost value in 3Q18, primarily due to their significant exposure to Chinese equities. Chinese stocks have slid for the second straight quarter. Trade tensions have escalated, given that the US has implemented several rounds of tariff measures and China retaliated with moves of its own. At the same time, Chinese macroeconomic data disappointed.
The fall in share prices across Chinese technology companies weighed heavily on funds have significant exposure to this sector (see Figure 5). Profit margins at the technology giants are being squeezed by business segments. Particularly on Tencent, government restrictions on mobile and video games have clouded its earnings prospects and its share price was affected negatively.
Figure 5: Chinese technology companies have weighed indices performance over 3Q18.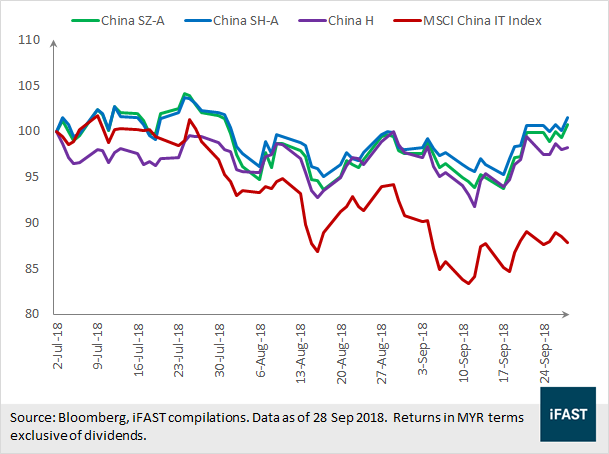 Although Chinese authorities have successfully slowed the pace of non-bank credit growth, the aforementioned external conditions have led them to shift their attention towards fiscal stimulus and credit easing within conventional banking channels to stimulate domestic growth. This should provide some support for those countries that depend on Chinese demand going forward.
Takeaway
Trade war noises are likely to simmer going forward as US government officials prepare for mid-term election in November. Nevertheless, the investment landscape is still susceptible to numerous uncertainties. Just last week, we have witnessed a significant sell-off across global and domestic equities on the account of both domestic and external factors.
We are now looking at a mismatch between depressed pricing and still-solid fundamentals. Fearful times like this serves as a good bargain hunting opportunity for investors, as it allows them to seek undervalued quality gems lying across the investment universe. We are maintaining an overweight stance in equities vis-à-vis bonds, and the recent correction has brought valuation levels of Asian and emerging market equities back to an attractive spot. For investors who wish to tap into these growth opportunities, they could consider adding positions via top consistent performing funds on our platform.