Naturally, the question on investors' mind is whether the current juncture appears to be an epic buying opportunity or whether is it a signal of imminent market recession. We think that investors have plenty of potential headwinds to monitor for the remaining of 2018.
Negotiations over trade tensions between US and China is likely to take centre stage for the remaining of 2018. Source: The Lefty Righty Show.
Trade War – Much Cry and Little Wool
The first dominant market worry in the first half was the war of words as well as trade tensions between US and its major trading partners. From recent comments by Federal Reserve officials and economists, the threat of trade wars could derail the global economic expansions. First, falling business confidence may lead companies to delay or cancel investment plans. Second, tariffs can hike up costs and depress demand. integrated global supply chain risk amplifying this impact. Should these worries persist, we would expect lower potential growth around the globe.
In our view, we think the trade tensions is more of a negotiating tactic. Donald Trump is trying to fulfill his campaign promises – last year was about tax policy, this year the focus is its long exists trade deficit with China. Neither the US nor China wants a full-blown trade war as an all-out trade war will be very disruptive for both US and China economies (especially when the Fed is tightening its monetary policy and China is focusing on its deleveraging efforts). Our base case is still a de-escalation through rounds of negotiations.
Fed Rate Hike – Two More in 2018
The second half of this year begins with clarified monetary policy outlook for US. At the end of Q2 2018, the Federal Reserve signaled it would likely raise rates in September and December. The unwinding of the balance sheet, though, continues at a rapid pace. With that, we can expect higher interest rates in US by the end of this year and this is in line with the backdrop of an improving US economy.
As such, even if the Fed hikes four times this year, which represents the fastest annual pace of normalisation since the Fed started hiking rates in 2015, we do not see it as excessive US monetary tightening.
China – Slowing down?
Turning the limelight across the South China Sea, market participants are once again starting to fret about the Chinese economy. Mounting trade tensions with US, along with Chinese government's continued deleveraging push has many concerned about the outlook for its economic outlook, especially in its industrial sectors. According to China's Bureau of Statistics (NBS), June's industrial production declined to 6% versus consensus estimates of 6.5% and 6.8% in the previous month (refer to Figure 1).
Figure 1: China Data Sparks Concern of a Consumer-Led Slowdown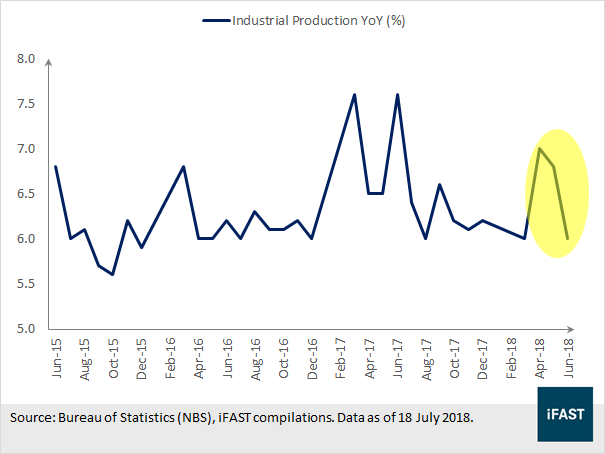 What China is doing now is it aims to improve the quality of its growth, not just the quantity by transitioning the Chinese economy into a consumer-driven economy. All of this comes amid reform progress, financial de-risking and slower credit growth. However, the transition could be painful and costly if China's growth slows more significantly than the market expects. In our view, the stability of China's financial system remains a key medium-term risk.
Eurozone and Brexit
At this juncture, we are concerned about the political uncertainty from Italy and the stalemate in Brexit negotiation. With regards to the former, a post-election standoff as well as fears of a euro exit shook the regional bond markets. Investors are questioning the viability of the ruling populist coalition and its proposals to put Italy on an economic path that is greatly at odds with European Union. Investors should note that heightened volatility is here to stay moving forward as the political development progress.
With respect to Brexit, there is still no clarity on the terms for the divorce between UK and European Union despite many quarters of negotiations. We are no doubt that an agreement will be reached to implement a two-year status-quo transition period, which should minimise the economic consequences from Brexit. However, a complete breakdown in talks shall not be ruled out as a possibility, and severe trade disruptions with the UK could weigh on the region's economic growth.
Our Take
The abovementioned risks are not exhaustive. We think that the market volatility will be here to stay for the remaining of this year. An active investment approach is best suited to uncovering compelling investment opportunities within the financial markets, particularly in an environment where multiple market dynamics are at play.
We at Fundsupermart believe in a diversified and systemic portfolio approach and staying invested allows one from being affected by the emotion of fear and greed as market fluctuates. Investors may want to take a look at our FSM Managed Portfolio as it is an all-in-one online investment advisory service that builds, monitors and rights your portfolio for you.