Emerging market equities are at the forefront of volatility this year. With a more hawkish Fed residing at the backdrop of a decelerating economic growth, trade tensions only added another level of uncertainty, which market participants then had to price. The fury movements of emerging market currencies sparked by Turkish Lira surprised many of us too. However, we think it is important for investors to note that a market contagion doesn't necessarily translate to an economic contagion, at least not now where most of the emerging economies are in a decent shape of health (high FX reserves, sufficient monetary ammos, still-robust global trades and supportive domestic consumption).
Figure 1: Emerging markets equities are in for a tough ride this year.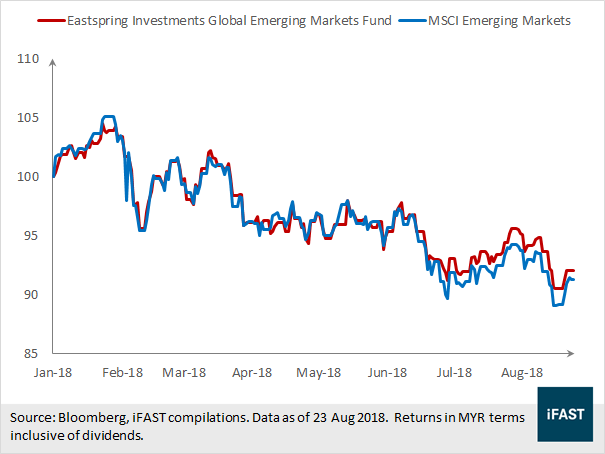 Looking into numbers, the MSCI Emerging Market Index has lost -10.7% from its peak back in January, while our recommended fund Eastspring Investments Global Emerging Markets Fund lost -11.9% over the same period (as of 23 August 2018). Against various headwinds and uncertainties mentioned above, investors might be looking to average down their positions within emerging equities. If so, how would one fare if they were to buy into emerging market weakness?
Table 1: Bear Markets of MSCI Emerging Markets 1987-2018.

Aug 1990 - Jan 1991

31.1%

Aug 1992 - Oct 1992

21.7%

Apr 1994 - Jul 1994

24.6%

Dec 1994 - Dec 1996

35.8%

Nov 1997 - Mar 1999

48.5%

May 2000 - Sep 2011

52.2%

Apr 2002 - Oct 2002

20.9%

Apr 2004 - May 2004

20.1%

May 2006 - June 2006

22.4%

Jan 2008 - Mar 2009

62.7%

Aug 2011 - Oct 2011

34.2%

Jan 2016 - Feb 2016

21.9%

Source: Bloomberg, iFAST compilations. Data as of 23 August 2018. Returns in MYR terms inclusive of dividends reinvested.

Table 1 above portrays various bear markets that have occurred over the past 20 years for emerging market equities. To examine the returns for investors who decides to buy into a bear market for emerging equities, we assume investors would buy on a month after the first drawdown of 20%. That is, if the first peak-to-trough <-20% were to happen on 8 January 1998, the purchase would be made on 8 February 1998. We will then see how emerging markets performed going out one, three, and five years after hitting the preset threshold.
Table 2: Cumulative returns for 20% drawdown.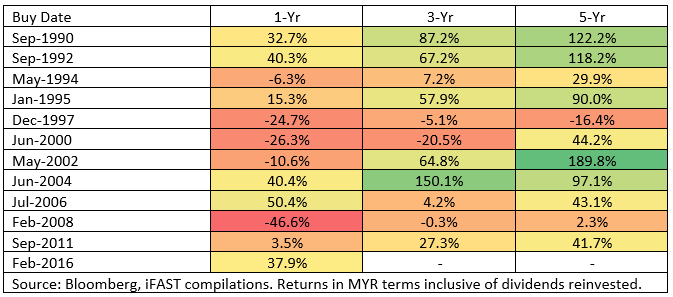 The average total returns following a 20% decline were 8.8%, 40.0% and 69.3% respectively over the following one, three and five years. Given that there are numbers that are significantly higher than the other (e.g. 189.8% five years after May 2002's investment), the median numbers are 9.4%, 27.3% and 44.2% respectively.
Apart from the 20% trigger-buy threshold, we have also decided to look into returns if investors were to buy into emerging equities following a 30% decline using the same parameters. This is taking reference to the average bear market drawdown of 33% from Table 1.
Table 3: Cumulative returns for 30% drawdown.
The average gains for brave souls who have bought into emerging market equities a month after 30% drawdown would have been 25.9%, 49.4% and 82.6% respectively over the next one, three and five years. Median figures were 26.4%, 21.9% and 77.6% respectively.
From Table 2, one could see that the 1997 bear market is an outlier because the bear markets in 2000 and 2002 that followed suit hammered returns. However, the rest of the performance numbers were encouraging, showing the potential to reap large payoffs when investors avoid being fearful when others are fearful.
The difficult part about investing in volatile asset classes such as emerging market equities is that they can drive investors nuts with their inconsistency. On the flip side, the good part about investing in volatile asset classes is they offer plenty of buying opportunities.
Unfortunately, when markets are tanking and portfolios are bleeding, it's always easier for investors to tell themselves it's going to fall even further.
"I'll just buy when I see less noises from the market, or when Trump stops his disrupting tweets…"
If history is any guide, emerging markets are rarely calm. The gains in these developing nations can be infrequent, yet large at times. The losses can be frequent and painful. Investors might not find a pleasant investment experience within the emerging equities' landscape, but we think adding even a small allocation to emerging market stocks could offer attractive growth opportunities for those disciplined enough to stick with it.