Indian equities posted outstanding performance year-to-date, buoyed by encouraging corporate results and a few other positive elements;

Foreign investors' appetite turned positive as demonetisation effect subsides;

Robust GDP growth figures ahead, structural reforms remain centric to economic development;

Fiscal balance remains healthy to weather external uncertainties, with monetary support acting as a safety cushion;

Earnings revision turning positive against a backdrop of strengthening fundamentals;

Valuation remains attractive from a longer-term perspective.
Global equities behaved very differently compared to the same time a year ago. On the back of earnings recovery and acceleration of global economic growth, global equities have cheered joyfully, providing market participants with a decent start to the year. Particularly, the India equity market has delivered the highest return amongst market under our coverage over 1Q2017, and has posted 14.0% return year-to-date (see Table 1). We think it's time to revisit the growth story of the Indian economy and furnish investors with updates on the on-going economic development within the fastest growing nation.
Table 1: Year-to-date returns.

SENSEX Index

14.0

MSCI India 10/40 Index

14.4

Manulife India Equity Fund

16.0

Source: Bloomberg, iFAST compilsations. Data as of 19 March 2017. Returns in MYR terms, dividend reinvested.

What Buoyed Indian Equities?
Since the announcement of the demonetization measure, foreign investors have shunned away from the Indian equity market, on fear of worsening corporate earnings and rising political instability amid declining voters' confidence on the current ruling party. While foreign investors have been selling, domestic investors were buying into local equities, as depicted in Figure 2. Apart from domestic buying, there are a few other catalysts that may have driven the performance of the India equity market thus far. Firstly, corporate earnings report for the recent quarter came out mostly better-than-expected, even when the experts were concerned that the demonetization measure might have a dampening effect on corporate earnings. In addition, the Union Budget released back in February was perceived positively by the market, as the budget scope remains supportive of medium- to long-term economic growth.
Looking to the west, the US Fed's signal of a slower pace of monetary tightening has lifted the sentiment of market participants, causing them to adopt a more pro-risk tone toward investing. This has some positive spillover effect to equity markets across the globe, including the Indian equity market, as funds flow back to these markets. Moving towards the end of March, the current ruling party, Bharatiya Janata Party (BJP) has attained assembly election victory over a few states in India. We believe all the aforementioned positive factors have contributed favorably to the India's equity market, as well as moderating foreigners' pessimisms on corporate earnings results and expectations of a rocky political environment. As a result, we witnessed that foreign funds were flowing back into India's equity market (see Figure 1).
FIGURE 1: Foreign investors' appetite turning positive.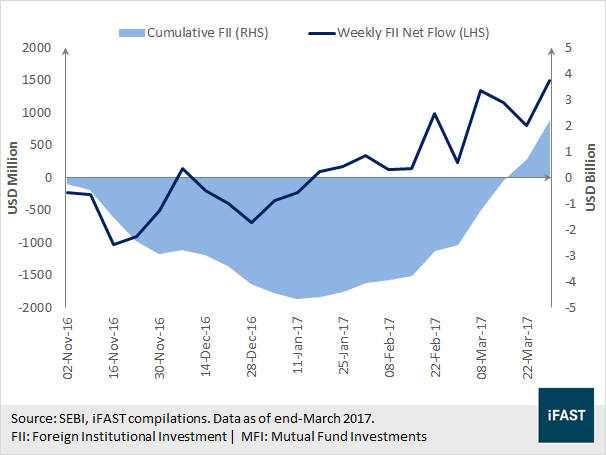 FIGURE 2: Strong buying interest from domestic institutional investors.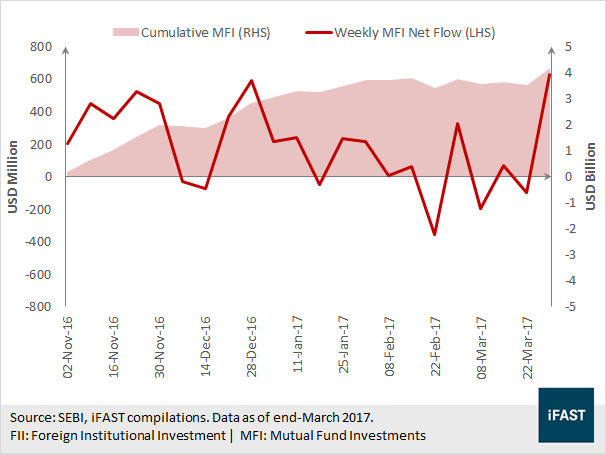 Demonetisation Impact Is Likely to Be Short-Lived, Long-Term Growth Remains Intact
FIGURE 3: Economic activities recovered within manufacturing and services sectors.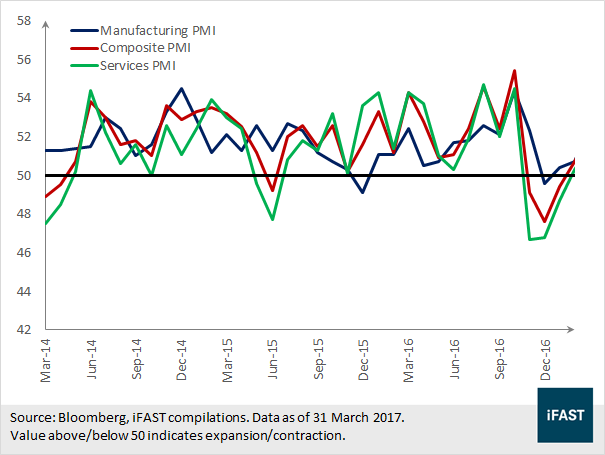 Economic activities within the services and manufacturing sectors have experienced significant contraction after demonetization, portrayed by the sharp decline in PMI numbers. Nonetheless, the negative impacts have been proven to be short-lived, evidenced by the swift recovery of PMI figures towards expansionary levels (see Figure 3). We opined that the recovery of PMI figures is an encouraging sign coming from India's economy, as services and manufacturing sectors account for more than 80% of GDP growth (see Figure 4). In addition to that, the government has also announced housing scheme and financial aids to small and medium businesses along with other schemes within the Union Budget, which are perceived positively by the people in its support to long-term growth. As such, we put forward a view that the continued spending by the government may alleviate the slowdown in the rural economy post demonetization.
Both IMF and World Bank have revised India's GDP growth forecast for 2016-17 to 6.6% and 7.0% respectively (see Figure 5), while citing short-term downside risk from demonetization. This is in-line with our current view that the demonetization impact will be short-lived. Similar to IMF and World Bank, we are positive on the long-term growth outlook of the Indian economy.
FIGURE 4: India GDP breakdown by sector.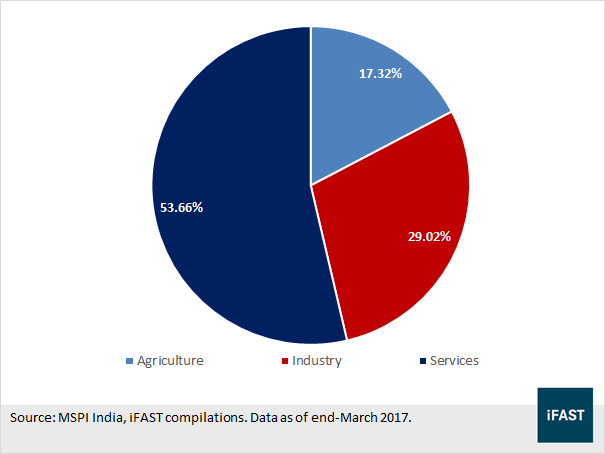 FIGURE 5: Sturdy GDP growth figures despite demonetization.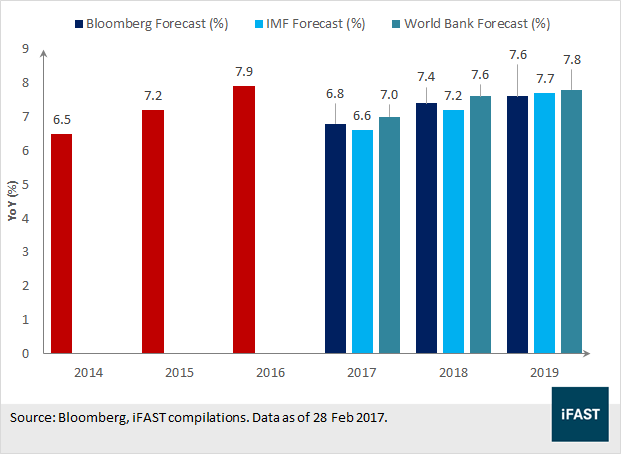 Subsidies Reform to Support Rural Consumption
Back in 2013, the government has introduced the Direct Benefit Transfer (DBT) system, which allows the government to monitor subsidies disbursement at individual level. As subsidies were transferred directly to the people through their bank accounts, it has a more accurate targeting of beneficiaries, and at the same time reduces subsidy leakages. The demonetization move, by bringing more people into the banking system, will be helping to ensure greater inclusion and enhancing the efficiency of the subsidies delivering process moving forward. Currently, the government has already included subsidy for Liquid Petroleum Gas (LPG) into the DBT system over the past 2 years, and is planning to include fertilizers' subsidy by June 2017. We foresee that the Indian government will be utilizing more of the DBT system for other government subsidies given the benefits it has, and these are expected to improve rural consumption going forward.
Lower Deficit and Healthy Reserve to Weather External Uncertainties
A low oil price environment has been helping the Indian Government in narrowing its current account deficit over the past few years. Although the rebound in commodity prices may widen India's current account deficit, we believe the effect may be offset by a healthy level of foreign reserve. As of end March 2017, the reserve to import ratio sits at 8.5 months, which is more than 2 times better than the traditional rule of thumb requirement of 3 months. A lower current account deficit and rising foreign reserve may imply that India is better positioned in withstanding external uncertainties moving forward (see Figure 6 & Figure 7).
FIGURE 6: Current account deficit narrowing down.
FIGURE 7: Foreign reserve as a buffer to external headwinds.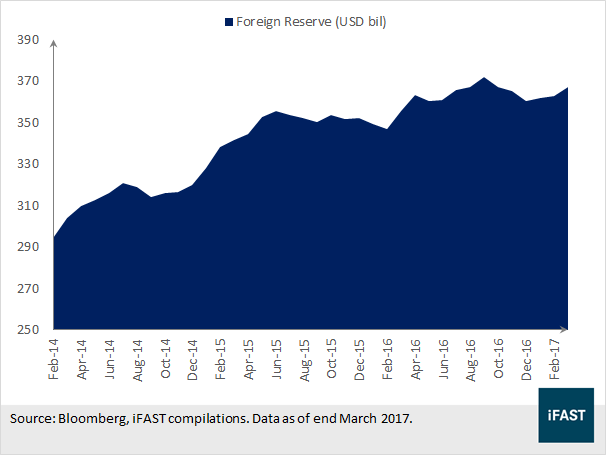 Ample Space Ready for Monetary Support, If Needed
Previously, we have highlighted that market participants and analysts were expecting the Reserve Bank of India (RBI) to keep an accommodative policy stance, as most of them predict a downward pressure on prices of goods and services due to the curb in currency circulation following demonetization. However, RBI has kept the rates unchanged so far, and announced that they will be shifting towards a neutral stance in view of several key factors that will lead to inflationary pressures, such as higher global oil prices, global financial market developments as well as the effect from the 7th Pay Commission grant. Although RBI's policy stance has turned neutral, should there be any unexpected significant decline in inflation expectations or growth shocks, there is still sufficient room for rate cuts to allow monetary support (see Figure 8).
FIGURE 8: Inflation set to rise on the back of rebound in commodity prices.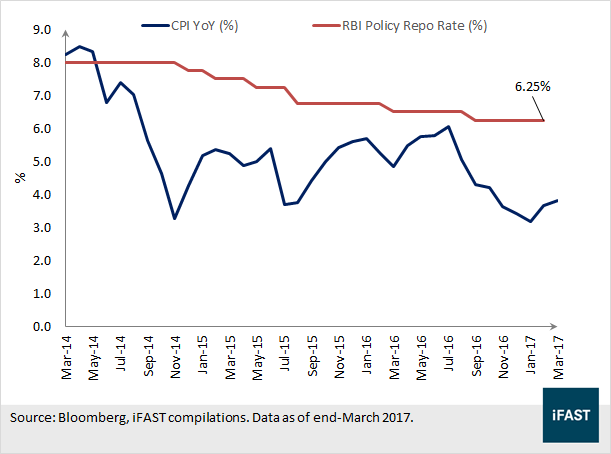 Earnings Bottomed Out Amid Better Prospects of Long-Term Growth
FIGURE 9: Earnings revision for SENSEX Index.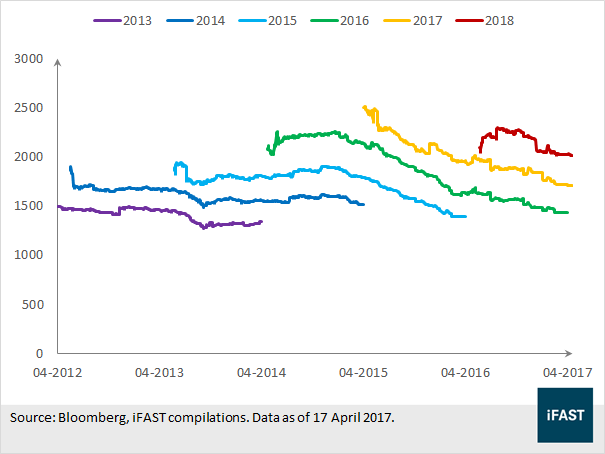 The SENSEX Index has witnessed improvement in its earnings revision over the past 3 years (see Figure 9). We believe a major contribution to upward revision in earnings was the initiatives undertaken by the government to roll-out necessary reforms enhancing the structure of the fastest growing economy in the world. Aside from strengthening the fundamentals of the Indian economy, these reforms have also benefitted several sectors within the Indian market. For instance, the DBT program mentioned above was part of the Digital India's initiatives launched by the Indian government since July 2015, with aims to transform India into a digitally empowered society and knowledge economy. There are many more on-going initiatives under Digital India, which throws up huge opportunities for domestic IT players. As such, it is no surprise to see companies within the IT sectors to register strong sales and profits growth over the past few quarters (see Figure 11 & Figure 12).
Besides, we foresee that these reforms will have spill over effects to the other related sectors. More people from the rural areas will be utilizing the banking system via Digital India's initiative, such as claiming their subsidies via DBT program. Also, thanks to demonetization, more people are now brought into the banking system, which would increase banking activities and potentially increasing the sales and profits for the banking sector. With greater banking accessibility, it will also open up the financial markets to a greater pool of investors.
Given that the government is also focused on infrastructure projects and improving the standard of living among rural areas (building affordable houses, improving utilities availability), we expect the earnings for real estate players and construction companies to remain well supported. As the cash crunch effect subsides, we are also expecting to see a gradual moderation in declination of profits for the consumer-reliant sectors and services sector going forward.
FIGURE 10: Sales and net profits for listed non-government non-financial companies.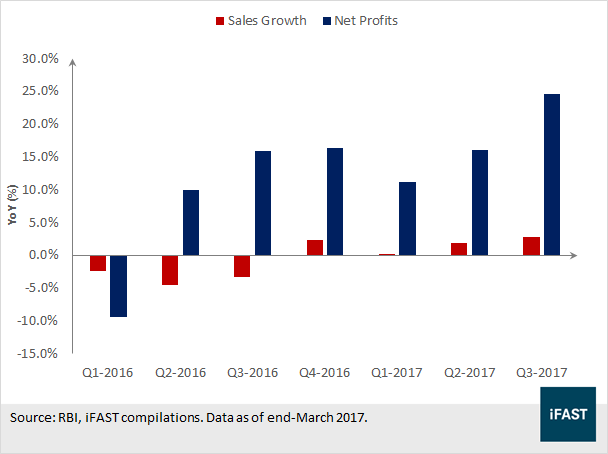 FIGURE 11: Sales performance for listed non-government non-financial companies (breakdown by sector).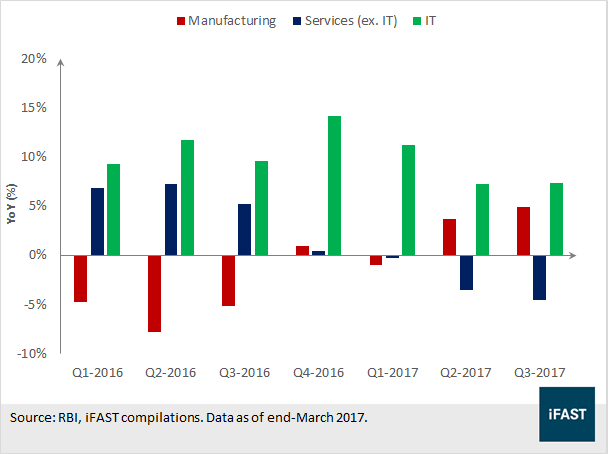 FIGURE 12: Net profits for listed non-government non-financial companies (breakdown by sector).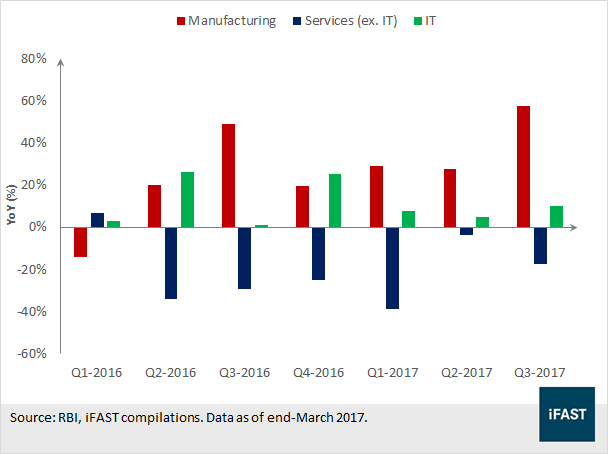 Table 2: Earnings growth, PE, dividend yields for SENSEX Index.

2017-18
2018-19
Earnings Growth (%)
-
14.8
18.1
PE Ratio (X)
15
17.2
14.5
Dividend Yields (%)
-
1.7
1.9

Source: Bloomberg, iFAST compilsations. Data as of 18 April 2017. Returns in MYR terms, dividend reinvested.

As of 19 April 2017, the earnings growth for the India's SENSEX Index are sitting at 14.8% and 18.1% for 2017-18 and 2018-19 respectively. Going forward, we expect earnings growth for the Indian equities to remain strong on the back of bold structural reforms and strong macroeconomic fundamentals. While the 1-year PE for the India's SENSEX Index commands a premium valuation level (17.2X) at this juncture (2017-18), it is still trading at a discount (14.5X) to its fair PE of 15.0X when considering longer-term earnings (2018-19).
*India's financial year begins at April and ends in March.
CONCLUSION
All in all, we remain upbeat on India for its long-term growth. Attractive earnings growth potential over the longer-term, moderate inflation levels, current account deficits being controlled effectively by the government and policy reform measures are all positive materials in constructing the landscape of the Indian market. These have lead us to believe that the Indian market trades at reasonable valuation, given its long-term prospects. For investors who share the same view as us on India's strong-growth story, you may consider gaining supplementary portfolio exposure towards the India equity market via Manulife India Equity Fund.
See also: Top Markets 1Q2017