WEEKLY REVIEW
For the third consecutive week running in 2018, we see yields across bond markets rising once again over the week ended 18 January 2018. Global bonds saw yields rise by 2 basis points to 2.04%; G7 sovereign bonds saw yields rise to 0.74% (by 3 basis points from the previous week). Singapore government bonds followed their G7 counterparts, with MGS yields rising by 5 basis points to a yield of 3.91%. In the North American credit markets, US investment grade corporate bonds as a whole saw yields higher by 6 basis points over the week to close at 3.70%, while their Asian counterparts, Asian investment grade bonds, saw yields rise by 4 basis points over the week.
Over in the riskier segments of bond markets, yields also rose across the board. US high yield bonds saw yields climb from a prior 5.87% to 5.92% over the week, while hard-currency emerging market bonds' yields rose slightly to offer investors a yield of 5.50% as of 18 January 2018. Asian high yield bonds were the bottom performing segment amongst the riskier bond segments this time round, as they rose 26 basis points (to 5.62%) over the week.
On average, bond funds were down by -0.02% over the week. United Income Plus Fund emerged as the top performer as the fund gained 1.15%. On the other hand, RHB Emerging Markets Bond Fund recorded a -0.97% losses and emerged as the worst performer due to the lacklustre performance of its emerging market debt holdings over the week.
(Basis points figures might differ due to rounding-off)
CHART 1: YTMS ON VARIOUS BOND SEGMENTS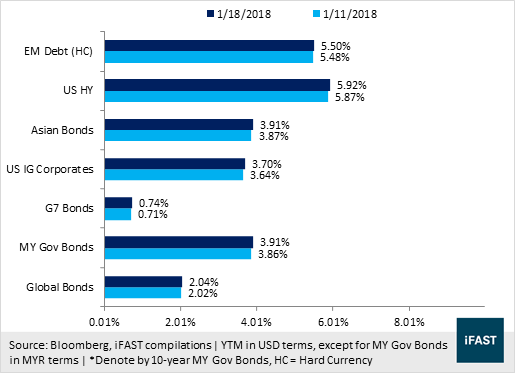 GLOBAL BOND MARKET
Last week in Northeast Asia, the Bank of Korea (BOK) left its benchmark policy rate unchanged at 1.50% (a widely expected move), after raising its benchmark rate by 25 basis points back in November 2017. The central bank affirmed that domestic growth has continued, exports had been sustained and "consumption has improved moderately". The BOK raised its 2018 GDP forecast to 3.0% from a prior 2.9%, while lowering its forecast for CPI from a prior 1.80% to 1.70%, which could imply that policy-makers were of the opinion that no rate adjustments would be needed for some time. They expect 2019's GDP growth to be 2.90%. The BOK also commented on the recent KRW's strength, stating that it is due to an easing of geopolitical tensions, stronger growth and a weaker USD, and that there could be some herd behaviour in the Won's strength. Markets are also on the watch for an incoming governor (President Moon Jae-in has not appointed a candidate) at the BOK as incumbent governor Lee Ju-yeol is set to end his term in March.
Over in South East Asia, Indonesia's central bank (Bank Indonesia) left its benchmark Reverse Repo Rate unchanged (at 4.25%) as well, a decision widely expected by economists. The central bank affirmed that global economic momentum has improved, and that economic resilience is improving in Indonesia, as seen in a healthy current account, "an influx of non-resident capital flows, a stable rupiah exchange rate, an all-time high position of reserve assets and maintained financial system stability". 2018's GDP forecast was maintained at a 5.1% - 5.5% range. Loan growth is expected to improve given that reserve ratios had been lowered in 2017, and credit growth is on the minds of policy-makers. They are also focusing on inflation risks, given rising food prices (driven by rising rice prices) and oil costs, and view it as a risk for this year.
This week, the Bank of Japan (BOJ) and the European Central Bank (ECB) are scheduled to provide updates on their respective monetary policies. No changes are expected to be made. Market observers and analysts will be on lookout for verbal cues particularly from the ECB regarding its intentions for its current asset purchase programme and on any hints for a possible reduction in stimulus.
We have been highlighting the risks of further increases in interest rates (and are still cognisant), and suggest investors avoid longer-duration developed sovereign debt which is most susceptible to rising yields, while opting for shorter duration bond funds which are far less interest rate sensitive. Local short duration bonds, such as the AmIncome Plus, are also a better alternative for investors who are seeking shelter from the volatility and uncertainty seen in financial markets in recent times, with yields that are relatively higher than that offered by developed sovereign bonds, providing an anchor of stability to a portfolio. As we have advocated, riskier fixed income segments, such as that of high yield bonds, should be combined with other safer bond segments, to ensure sufficient levels of diversification within one's fixed income allocation.
MALAYSIA BOND MARKET
CHART 2: YIELD CURVE – MGS AND MY CORPORATE BONDS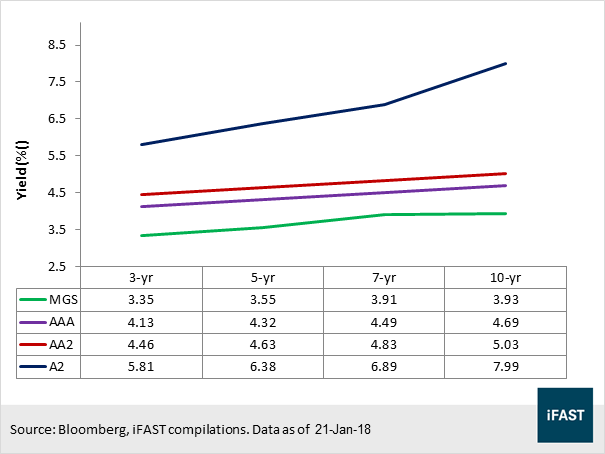 CHART 3: WEEKLY YIELD MOVEMENT – MGS AND MY CORPORATE BONDS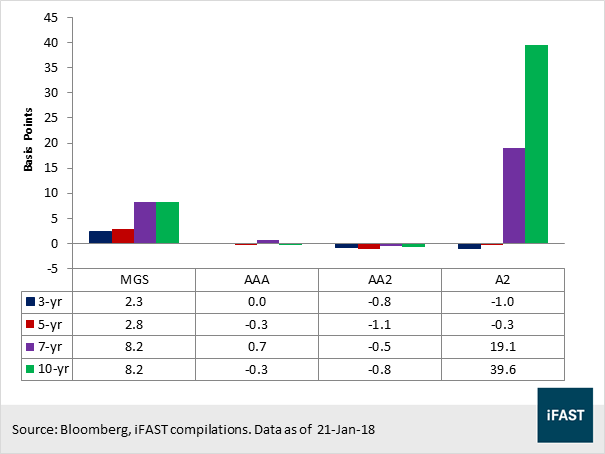 For the week ended 21 January 2018, MGS segment saw broad-based increase in yields, with the 3-year, 5-year, 7-year and 10-year MGS yield up by 2.3 bps, 2.8 bps, 8.2 bps and 8.2 bps respectively. Support for the Malaysian sovereign came from continued MYR strength as USDMYR slipped to near 3.9370 from 3.9500 a week before. In the secondary bond market, trading volume were up by 48.5% with the Islamic medium-term note segment taking up 70.4% of total trading activities.
On domestic front, MARC has assigned a final rating of AA-IS to SAJ Capital Sdn Bhd's (SAJ Capital) Sukuk Murabahah of up to RM650 million for up to 12 years. The outlook on the rating is stable. Upon review of the final documentation of the issuance, MARC is satisfied that the terms and conditions of the Sukuk Murabahah have not changed in any material way from the draft documentation on which the earlier preliminary rating of AA-IS was based.
Fixed Income Funds To Consider:
Bonds – Malaysia:KAF Bond Fund

Bonds – Malaysia:Eastspring Investments Bond Fund

Bonds – Malaysia:RHB Bond Fund

Bonds – Malaysia:AmIncome Plus

Bonds – Malaysia (Islamic):AMB Dana Arif Class A-MYR
Bonds – Malaysia (Islamic):Libra ASnitaBOND Fund

Bonds – Asia excluding Japan:RHB Asian Total Return Fund

Bonds – Emerging Markets:RHB Emerging Markets Bond Fund
Bonds – Malaysia Foreign Exposed :AmDynamic Bond