iFAST Capital has reached a new milestone on August 2011, achieving Assets Under Administration (AUA) of more than RM100 million. We would like to thank our investors for the support and belief they have in us. Add to that Fundsupermart.com's preaching for diversification through sensible portfolio construction and long-term investing, we have created the FSM Rewards Program to give investors greater incentive to stay invested for the long-term. Based on the amount of holdings in your investment account, you will be given a "status" which qualifies you for further discounts on FSM's normal sales charge.
The status is based on your current holdings or investment cost (including unit trusts, Private Retirement Scheme (PRS), Cash Management Fund, Managed Portfolios, Bonds, and Cash Account), whichever is higher. In addition, the discount is also based on the value of lump sum investments. The discount is applicable to buy transactions within the same purchase order and Inter Fund House purchase transactions on our platform.
Transfer-in of unit trust holdings from other distributors will increase your current holdings/investment cost.
Below RM50,000

FSM Investors

Normal Sales Charge

RM50,000 to <RM250,000

Silver Status

0.25% discount on Normal Sales Charge

RM250,000 to <RM750,000

Gold Status

0.50% discount on Normal Sales Charge

RM750,000 and above

Platinum Status

0.75% discount on Normal Sales Charge

The sales charge after the FSM Rewards Program discount is capped at a minimum of 0%.
In the case of promotions, either the promotion sales charge or the FSM Rewards Program discount will be given, whichever lower unless specified otherwise.
And that's not all, Platinum Status

account holders will be able to enjoy extra services provided by the Client Investment Specialists (CIS) team:
Portfolio review every quarter
Personalised phone call for buy/sell/switch advice, and also funds news and industry updates based on investor's holdings
Meet up during working hours, prior appointment required
How will i know if I am already on the Rewards Program?
You will be able to see your status once logging into the account. Purchases will reflect the discounted sales charge according to the status you have obtained.
For the terms and conditions and more details on how discounts are applied to buy transaction, go to our FAQs.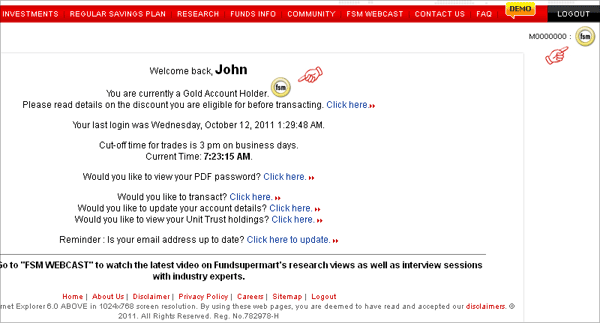 Invest More and Save Even More!
iFAST Capital Sdn. Bhd.
This article is not to be construed as an offer or solicitation for the subscription, purchase or sale of any fund. No investment decision should be taken without first viewing a fund's prospectus and if necessary, consulting with financial or other professional advisers. Any advice herein is made on a general basis and does not take into account the specific investment objectives of the specific person or group of persons. Past performance and any forecast is not necessarily indicative of the future or likely performance of the fund. The value of units and the income from them may fall as well as rise. Opinions expressed herein are subject to change without notice. Please read our disclaimer in the website.
---