---
Take Heart: Why the Malaysian Bear Market is Common

The subprime crisis had far-reaching chaotic repercussions around the world. Here, the local equity market, represented by the Kuala Lumpur Composite Index (KLCI) was badly affected and dropped by 8.5% in two weeks ending 10 October 2008.

In the past, the KLCI has experienced seven crises, losing between 23.4% and 79.3% of its value. Refer to Chart 1 and Table 1.

The steepest drop KLCI has ever recorded was during the Asian Financial Crisis in 1997-1998, where it plummeted by 79.3% from its highest level. During this crisis, volatility was so high that the overall market could fall by more than 20% in a single day. Such sharp declines have not been experienced in the current subprime crisis. The KLCI's steepest drop for one day has not exceeded 10% of its value.

Because the market may continue to fall gradually as it reacts to slowing growth and tougher economic conditions caused by the subprime crisis, we expect it to take some time before recovering. This recovery period may be longer than rebound experienced after the Asian financial crisis.

Chart 1: The KLCI performance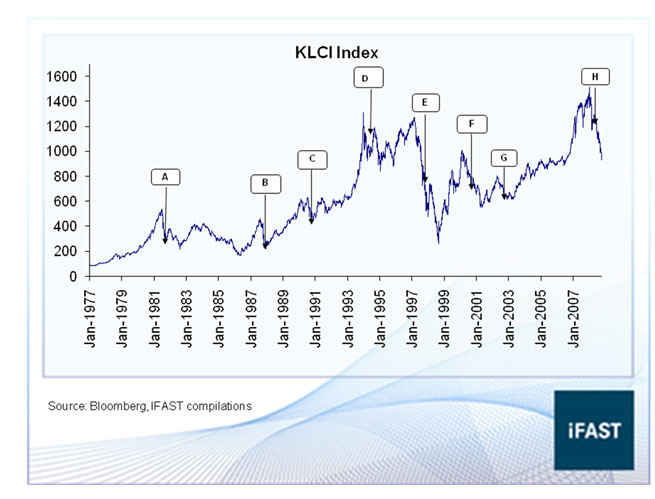 Table 1: Summary of the Crises
Event

Date

Period (days)

% change

A

Iran Iraq War

30-Jun-81

278

-58.8%

17-Aug-82

B

Black Monday

10-Aug-87

82

-52.5%

7-Dec-87

C

US Recession

1-Aug-90

39

-27.4%

28-Sep-90

D

Mexican Financial Crisis

5-Jan-94

262

-36.0%

24-Jan-95

E

Asian Financial Crisis

28-Feb-97

373

-79.3%

1-Sep-98

F

911 Attacks / Technology Slump

18-Feb-00

279

-45.4%

9-Apr-01

G

SARS

23-Apr-02

218

-23.4%

11-Mar-03

H

Subprime Crisis

11-Jan-08

189

-40.3%

17-Oct-08

Average

215
Source: Bloomberg and iFAST Compliations
Since the start of the year, the KLCI has lost 40% from its high of 1,516.2 points. Within two weeks from 26 September to 17 October, the KLCI plummeted 11.3% , Japan's Nikkei Index fell by 26.9% and both the Singapore's Straits Times Index, and Hong Kong's Hang Seng Index plunged by 22.1% (all figures are based on local currency terms).

The fall in the local bourse was less severe compared to its regional peers because a significant amount of foreign investments had already withdrawn from the Malaysia market. This is reflected by a significant outflow of portfolio investments from the country. According to the latest data from the central bank, there was a large net outflow of RM24 billion in the second quarter compared to a RM21.1 billion net inflow of portfolio in the first quarter this year. This is due to a loss of confidence in the Malaysia market that is bogged down by political uncertainties after the ruling coalition lost majority of its seats at the general elections held in March. This indicates that the local bourse faces external chaos and domestic uncertainties unlike past crises where the plunge in KLCI was triggered by external factors.

Restrictions imposed by the government on financial institutions, after the Asian financial crisis, prevented these companies from investing into subprime-related assets (these rules have been liberalised in the past two years). This protected local banks and fund management companies from the collapse of American financial institutions. Malaysian financial companies are in a stronger position now than compared to their financial standing during the Asian financial crisis.

Chart 2: Portfolio Flows into the Country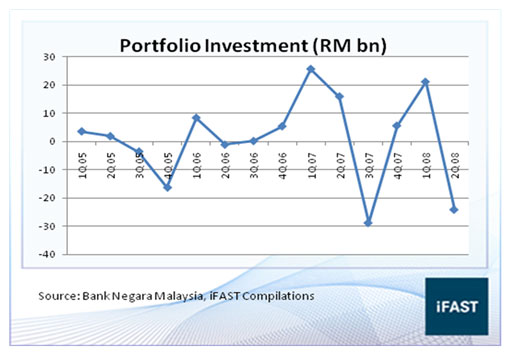 Table 2 shows the change in shareholdings for several major companies that were once popular among foreign investors. We see that investors, especially foreign institutional investors, are selling their investments in big companies. According to the data compiled from Bloomberg, the total outstanding shares of 10 selected companies sold off since March 2008 ranged between 1.7% and more than 20% of publicly available shares.

Table 2: Foreign Investors Disposing their Investments
| | |
| --- | --- |
| Company | % of total outstanding shares being sold off since March 2008 |
| Gamuda Bhd | 24.0 |
| Bursa Malaysia Bhd | 10.4 |
| Digi.Com Bhd | 6.7 |
| MMC Corp Bhd | 6.5 |
| Kuala Lumpur Kepong Bhd | 3.7 |
| Genting Bhd | 2.9 |
| Tenaga Nasional Bhd | 2.8 |
| SP Setia Bhd | 2.0 |
| Telekom Bhd | 1.9 |
| Bumiputra-Commerce Holdings Bhd | 1.7 |
Source: Bloomberg, iFAST Compilations

Although the local equity market is trampled by bearish market sentiments and haunted by fears and worries, do remember that every crisis is followed by a bull run. As illustrated in Table 3, four out of the seven crises that Malaysia experienced had managed to fully recover from the bottom. Furthermore, bull-runs generally have a longer period (an average of 559 days) as compared to bear-runs (an average of 215 days).

Table 3: How the KLCI Performed After the Previous 7 Crises
Event

Date

KLCI Index

% change

from lowest to highest point

Number of Trading Days

for KLCI to Hit its Highest Level

Fully

Recovered?

Iran Iraq War

17-Aug-82

222.76

89.1%

224

Partially

11-Jul-83

421.3

Black Monday

7-Dec-87

223.12

178.9%

543

Yes

20-Feb-90

622.2

US Recession

28-Sep-90

459.08

109.1%

864

Yes

1-Apr-94

959.94

Mexican Financial Crisis

24-Jan-95

840.87

51.2%

511

Partially

25-Feb-97

1271.57

Asian Financial Crisis

1-Sep-98

262.7

285.7%

363

Yes

18-Feb-00

1013.27

911 Attacks / Technology Slump

9-Apr-01

553.34

46.0%

255

Partially

23-Apr-02

808.07

SARS

11-Mar-03

619.22

128.3%

1152

Yes

31-Oct-07

1413.65

Average

559

Probability of full recovery = 57%
Source: Bloomberg and iFAST Compliations
Chart 3: KLCI's valuation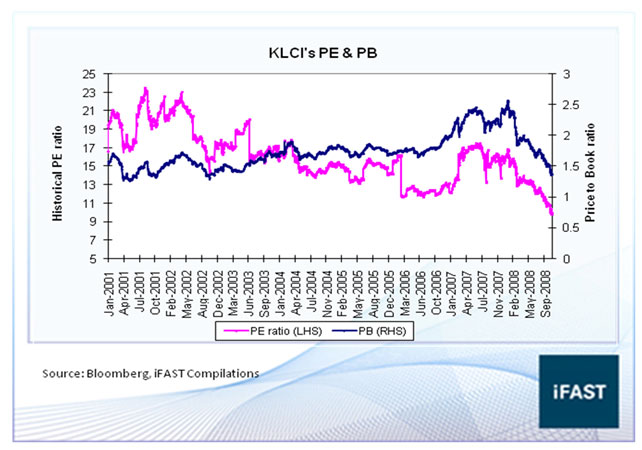 Conclusion

Malaysia's economic fundamentals will be able to withstand the global financial crisis. Our estimated PE for 2008 and 2009 are 10.9X and 10.1X respectively. The KLCI market is currently trading at PE of to 9.9X as of 21 Oct 2008, which is at a 5-year low. The price-to-book ratio is also trading at a fairly low level of 1.4X (refer to Chart 2).

The KLCI, which is at its 2-year low, has already priced-in negative sentiments such as political uncertainties and an expected slower growth rate in 2009. Unit trust investors with portfolios that have incurred losses should stay calm and start looking at valuations. Investors can also take this opportunity to construct (or rebalance) to attain a diversified core and supplementary portfolio as most markets are now trading at attractive levels.

Remember a quote from the world's most famous value investor, Warren Buffet, - "Be fearful when others are greedy and be greedy when others are fearful". Investors who are able to pick stocks during its low will be rewarded in the long run. Even though there is no crystal ball to predict when the market will bottom, rest assured that we are able to pull through the crisis and that the market will recover.
---
This article is not to be construed as an offer or solicitation for the subscription, purchase or sale of any fund. No investment decision should be taken without first viewing a fund's prospectus and if necessary, consulting with financial or other professional advisers. Any advice herein is made on a general basis and does not take into account the specific investment objectives of the specific person or group of persons. Past performance and any forecast is not necessarily indicative of the future or likely performance of the fund. The value of units and the income from them may fall as well as rise. Opinions expressed herein are subject to change without notice. Please read our disclaimer in the website.